United Kingdom Bach, Schumann, Albéniz, Stravinsky: Beatrice Rana (piano). Wigmore Hall, London, 7.2.2020. (JB)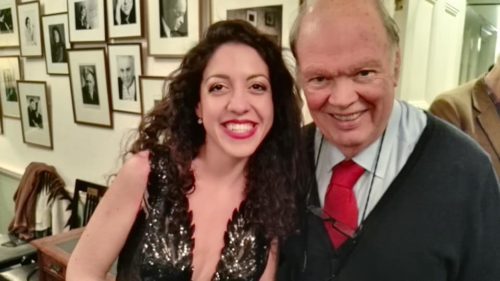 Bach – Italian Concerto in F BWV971
Schumann – Sonata in F minor Op.14
Albéniz – Iberia (Book III)
Stravinsky – 3 Movements from Petrushka
I have long held that no one can ever teach you anything which you don't already know. It's not that the great teachers put something into their students, so much as what they manage to get out of them – often elements or approaches the student has hitherto been unaware of. We know from Benno Moiseiwitsch's autobiography that Leschetizky was a master of this approach. No two Leschetizky pupils sound alike. There is no Leschetizky sound.  Sixteen-year-old Moiseiwitsch had been told by the Director of the Guildhall School of Music that that they had nothing to teach him, but he should hasten to Vienna to study with the great Polish maestro. The boy was the toast of Europe and Russian territories for his outstanding performances. Well you certainly can't play the piano with your fingers was Leschetizky's verdict, maybe you should try with your feet. 
Imagine the shock to the boy! Just what the maestro required. He was forced to turn inward and discover the sounds which might work. Music as discovery. Benno adds that thereafter, whenever his sound wasn't working, he always returned to the Leschetizky 'method'. That is stretching a word, but you can see what he means.
Both Beatrice Rana's parents were pianists and recognising a gift in embryo of their daughter, they soon enrolled her with the Monopoly Conservatory's leading piano teacher and internationally acclaimed pianist, Benedetto Lupo. She remains with him today.
If like me, you read the programme of this concert before anything else, you will have recognised that four different pianistic languages are required for each of these pieces. The pianist is challenged to speak four distinctive languages. But what is really fascinating is that the four composers are striving for expressions hitherto unknown. Each strikingly different but united in aim.
Both Bach and Schumann wrote and rewrote a piano concerto without orchestra. (Schumann also, of course, wrote a fine piano concerto with orchestra.) A Herculean task, not least because of the different instruments to equip the exploration.
Bach learning from Vivaldi? The idea seems preposterous until considered closer. Where precisely Bach developed an interest in Vivaldi is a matter of dispute. What is certain is that the protestant German organist spent months copying and admiring the Catholic Venetian maestro's extensive contributions to the Italian concerto grosso whereby a dialogue was created in musical questions and answers between a chamber orchestra and soloist(s). Never one to leave an idea exactly as he found it, Bach asked himself -what if we forget the orchestra and use the two manuals of the then recently developed harpsichord (this was about 1730) with one sounding full-blooded and the other, sounding more pin-pointed as a smaller-voiced soloist. The result was Bach's Italian Concerto.
Happily, Beatrice Rana makes no effort whatsoever to make the Steinway sound like an early harpsichord with two manuals. Her creativity explores what Bach might have done with this magnificent keyboard instrument. The dialogue of questions and answers remain. Her opening (Allegro) sounds like an earthquake. Haydn's gentler joke with the Surprise Symphony comes to mind. But this glamorous young woman makes the most muscular, masculine sound to ever come out of a piano. There was a sense of the audience reaching for their seatbelts. But her articulation of the smaller, answering voice is equally distinctive.
Her Andante brought to mind Mozart's operatic lyricism. The piano which roars so fiercely, also whispers sweetly. And that goes for both voices. In the Rana telling of this musical tale, the giant that roars with such wrath turns out to have a hidden soul of compassion.
There is the sound of playfulness in the finale Presto with more than a hint of mischief. Who said that Bach had no sense of humour? Ms Rana proves them wrong. Or that he had no sense of fun? Wrong again says la Rana. But none of her playing is Germanic. After all this is an Italian concerto. And so is she.
Schumann really did get his knickers in a twist with Sonata in F minor Op.14. Some very fine performers, including Maurizio Pollini, have, to my ears, only added to the twists. But Pollini has the drawback of being a bloke. And Beatrice is a woman. And as all pianists know, there is a woman who is the key to understanding Op.14: Clara Wieck was wooed by Brahms and Schumann and would later marry the latter, despite her father's protestations. Clara was the most acclaimed pianist of her day, and though she was flattered by Brahms's attentions, she refused to marry him, even after Schumann's early death.
It's in the sonata's second movement – Quasi Variazioni. Andantino di Clara Wieck (Almost variations on a gentle little theme of Clara Wieck) that the drooping, falling, five note theme is most clearly expressed. The variations begin development immediately, falling over themselves, but policed by variations requirements.  Rana's gentleness is touching in its expression. This all dates from the couple's darkest hours, separated by father Wieck, who had first been Schumann's piano teacher, not to mention how the composer first met his daughter.
But throughout the sonata the drooping theme reappears, often subtly disguised. The aggressive opening movement (Allegro brillante) has its emphasis on that second word, recalling Liszt's showy pianism, though Liszt disapproved of Schumann's entering into this territory. But territory – some have argued battleground – it is. Rana enters this field with overwhelming confidence, especially with the Wagnerian harmonies. I used to find that Alicia de Larrocha was the smallest woman making the biggest sound on a Steinway. Beatrice Rana is alongside her. Her overwhelming delivery has stunning control, thus pointing up the drama.
The sonata's finale (Prestissimo possibile) crowns all other demands, but Rana's untwisting of the knickers left her audience breathless: herself just a little hotter. I should add that Andrew Marr was in the audience, the BBC's leading expert at calling our irresponsible politicians to account: Andrew just smiled and waved approval at what we heard. Praise indeed.
Isaac Albéniz was an infant prodigy as pianist and composer, who at the end of a long life wrote four books of pieces in homage to his native Spain. On return from America he also studied with Liszt. That gave him another musical language – one which we have already seen in which Ms Rana is a thoroughly experienced master. So in a sense, we knew this would be child's-play.
Through the Spanish rhythms which foresay the characteristics of that country's dance rhythms: El Albaicin (Allegro assai, ma melancolico) uniquely combines vivacity with sadness, characteristic of the gypsy quarter of Granada. Weave into all that Liszt nuances to hear how expertly Rana delivers it.
The second of the three pieces in Book III El Polo, named after a flamenco sad song with its ostinato rhythm which passes through various Liszt touches where charm meets tragedy. All painted with Rana-perfect diction.
The finalé Lavapiés (Allegretto bien rythmé, mais sans presser) takes us into the busy street life of Madrid markets. Both main themes are spelt out in habanera rhythm, with a warning not to hurry. Another Rana linguistic accomplishment.
Perhaps the most demanding piece in a demanding programme was the last: Igor Stravinsky's 3 Movements from Petrushka (1921). The work was commissioned by Arthur Rubinstein a decade or so after Diaghilev's Ballets Russes presentation of the ballet in which Nijinsky danced Petrushka – the puppet who comes to life. 3 Movements avoids the tragic elements of the ballet (where Petrushka dies) and is exclusively celebratory of the story's magic. Rubinstein declared 3 Movements unplayable. For a long time he refused to confront the overwhelming challenge. Beatrice Rana goes where angels fear to tread.
There is triumph and polish in her delivery. Who was it who said that the virtuoso is someone who makes the difficult sound easy? She makes this the celebratory moment of the evening. Following the punishment of the Schumann, the piano tuner worked throughout the interval to get the Steinway back in tune. So a virgin piano was ready to give birth to Albéniz and Stravinsky. O Igor, thou shouldst have been living at this hour!
What to do to satisfy the audience's ovation? She returned to quietly deliver the second of Schumann's three Romances. (The original was for oboe and piano). This calmed our exuberance to send us off into the night. Our perfect hostess.
Good news. Beatrice's concert diary is booked for the rest of this year. She tells me she will be back at Wigmore Hall with three concerts in 2021, but in the meantime you can satisfy yourselves with the recently-released Warner Classics recording of Petrushka, as well as The Firebird, and some Ravel.. 
Jack Buckley