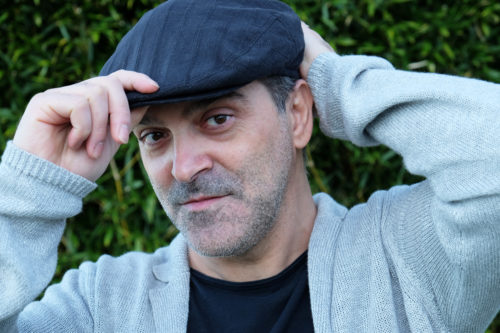 Late in 2019 Sardinian tenor Piero Pretti impressed many with his Met debut as Pinkerton in Madama Butterfly. Bachtrack said 'He has a fine lyric Italianate sound with plenty of squillo and dead centre pitch. He strikes one as a very musical singer; he clearly knew the arc of his phrases and the entire role. Pinkerton is a hard part in which to impress and it will be interesting to hear him as other, more sympathetic leads.'
Pretti has established himself throughout Europe since his 2006 professional debut. He will make his role debut as Turiddu, in a concert version of Cavalleria rusticana with Maestro Riccardo Muti and the Chicago Symphony Orchestra in Chicago on 6 February and later that month (26 and 29) he will return to the Met to sing Alfredo Germont in La traviata, replacing Vittorio Grigolo. On the eve of these forthcoming major engagements Piero Pretti answered Seen and Heard International's questions about his early years, career so far, and hopes for the future.
Where were you born?
I was born in the town of Nuoro, in Sardinia, an island in the Mediterranean.
Do you come from a musical family?
No, there's no musician in my family, but I do have several musician friends.
What was the first opera you saw?
I believe the first opera I saw was Mascagni's Cavalleria rusticana, I was a kid and it was performed in a public square in the summer months. 
Do you play any other musical instruments?
I am a self-taught guitar player, but I only play it for my own pleasure. I studied trumpet for a few years but because I was wearing braces I had to quit.
When did you first start singing and how did it progress from there?
I come from a place where singing, just like choirs, are very strong traditions. I started singing madrigals and ancient music when I was 16 in a polyphonic choir and immediately after that I started taking singing lessons. When I was 18 I started singing professionally in some of the opera productions of the Teatro Lirico di Cagliari.
Who do you credit for telling you that you had a voice and encouraging you as a singer?
It was surely Franca Floris, the leader of Nuoro's Complesso Vocale (Vocal Ensemble) where I was making my first steps. She pushed me to attend the local music school where Antonietta Chironi, soprano and director of the school, took me under her wings.
Please tell us more about your musical and vocal studies.
Antonietta gave me the opportunity to not only study with her, but since she was a great producer, she had me singing in small productions of operas like Mozart's Bastien und Bastienne and L'oca del Cairo which we performed in schools. I attended some master classes with Gianni Raimondi and Renata Scotto. I realised I had talent and singing came easy.
What was the first opera role you ever sang on stage?
My first important role came with my professional debut: it was in 2006 as Rodolfo in La bohème with a touring company. A three-month tour singing every other day in many towns in Germany, Norway and England.
Did you ever enter any singing competitions, and do you consider anything like that are a good thing for a young singer?
I never entered singing competitions, and that was because when I decided to be a professional singer I was above the generally required age. I'm not against it, not at all. I think it's a good way to face other singers outside your own music class or school. It's probably also important to have healthy competition … as long as it stays 'healthy'.
Your signature roles seem to be in La bohème, La traviata, Il trovatore, Lucia di Lammermoor, Rigoletto and Madama Butterfly and you sang all these early in your career, where did you sing them first?
As I mentioned, La bohème was my professional debut. After that came engagements in operas like Rigoletto, La traviata, and Il trovatore: Duca di Mantova, Alfredo Germont, and Manrico are roles I have sung in important theatres like La Scala in Milan, the Paris Opéra, and then Berlin, Vienna, Rome, Madrid, Barcelona, New York. Of course, after having sung such roles in less glamorous but equally beautiful theatres like the Malibran in Venice, the Teatro Pergolesi, and the Treviso opera house. For example, I remember making my debut in Rigoletto in Spoleto.
What are the particular demands of the roles you sing?
Each role has its challenges and needs something different. Our commitment as artists is to interpret each role as close as possible to what the composer put in writing.
I suspect much has changed in the way you approach these roles since you first sang them?
Of course. Our voice evolves continually, just like we do, in every aspect. Surely approaching a score after many years – or sometimes even after just a few months – may produce surprises to the way our body responds to the different parts of the score. Perhaps because they have developed within us or we have processed them, or because we change the way we approach certain parts of the libretto or of the character. If on one hand our art is considered 'old fashioned'; on the other hand we are lucky to be doing something that is alive, precisely because it is performed live.
You recently made your debut at the Met as Pinkerton and return there soon to sing Alfredo. Has singing at the Met been a highlight of your career so far?
I was very happy to make my debut at the Met singing in Madama Butterfly. It was wonderful. I immediately felt at home with the entire staff and I had a great feeling with the audience. I'm truly happy to be singing again so soon in such an important theatre.
I see you sang early in your career for Riccardo Muti and I wonder what influence he has had on your career?
I remember my first audition and all the musical rehearsals with Maestro Muti. Those were moments of true personal and professional growth. He is a great Maestro, in all aspects; I was always amazed by his ability to focus and to involve all musicians he is working with; the orchestra, the chorus, the soloists. He is a great example for me, and his words have been my guide and my comfort through the years as I developed my career. 
You will make your role debut as Turiddu with Maestro Muti soon in Chicago and tell us more about that if you can.
Yes, it will be in February. It's a dream come true: an opera like Cavalleria rusticana, one of my old-time favourites, conducted by Maestro Muti in Chicago. I must say that it wasn't in my short-term plans to debut Turiddu, but when the Maestro asked me I realised the time had come. I can't wait to begin the musical rehearsals and hear what he has to say to me.
Is there anybody special you have particularly enjoyed meeting and working with over your career?
Our lives are constantly on the road, from one theatre to the other around the world. That's why it isn't easy to maintain personal contacts and develop friendships, but it isn't impossible, if we want it. I was lucky enough to meet great people in the theatres, first of all my wife Antonella. Then, there are some conductors, directors and colleagues with whom I have very special relationships.
Where do you call home?
At the moment I live in Milan with my wife Antonella and with our son Michelangelo.
Do you enjoy all the travelling a singer's life entails?
If by 'travelling' you mean the road I have walked, I say yes, very much so, I am fascinated by it. But if you mean the airports, the trains, the taxis … well, there are moments that I would happily do without, although I have always loved travelling.
If you have to learn a new role how do you prepare for it?
I always try to make the best of my time and to keep some periods free from work which I dedicate to studying, including any new roles. I think it's essential.
Do you have a teacher now and how do they help you?
I've been studying for the last 15 years with the same teacher. His name is Gianni Mastino, he too is a tenor, and I believe he's one of the best. He knows me really well; we have a great relationship and we are very close. But despite that he will always correct and alert me when he thinks it's necessary, and I am very grateful for that.
You especially sing several Puccini and Verdi roles, what is special about their music?
Verdi and Puccini are masters of singing, theatre and beauty. Their operas are filled with magic and, even after centuries pass, they are still performed worldwide. I believe their works are archetypes of absolute beauty and that these two composers were 'blessed by God' to hand down their works.
What other composers do you particularly admire?
I listen to a lot of music, especially other than opera. But I adore Bellini, Bizet, Gounod, as well as Borodin, Bach … and the list goes on and on.
Do different composers make you need to use your voice in any different ways?
I obviously try to interpret the different composers by respecting their style. Bellini is different from Verdi, from Donizetti and Puccini. I prepare as if it was an Olympic sport … my training is very focused.
Do you do much concert work and if so what do you most enjoy singing?
I do more opera performances than concerts, but I would like to increase the latter because I am always very happy to perform symphonic repertoire (I often sing Verdi's Requiem). One of my favorite rehearsals when I am in an opera production is the 'all'italiana' (the rehearsal where we focus only on the music and sing).
What actually is your favourite role and why?
It's a difficult question that I'm not sure I can give a straight answer to. I can say I adore Riccardo from Un ballo in maschera, Edgardo from Lucia di Lammermoor, Werther, Don Carlo … again, the list goes on and on.
Where have you not sung yet that you would still like to?
There are still many theatres and places where I'd like to sing … I think of South America, Australia, Canada, Russia.
What roles are you hoping to be invited to sing in the future that you do not sing now?
I hope I'll be approaching many new roles in the future: there is so much music to study and sing … one lifetime isn't enough!
Has anything funny happened to you on stage you can tell us about?
There are colleagues and friends I have a lot of fun with on stage, and we tease each other. Maybe the audience doesn't notice, but when a show is well run-in some things may be amplified for our own amusement. I remember for example a pillow fight in Lucia di Lammermoor in Hamburg: trust me, it was very hard to sing after that particular concertato!