Jonathan Biss and His Promethean struggle with Beethoven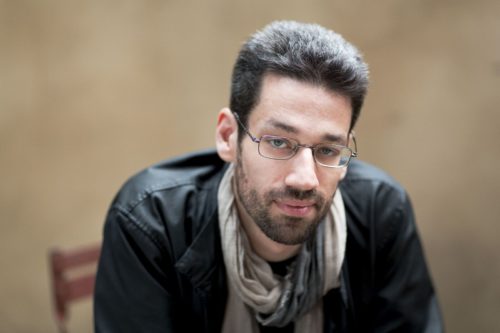 The 250th anniversary of the birth of the irrepressible Ludwig van Beethoven late last year has unleashed ceaseless commemorative celebrations across the world's concert halls and classical radio stations. It has also triggered a plethora of new recordings by some of the world's greatest artists, not least the last of a nine-volume set of Beethoven's 32 piano sonatas by the renowned Philadelphia-based pianist, teacher, musical thinker and writer, Jonathan Biss. He has dedicated many of his 39 years to interrogating the sonatas and has embarked on a punishing worldwide programme of Beethoven concerts and talks, including a series of seven recitals at London's Wigmore Hall.
Biss can be seen lecturing in partnership with Coursera (an online learning platform) in a popular, free video course  (click here) called Exploring Beethoven's Piano Sonatas (on completion one is awarded a Statement of Accomplishment), and he is the author of a Kindle ebook, tellingly titled Beethoven's Shadow, in which he wrote about his nine-year recording project. 'As an artist playing the music of a great composer like Beethoven, I feel I have a profound responsibility, particularly to younger people, to try to enter his mind and spirit. Although one cannot ever know what that person's inner life is, you can try,' says Biss, readily acknowledging that of all the composers he loves and plays – a broad canvas from Mozart, Schubert and Schumann to Janáček, Berg and Kurtág – it is Beethoven that thus far has dominated his musical life. In the course of a recent and at moments faceless FaceTime interview with Biss in New York, I asked him when his self-confessed obsession with Beethoven started, and why.
'In 1994, when I was 14, my parents took me to Baltimore to hear and meet [the celebrated American concert pianist] Leon Fleisher, who was teaching at Johns Hopkins Peabody Institute. I knew many of the sonatas already from listening to them frequently but hearing Fleisher play all of them that day with his students was my first experience of Beethoven's sonatas as a body of work. It was revelatory: both the unbelievable variety of expression and the awesome force of Beethoven's personality were so vividly on display. I remember feeling almost drunk. The playing lasted until midnight.' When I volunteered that the great Artur Schnabel had likened Mozart to a garden and Beethoven to a mountain range, Biss declared himself to be a mountaineer scaling something almost unscalable. 'Mozart was a theatrical composer, if ever there was one,' added Biss. 'He wrote about the real world, whereas Beethoven wrote about the idealised world. I have pursued that ideal in some way. I can't say I love Beethoven more than I love Mozart or Schubert or Schumann, but I connected to Beethoven. It's that feeling of struggling towards something – for better or worse – wishing and willing things to be a certain way, and then reordering things. That's the way Beethoven is, and it's so much a part of my own life and personality.'
Biss, one of two sons of professional musicians, grew up in an entirely secular Jewish household in Bloomington, Indiana. 'We were "High Holiday" Jews visiting our very reform synagogue once a year, more as a matter of cultural identification, rather than any belief.' It seems that Biss's struggle in pursuit of an unattainable and abstract ideal, the wishing, the willing, the reordering – the very issues that draw him to Beethoven – also have remarkable parallels with Judaism, and I wonder whether there is any connection between the two. 'I honestly have no idea what my Judaism has contributed to my music-making. It obviously has but I wouldn't be able to codify it.'
It is an understatement to say that Biss came from a musical family. His paternal grandmother was Raya Garbousova, who Casals claimed to be 'without doubt the finest cellist' he had ever heard, and to whom Samuel Barber dedicated his Cello Concerto. She played chamber music with Albert Einstein and ping-pong with Vladimir Horowitz. Biss's father Paul is a violinist, violist and conductor. Biss's mother is the celebrated Romanian-born Israeli concert violinist Miriam Fried, who won the Paganini International Competition in 1968 and came to the United States as a protégé of Isaac Stern. She was born in 1946, just 15 months after her parents had been liberated from Auschwitz. Did Biss grow up under the shadow of the Holocaust, like so many children descended from survivors? 'The Holocaust inevitably marked me because it marked my mother.' This has inevitably made him aware that he is continuing the long legacy of Jewish concert pianists, from Vladimir Horowitz to Vladimir Ashkenazy, from Artur Schnabel to Arthur Rubinstein.
It is hardly surprising to learn that Biss's musical journey started in the nursery of the family's home in Bloomington, Indiana, although he likes to claim that his professional debut was a 'prenatal' performance of the Mozart A major Violin Concerto at Carnegie Hall. Wherever the journey began, music is the lifeblood which courses through his veins. Given the family gene pool, how could it not? 'The language we spoke most fluently at home was music,' says Biss. An early childhood memory was creating paper finger puppets which he moved about an imaginary stage created from cardboard boxes while his father conducted Rigoletto.
In 1986, the six-year-old Jonathan began piano lessons with the celebrated teacher Karen Taylor, and at 11 years old became a pupil of the famed Belgian pianist Evelyne Brancart. 'When I was 13, I won the competition to play the Mendelssohn Concerto No.1 in G with the Indianapolis Symphony. It was my first opportunity to ride the sound of an orchestra. It was thrilling.' It was at that point that his thoughts turned to becoming a performer. 'My parents didn't push me. My mother was protective but not discouraging. She was very concerned that if I did it, then it should be for the right reasons. The question I remember her asking me a number of times in those early teenage years was "Are you sure?" She felt that if I could live without it then I should probably do something else. My father's life was more about teaching, whereas my mother knew all about the travelling and isolation.'
After the formative meeting with Fleisher in 1987, Biss returned to Bloomington to complete his high school studies, and once he graduated three years later, followed Fleisher to the Curtis Institute in Philadelphia. 'He had unbelievably penetrating eyes. There was an intensity about him and an inner life in his playing which is overwhelming,' Biss recalled. In a later conversation with Biss at Wigmore Hall, he remembers Fleisher's abiding and somewhat Delphic advice: 'Play the notes late, but not too late.' I asked him whether Fleisher's influence was yet another shadow from which it had been difficult to emerge, particularly in terms of developing an individual pianistic style. The response was diplomatic: 'I've forgotten what I need to forget, and made the decision to commit my own sins, rather than copying those of others.'
Discussion about musical development brings us to Marlboro, the chamber music festival in Vermont where each summer, talented emerging young artists and great masters come together to study, collaborate and perform. In 1997, Biss attended the Festival as a participant for the first time, and later returned as an instructor. (He recently assumed the mantle of co-artistic director with Mitsuko Uchida.) I recalled Rudolph Serkin's aphorism: 'One can believe in egalitarianism in society, but pursue art in an elitist way,' and ask whether those words could be applied to Marlboro. Biss agrees: 'It is a place where people listen to one another, are kind to each other, and strive to attain the highest form of artistic expression.' Would Biss describe himself as an egalitarian or an elitist? 'I am an egalitarian in life and find myself stricken by how far away we are from it in so many respects, and how stratified society is. We are moving in the wrong direction.' Mindful of eminent artists such as Mstislav Rostropovich playing his cello in front of the crumbling Berlin Wall or Daniel Barenboim conducting his West-Eastern Divan Orchestra in Ramallah, I asked Biss whether he believes that musicians can play a political role. 'I think there are limits to what we can do to battle immense political and societal problems, but that's not an excuse not to try. All of us, whether musicians or those in other walks of life, are responsible for doing what we can to inch the world in the direction we think it should be, particularly in those parts of the world where democracy is under threat.' He includes the US under its current administration. 'Before the 2016 election, I thought that maybe the more the listener knew about the artist's views, the greater the distraction. But after the election, I did not feel it was a luxury. I no longer felt I could keep silent.' Biss, a Democrat who donates to causes which include civil liberties and inequalities in the justice system, canvassed for Obama. 'My anxiety level about who will win the next election is off the roof.'
After our short political digression, we return to Biss's career path. In 2000, aged 19, he made his New York debut recital at the 92nd Street Y, in a programme which included a two-handed version of the Schubert Fantasie Op.77, a Janáček sonata, and Schoenberg's Six Little Piano Pieces Op.19. 'Although the concert is listed as my New York debut and was a big deal, I don't feel it was "the moment" that I stepped onto the concert stage. It was more of a gradual process. I had done a huge number of recitals all over the country, and I knew I would be playing with the New York Philharmonic [under Kurt Masur] later in the year.'
In 2002, Biss was selected as a BBC Radio 3 New Generation Artist, and for the first time performed at Wigmore Hall. 'Of all the concert halls I've played in, I love its intimacy. It is acoustically perfect. It's been said that it's like playing with another musician.' What does Biss make of the famously demanding audiences? 'My relationship with audiences generally is very complex, but Wigmore audiences are attentive and open. There is a quality to their silence which I find really fantastic.'
In 2003, Biss was first approached by an American concert presenter to play the entire Beethoven cycle. He knew only 10 of the sonatas and over the next seven years he learned a further eight more. He also played Beethoven's five concertos, most of his chamber music and solo works for piano, and immersed himself in the string quartets and symphonies. In 2006, he recorded four sonatas for EMI: No. 8 in C minor Pathétique, No. 15 in D major, Pastoral, No.27 in E minor, and No. 30 in E major. By 2012, he was ready to don his musical mountaineering boots, and set out on a journey to record all the sonatas which will be released as a box set on March 6th by Orchid Classics. Having embarked on this major project has made him consider the difference between recording a piece of music and playing it live. 'It's like a relationship between a witness in a trial and a court stenographer. The value in recording has forced me to go deeper and to be clearer in my interpretation because the microphone is so remorseless.' Asked whether he prefers the studio to the concert hall, Biss is emphatic: 'Recording cannot compare to live performance. Music is a language, an act of communication. Not to be able to feel the presence of the person with whom you communicate is terrible!'
Biss's professional life is one of constant preparation. 'Recording is something I do once a year. Rehearsing a piece intensely, then leaving it and coming back to it six weeks later can be very useful. There is a weird osmosis about leaving something and then coming back to it. If you are ahead all the time, you don't have the distance that you need to perform the work. As I get nearer to the concert, I find that playing through the piece very slowly is very useful. It helps me listen to the richness of the music, the harmonic motion and polyphony. When you play a piece in public, there is a danger that things might become automatic. Just the amount of psychic energy involved in playing a concert is still a huge shock to me. You have to give up all of yourself.'
Relaxation and regeneration are imperative for any great artist, but particularly for one who admits that the life of a performer can be punishing and lonely. Although music never leaves his consciousness, Biss increasingly finds the need to make space to rejuvenate outside of music. The main way is through wonderful friendships all over the world, and another is tennis. Biss readily confesses to be a very bad tennis player but is an avid spectator who can spout statistics from the 1950s: 'further evidence of a mild compulsive disorder' as he puts it. Biss is a big reader whose nightstand currently features books by James Baldwin, Emily Dickinson and Michael Chabon. Rumours of Biss's love of British comedy are true.
Paradoxically, the performer who struggles in his mind to reorder Beethoven is particularly drawn to the anarchic and surreal humour of Monty Python. As Biss puts it 'The combination of music and comedy might just save our sorry souls.'
Biss's schedule for 2020 is fully booked. His Beethoven sonata cycle at Wigmore Hall continues on 28 February when he tackles Nos. 6 in F, 10 in G, 18 in E – The Hunt, and the mighty No.29 in B Hammerklavier. He is currently working on a new commission: Gneixendorfer Musik – eine Winterreise, a piano concerto by Brett Dean, written in response to Beethoven's Fifth Piano Concerto. 'If there is another big project afoot, I will be concentrating on Schubert as I am more and more drawn to his late sonatas, but my head is so into Beethoven right now that it's difficult to think clearly about the future.' One suspects that whatever the future holds for this extraordinary artist, his Promethean struggle with Beethoven will continue.
Chris Sallon
For more about Jonathan Biss click here.