Germany Stravinsky, Zimmermann and Rachmaninov; Grisey: Berlin Philharmonic Orchestra / Kirill Petrenko (conductor); Raphael Haeger, Simon Rössler, Jan Schlichte, Wieland Welzel, Matthias Kessler, Laura Melero Beviá (percussionists) / James Wood (conductor). Philharmonie, Berlin, 15.2.2020. (MB)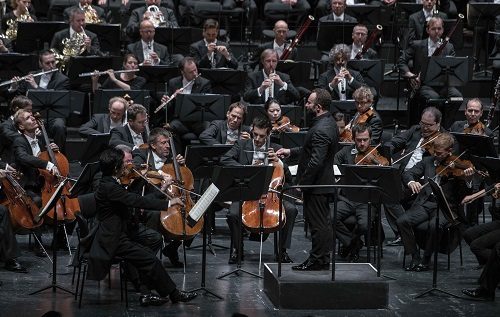 Stravinsky – Symphony in Three Movements
Zimmermann – Alagoana: Caprichos Brasilieiros
Rachmaninov – Symphonic Dances Op.45
Grisey – Le Noir de l'Étoile
Reviewing the Berlin Philharmonic and Kirill Petrenko in Mahler's Sixth Symphony last month, I referred to the 'monstrously metronomic' quality of its opening march, 'by design: of course'. I might almost have used the same phrase for the opening of Stravinsky's Symphony in Three Movements from the same forces, save for the implication of life in 'monstrous[ly]'. 'Brutal' would perhaps be better here, for whatever humans were perpetrating the wartime images said to have inspired the composer's musical gestures, they seemed to have become practically disembodied, automated in their robotic quality. Not only in this first movement, but certainly here, it was rhythm above all that had become dramatically generative, music thereby projecting its own motion picture. There was as much darkness, moreover, in the cracks between the music's chamber dialogue and in its self-automated retransformation into fuller orchestral music. In what sense, however, is this a symphony, is this a symphonic movement? That, probably rightly, remained as unclear as ever. Balletic? Perhaps; it certainly had an iron structure that it does not always. The second movement was possessed of an uneasy yet – in its way – delightful interiority: another form of balletic self-automatic, Marie-Pierre Langlamet's harp here as crucial as Majella Stockhausen's piano in the first movement. A mechanistic brutalism that cannot fail to voice historical and political resonances once more characterised the finale, the goose-stepping soldiers of whom Stravinsky spoke coming vividly to death, all the more so for the music's infernal catchiness. Desiccated woodwind clucking showed how an allegedly Haydnesque gesture could be transformed into something so dramatically lifeless. Repetition and even transformation, yet without development; the mysterious fugal combination, at last, of solo piano and harp: such were the Stravinskian riddles brought so vividly to our attention, yet rightly never solved.
Bernd Alois Zimmermann's 'ballet suite' – actually a ballet in its own right, for there is no further material – Alagoanoa: Caprichos Brasilieros followed. The first of its five movements, the Overture, benefited from similar rhythmic precision, albeit precision which could now be bent, indeed swung – and it was. Delightfully grotesque yet ultimately seductive instrumental combinations shone through, Hendrik Heilmann's harpsichord instructively, even wittily, quizzical. The following 'Sertanejo' likewise caught a fine balance between observation and involvement, all the while dancing – or being danced. More 'human' than Stravinsky, yet not necessarily less inscrutable, there was something undeniably chilling to its weird climax. Foreboding in the 'Saubade' was founded on, yet not restricted to, cello and double bass pizzicato. Repeated guitar figures; strange woodwind solos; percussion machinations, tuned or untuned: all contributed to an unease both general and specific. The 'Cabachio' was jazzier and relished as such, bass pizzicato once more put to excellent use, Wenzel Fuchs's clarinet solo; yet compositional and performative control necessarily also emphasised distance, even alienation. A hallucinatory interlude seemed to foretell the suspense prior to brutal climax in the finale. Its fallout – this was, after all, music for the nuclear age – spoke both humanly and enigmatically. Die Soldaten lay just around the corner.
It was welcome to hear a performance of Rachmaninov's Symphonic Dances that did not sentimentalise the score, though whether the music might sometimes have yielded a little more will remain mostly a matter of taste. Certain exaggerations will have overstepped the mark for some. At any rate, Petrenko seemed to understand rhythmic precision rather than harmony as the ultimate key, not only in the first movement but throughout. Even the string sound spoke with poignant alienation of a composer long in hopeless exile: familiar sounds, yet uprooted. The opening of the second movement had more than a hint of Debussy both to its brass fanfares and waltzing response. Some will perhaps have found the orchestral solos a little distant, but I rather liked the continuing sense of exile. Far better this, certainly, than the sort of muddy chaos one might hear from the likes of Valery Gergiev. Petrenko declined to coerce the finale into answering questions, thereby permitting it to ask a few more of its own. Materials, even the composer's life and career, were once again revisited from a different standpoint: enigmatic and, like Stravinsky and Zimmermann, not without reference to a brutal external world.
There followed a bonus downstairs in the Philharmonie's foyer. Six percussionists, four from the Berlin Philharmonic, two from the orchestra's Karajan-Akademie, and James Wood performing Gérard Grisey's Le Noir de l'Étoile. Inspired, as we heard from an introductory recorded text (Andreas Sparberg) by the 1967 discovery by a young astronomer of, to quote the composer 'a rapidly varying radio signal, in the form of periodic impulses 1.3 seconds apart', this performance, aided by simple yet powerful lighting and projection, seemed to tread a line between the initial suspicion that the irregularity betokened signals from an extra-terrestrial civilisation and the subsequent discovery of 'a truth … just as surprising: the signals were being emitted by a pulsar, the fantastic compact residue created by the supernova explosions that long ago disintegrated the massive stars.' We listened intent, following the signals, trying to make sense of them, making connections that may or may not have been there – not so very unlike what we had done in the evening's earlier performances. Just as a pattern, be it rhythmic, timbral, spatial, emerged, it transformed itself so as to confound lazy and even informed expectations. There was an undeniably powerful sense of forces beyond our comprehension at play: like the gods of old, yet unlike them too. This was a vision, an experience, not so much without hope as beyond it. Our world would do well to remind itself more often of such concerns; that is, if it is not too late already.
Mark Berry