Switzerland Beethoven, Dvořák: Seong-Jin Cho (piano), Gstaad Festival Orchestra / Manfred Honeck (conductor). Martinskirche, Basel, Switzerland, 13.2.2020. (CC)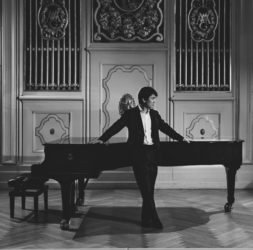 Beethoven – Piano Concerto No.5 in E flat, Op.73, 'Emperor'
Dvořák – Symphony No.9 in E minor, Op.95, 'From the New World'
Earlier in the day, at the magnificent Hôtel des Trois Rois in Basel, Seong-Jin Cho had been guest of honour at the press launch of the 2020 Gstaad Menuhin Festival; he had been publically interviewed by Christoph Müller, the Festival Director, then privately interviewed by some of the journalists present, including myself. The principal strand of the 2020 Gstaad Festival will be 'Vienna'; under this umbrella, of course, comes Beethoven in his 250th anniversary year. (Among many other events, the Festival launches with a performance of the Missa solemnis conducted by René Jacobs and also includes a concert performance of Fidelio with Anja Kampe and Jonas Kaufmann, conducted by Jaap van Swenden).
Seong-Jin Cho's 'Emperor' is not quite an unknown quantity, as there is a performance on YouTube by Cho with the Seoul Philharmonic Orchestra under Myung-Whun Chung, but this performance in Basel was much finer. Regal, in fact, but also notable for its variegated nature. In the interview with Müller, Cho had spoken about how many sides of the 'Emperor' there are (Cho's emperor changes his clothes often, one might say); this Basel performance was notable for finding light and shade, of expertly balancing polarities.
The lovely Martinskirche (at which one arrives after quite a climb) was the setting, a roomy acoustic to which both soloist and orchestra adjusted well, at least from my seat, placed fairly far forwards; woodwind solos were always audible, not always an easy ask in this piece, whatever the venue. Cho's opening flourishes were the perfect combination of clarity and strength, the later fortissimo chordal exchanges between orchestra and piano Herculean. Yet the music frequently softened, Cho finding magical moments of repose. Honeck's players responded superbly, and not just those woodwinds (such a pity there was no orchestra personnel list in the programme, as the principals deserve a mention); the strings were beautifully disciplined, and what a wonderful touch from Honeck to encourage such rasping horns in the movement's final bars. Everywhere there was evidence from Cho of a deep rethinking of Beethoven's score, allied to real musical maturity.
The central Adagio un poco moto had a nice momentum, faster perhaps than Cho's YouTube performance; but it was also beautifully expressive, a true moment of peace, Cho's lines spun of finest silk. Cho's reading of the finale was characterised by an awareness of the underlying spirit of the dance. Those fiendish octave trills were the epitome of evenness; but they also carried energy, an energy that just had to erupt in the subsequent orchestral tutti.
A small Bach encore from Cho (a spellbinding Sarabande from the Fifth French Suite) was the perfect way to tame that energy. Born in 1994 in Seoul, Cho won the Hamamatsu International Piano Competition in 2009, its youngest ever winner; aged 17, he won Third Prize in the Tchaikovsky Competition in Moscow; subsequent to that he moved to Paris to study with Michel Béroff. In 2015, he won the XVII Chopin Competition in Warsaw, and it was this that has launched his career to stellar heights.
Cho's Steinway was adorned with the words 'Klavier-Service Becker' so had clearly been provided by that company (although one really associates 'decorated' pianos in that way with Fabbrini); it was as fine an example of its kind as one could hope to find.
As part of the Beethoven 250 celebrations, Cho will be performing a cycle of the Beethoven Concertos with the Dresden Philharmonic under Marek Janowski. Cho will also perform in London in November this year, playing the Tchaikovsky First Concerto with the LSO and Noseda (with which forces he recorded the Chopin First Concerto for DG). He also returns to the Wigmore Hall ('fantastic, a very special hall' as Cho said to me) and will perform with the London Philharmonic under Edward Gardner. There is a DG recording of the 'Emperor' with Cho and Myung-Whun Chung (released 2018) but it appears to be a region-specific release (that region being Korea: it is going for some 50 Euros on amazon.de, for example); one would hope that particular disc might be afforded greater currency.
On 17 August 2019, Manfred Honeck had made his debut with the Gstaad Festival Orchestra in the Festival Tent with the 'Emperor" and Cho. On that occasion, the second half was Tchaikovsky's 'Pathétique' Symphony. Continuing with the theme, perhaps, of a composer's final symphony statement, after an 'Emperor' with Cho, here on this occasion we heard Dvořák's Ninth.
In 2016, Honeck was named as Principal Conductor of the Pittsburgh Symphony Orchestra, with whom he subsequently released a radiant Dvořák Eighth Symphony on Reference Recordings, a spacious, life-affirming account that includes substantial drama (it is coupled with Janáček's Jenůfa-Suite (review). Honeck conducted these two pieces with the LSO – and a Ravel G major Concerto with Grimaud sandwiched in between – at the Barbican in November 2015). Those two key, core qualities – beauty and excitement – were at the heart of this Basel 'New World,' a performance of fierce integrity, rigour and complete resonance with Dvořák's idiom. Conducting, flawlessly, from memory, Honeck gave an account that was more multi-faceted than most. One might say that just as Seong-Jin Cho found more variety in the 'Emperor' than one is used to hearing, so did Honeck in the Dvořák. Warm, affectionate strings at the opening (antiphonal violins) soon gave way to a remarkably gestural initial presentation of material. Honeck found miraculous amounts of energy in the first movement proper (a word also for the sadly unnamed solo flute, golden-toned and pliable in phrasing; and also for the deliciously rustic oboes).
The glorious brass (and the equally affecting string response) of the second movement Largo ushered in a supremely emotive cor anglais solo. One wonders which edition of the score Honeck was using: the muted first horn did not re-tongue a repeated note, for example. Was this deliberate? It would seem so, as the overall performance standard was so impeccable. There is a Wiener Urtext of Dvořák's Ninth; that horn passage is marked as tongued in the Simrock first edition of 1894.
That beauty of string sound was again in evidence prior to the properly pastoral woodwind pipings in the slow movement. If the church acoustic did claim some casualties in terms of detail in the scherzo (taken at a proper lick, in accordance with the Molto vivace marking), the woodwind contributions counterbalanced this in terms of pure character. But it was the finale that effectively knocked us out, its opening so powerful it was almost angry – it is marked Allegro con fuoco, after all – the brass positively incendiary and palpably insistent. The horn section in general and in particular the Principal Horn deserve mention in this finale, but it is the shattering effect of Honeck's reading that really lingers.
One encore: Brahms's Hungarian Dance in G minor, full of vim encrusted in delicious woodwind garlands.
It is difficult to imagine a finer concert to whet the appetite for the Gstaad Festival itself. The Gstaad Festival Orchestra is a fine ensemble, impeccably disciplined and capable of the greatest warmth and humanity in its playing. Cho's Beethoven was simply staggering in its maturity; Honeck's Dvořák was little short of revelatory.
Colin Clarke