Germany Bartók, Judith: Concerto for Orchestra / Bluebeard's Castle: Bayerisches Staatsorchester / Oksana Lyniv (conductor), National Theater, Munich, 4.2.2020. (JMI)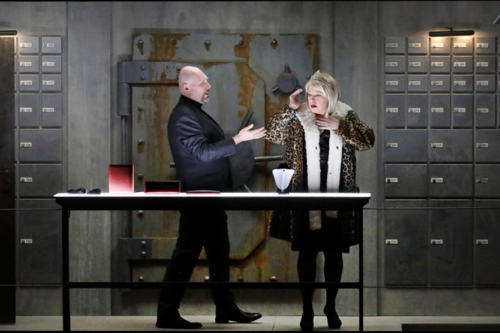 Production:
Director – Katie Mitchell
Sets – Alex Eales
Costumes – Sussie Juhlin-Wallén
Lighting – James Farncombe
Videos – Ellie Thompson
Cast:
Bluebeard – John Lundgren
Judith – Nina Stemme
This was an excellent performance in every way, from an intriguing production to a superb leading couple and a great musical reading. Béla Bartók's Bluebeard's Castle is usually performed as part of a double bill, but here it was announced under the main title of Judith and preceded by his Concerto for Orchestra Sz.116. The latter was one of the Hungarian composer's final works – it premiered in 1944, and Bartók died just a year later.
The performance opens with the aforementioned concerto; the lights are off, and a video is projected. Initially, one may not understand what's going on, but it soon becomes perfectly clear. The video features a character (he will be Bluebeard in the opera) who seems to be a killer. He makes appointments with prostitutes, picks them up in his luxury car and then the girls disappear. A policewoman (who will become Judith in the opera) is investigating these disappearances, and she decides to pose as a prostitute in order to meet Bluebeard. Just as the concerto ends, the screen fades and the stage opens up. We are in Bluebeard's garage where the car is kept, and the opera itself begins without any pause.
The production by Katie Mitchell is terrific and very appropriate to the opera. The clever set moves slowly from right to left, offering the different doors in Bluebeard's dwelling. The fifth door, which features an aerial walk through the castle, is particularly noteworthy. When Judith finally reaches the seventh door, she will kill Bluebeard and set free the three prostitutes behind the door. It is a very original and interesting approach, and I don't think anyone could possibly get bored during the show.
Katie Mitchell's stage direction is also excellent. She turns the opera into a thriller that immediately captures the audience's attention. The modern costumes work well, and the lighting is effective.
If things worked perfectly in terms of the staging, the same applies to the musical direction by Oksana Lyniv, who was an assistant conductor here during Kirill Petrenko's final years. Her reading conveyed both emotion and drama from beginning to end, including the wonderful version she led of the concerto that opened the program.
Although the title of the opera refers to Bluebeard, the true protagonist of the opera is none other than Judith, played by soprano Nina Stemme who gave a magnificent performance in terms both of singing and acting.
John Lundgren was Bluebeard, and he too did extremely well on all fronts.
José M. Irurzun