Spain Benjamin, Into the Little Hill: Members of the Teatro Real Orchestra / Tim Murray (conductor), Teatros del Canal, Madrid, 11.2.2020. (JMI)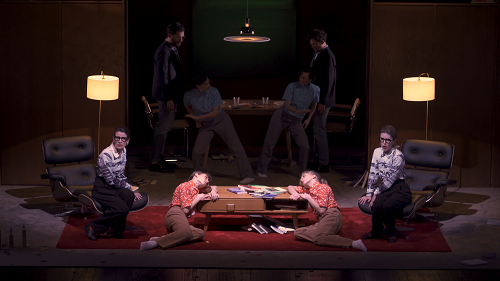 New Production: Teatro Real & Teatros del Canal
Director – Marcos Morau
Sets – Max Glaenzel
Costumes – Silvia Delagneau
Lighting – Bernat Jansà
Cast:
Soprano – Jenny Daviet (The Foreigner/The Minister's daughter/Narrator/Crowd)
Contralto – Camille Merckx (The Minister/His wife/Narrator/Crowd)
This occasion marked the premiere in Madrid of the first opera written by George Benjamin, though not the Spanish premiere: it had been staged in 2010 in the Liceu's Foyer. In my opinion, Benjamin is the most successful opera composer of recent years. His second, Written on Skin (Aix-en-Provence, 2012), is the most performed opera composed in the twenty-first century, which is not a surprise. It's an excellent work in every way, and I think that the great soprano and conductor Barbara Hannigan has played an important role in its triumph. His third opera, Lessons in Love and Violence, was first done in 2018 at Covent Garden.
Into the Little Hill, which was introduced at the Bastille as part of the 2006 Festival d'Automne, is a 40-minute chamber opera with a reduced orchestra of 15 musicians and just two singers. It has not achieved the success of Written on Skin, and I dare say that its presence in opera houses is partly due to the success of the later work. The musical quality of both is remarkably different.
The opera is based on the tale of the Pied Piper of Hamelin, and it focuses on the relationship between the Minister and the Foreigner (the Pied Piper). This new Marcos Morau production is a rather strange one. There is a bare stage at the beginning of the opera, and elements are added as the work evolves. By the end, it is a contemporary sitting room with chairs, tables, lamps and a television set, occupied by the singers, some extras and a group of four dancers.
The musical direction was in the hands of Tim Murray, who moved the work along with a good pulse, although it is not easy to judge the reading in an opera that is new to one. The 15 musicians were drawn from the Teatro Real orchestra.
There are two vocalists, soprano and contralto, who play different characters, sometimes sing almost in unison and at other times just narrate the plot. The Minister was played by contralto Camille Merckx, who has performed in this opera on several earlier occasions. Her voice has a dark timbre that is very appropriate for the role, and she sang with gusto.
Her co-star was soprano Jenny Daviet, who was making her debut in the role. She has an attractive light soprano and did very well, notably at the top of the range where the score is quite demanding.
The Canal Theatre was sold out, and the audience gave a warm reception to the artists at the final bows.
José M. Irurzun