United Kingdom J.S. Bach, Vivaldi, Buxtehude: Rachel Brown (flute), Thomas Dunford (lute). Academy of Ancient Music, Milton Court, London, 20.2.2020. (CS)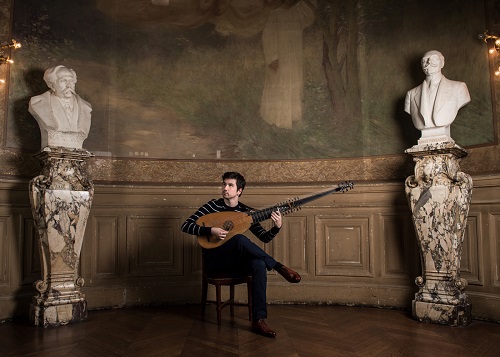 J.S. Bach – Orchestral Suite No.2 in B minor BWV 1067
Mystery Music
Vivaldi – Concerto from Trio Sonata in C major for lute, violin and continuo RV 82
J.S. Bach – Suite in G minor BWV 995
Buxtehude – Trio Sonata for violin, viola da gamba and continuo in Bb major Op.1 No.4 Bux WV225
Vivaldi – Concerto for Lute in D major RV 93
Sedate, somewhat restrained, yet tasteful: these are the adjectives that come to mind when recalling this performance by the Academy of Ancient Music at Milton Court Concert Hall.  Not the descriptive terms I anticipated employing in this review, given that the performance was directed by French lutenist Thomas Dunford – for whom one witty commentator coined the nomer 'the Eric Clapton of the lute' – and especially in the light of his necromantic flights of fancy at Wigmore Hall with the young Dutch recorder conjurer, Lucie Horsch, that I recently enjoyed.
But, then, nothing was quite as expected on this occasion, since upon arriving that Milton Court the audience learned that the anticipated performances of J.S. Bach's music by Jean Rondeau – by coincidence, Dunford's brother-in-law – had been derailed by the happy arrival of the French harpsichordist's first child.
So, a re-jig of the programme had been necessitated and we started with Bach's second Orchestral Suite, with Rachel Brown taking the solo flute role accompanied by an ensemble of ten string players (led by Bojan Čičić) and harpsichord (Stephen Farr), with Dunford joining the continuo ensemble.  Genteel but cautious is how I would describe this performance.  Evidently, the intent was to convey a chamber intimacy with the flute a first among equals.  But, Brown really needed to stamp more presence and individuality on the proceedings.  Her tone lacked roundedness, warmth and vivacity; the notes were all there, the phrasing was elegant, but individuality and a real sense of dynamism and purpose were lacking.  Even the Italianate Badinerie lacked rhythmic bite, failing to emerge with a confident toss of the mane from its stately French context.  The string playing was refined and well-drilled, but Čičić was similarly restrained; it all felt 'hemmed in', somehow.  It seems odd to say it, but there was musicality – how could there not be given the talents of the AMM players – but the 'music' did not really sing.
A 'Mystery Item' followed, for solo flute and ensemble, and here Brown began to convey a more mercurial spirit as her flute arabesques danced against ppp paired-note string sighs.  My guess is Quantz – a slow movement from one of his many concertos for flute – but I'm happy to be corrected/enlightened!
The first half of the concert closed with Vivaldi.  His prodigious output does not include much for the lute – and there is no solo music – but there are two Trios for lute, violin and bass, and we heard RV 82 which, written on Bohemian paper, seems to date from Vivaldi's time in Prague, 1730-31.  Moreover, it is dedicated to the Bohemian Count Johann Joseph von Wrtby, a high-ranking official in the city and an amateur lutenist with a small orchestra.  Of the three movements – the usual slow-fast-slow arrangement – the only one to make much of a mark was the Larghetto, for here Dunford began to indulge in some extemporary fantasy, delicately picking, plucking, prompting.  There were intimations of a minstrel's mandolin and for a moment I thought that the music might break free from its shackles … but, it didn't quite manage to take flight into poetic fancy, perhaps because the violin line was a little too penetrating throughout.
There was more Vivaldi at the conclusion of the concert: the composer's Concerto for lute and strings in D major RV 93.  Given that the scoring is for two violins and continuo one might ask why this is a 'concerto' rather than a trio sonata, but the lute does take more of a leading role.  Dunford seemed to essay a dynamic conversation with the violins but he didn't get much of an answer to his daring questions and perhaps I'm wrong but he seemed to settle into the groove with a resigned shrug of the shoulders.  When the slow movement was reprised as an encore there were few elaborations or imaginative excursions to justify the repetition, though all was, of course, refined and gracious.
But, there were a few sparks in this concert, not least the unfamiliar world and strange harmonic quirks of Buxtehude's Trio Sonata for violin, viola da gamba and continuo in Bb major, in which viola da gamba player Imogen Seth-Smith joined Dunford, Čičić and Farr.  There was fluency here, though one might have wished for greater exuberance, and for Seth-Smith to have established the da gamba as a more equal solo voice.  But, there was a sense of virtuosity, compositional and performative, especially in the ground bass of the opening Vivace, with Čičić, if not improvisatory in manner, then at least playing with a greater freedom which enticed the listener's ear.
Bach owned a lute.  And, he praised the lute-playing skills of one of his students.  But, is his Suite in G minor BWV 995 intended for solo lute?  Probably not: his 'lute works' are in staff notation, not tablature, and need much editing to make them practicable for playing on the lute.  No matter: at the opening of the second half of the concert, Dunford mesmerised.  Admittedly, some movements seemed to lack strength in the bass – Dunford's right-hand thumb had to work hard – but there was such clarity of line, allied with complexity of musical (philosophical?) thought, in the Allemande and Sarabande that the evening's performance was lifted to a whole new dimension.
Claire Seymour