United Kingdom Friedrich Dürrenmatt's The Visit (adapted by Tony Kushner): National Theatre, London. 14. 2.2020. (CSa)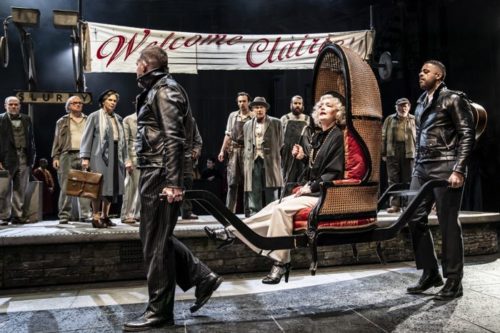 Production:
Director – Jeremy Herrin
Set designer – Vicki Mortimer
Costume designer – Moritz Junge
Lighting designer – Paule Constable
Composer – Paul Englishby
Sound designer – Paul Arditti
Music director – Malcolm Edmonstone
Cast (in alphabetical order):
Troy Alexander – Roby
Charlotte Asprey – Mattie
Jason Barnett – Chief Sandor Mundzuk
Sam Cox – Dan
Bethan Cullinane – Annalise / Jackie Hoffman
Paul Dodds – Chief Engineer / Bat Gormley
Ian Drysdale – Mr Hofbauer
Richard Durden – Boby
Michael Elcock – Percy Mundzuk
Paul Gladwin – Loby
Mona Goodwin – Shop girl / Dana Cowle
Garrick Hagon – Dr Jersey Nutling
Liz Izen – Edeltrud Herckheimer / Mrs Creeky
Sara Kestelman – Principal Henrietta Covington
Joshua Lacey – Husbands nos. 7 and 8 / Twinnings Hoon /Gymnast
Lesley Manville – Claire Zachanassian
Simon Markey – Mr Emerson/ Conductor
Louis Martin – Doby
Kevin Mathurin – Bill
Alex Mugnaioni – Belsha / Bernard Mendelsohnn
Joseph Mydell – Reverend Ferris Messing
Stuart Nunn – Zachary
Simon Startin – Koby
Tony Turner – Wallace
Douglas Walker – Bedney
Hugo Weaving – Alfred III
Flo Wilson – Mrs Blatter / Mrs Balk
Nicholas Woodeson – Mayor Nicholas Herckheimer
'Slurry' is a watery form of manure fertilizer which gives off a poisonous and extremely dangerous and lethal gas. It is also the fictional name of a desolate post-industrial town in upper state New York. This is where the action takes place in Tony Kushner's Grand Guignol adaptation of Friedrich Dürrenmatt's 1956 absurdist tragicomedy The Visit (or The Old Lady Comes to Call).
The 'Old Lady' in question is Claire Zachanassian (the literally magnetic Lesley Manville), a glamorous one-legged but part-aluminium, prosthetically endowed femme fatale (think Sarah Bernhardt crossed with Marlene Dietrich) who 45 years earlier had been wronged by her childhood sweetheart. The visit is her return home to wreak revenge on him. Now the world's richest woman, Claire arrives by train (although the trains don't stop at Slurry anymore) with her toy boy seventh husband, a retinue of throne bearers, a live panther, a macabre pair of blind soothsayers/court jesters joined at the wrist, and an empty coffin for her former lover Alfred III (a solidly convincing performance from Hugo Weaving). Officially welcomed by the Mayor and a gathering of local worthies, Slurry's prodigal daughter offers the community a billion dollars if someone will murder Alfred. The mayor (an authoritative Nicholas Woodeson) initially refuses. After all, this is the United States of America, he sanctimoniously reminds us. It does not take long, though, for the noxious fumes of corruption to infect the locals. Even Henrietta Covington, the town's upstanding high school principal (an outstanding Sara Kestelman) eventually succumbs.
The promise of jam tomorrow ignites a consumer credit boom, in which the clientele of Alfred's general store demands an ever-growing number of luxury goods on tick, causing poor Alfred and his family to grow increasingly apprehensive about his fate. The mood of the greedy townspeople becomes increasingly hysterical, justice is perverted, bribery takes hold, religion is exploited, and democracy is parodied in a fateful town vote.
The play is distinguished by excellent acting, and bursts into life particularly when the effervescent Lesley Manville limps onto the stage. It also raises chillingly topical questions about political freedom and impartial justice in the US and beyond in these dark, Trumpian times. These issues make Tony Kushner's adaptation and Jeremy Herrin's production riveting to watch, even though overburdened by length and scale. Including intervals, the show with two intervals lasts for almost an unconscionable 3.75 hours. Some judicious cuts to Kushner's witty and astute but loquacious script would have given the plot greater focus.  The company could also have been thinned and scenes cut without losing the sense of the narrative. With 28 players, a number of whom took the drama no further, an entertaining but extraneous troop of 12 child tumblers, and 16 supernumeraries, the inclusion of quite so many characters left one at times feeling bewildered.
It has been reported that the Arts Council England, which recently released funding criteria for the next decade, announced that theatres would be assessed on 'relevance' rather than on the previous standard of 'excellence'. By this troubling new yardstick, Kushner's flawed yet compelling adaptation of The Visit would be judged an unequivocal success.
Chris Sallon
For more about NT's The Visit click here.