Switzerland Berg, Wozzeck: Soloists, Chorus of the Zurich Opera, Philharmonia Zurich / Hartmut Haenchen (conductor). Zurich Opera, Zurich, 18.2.2020. (JR)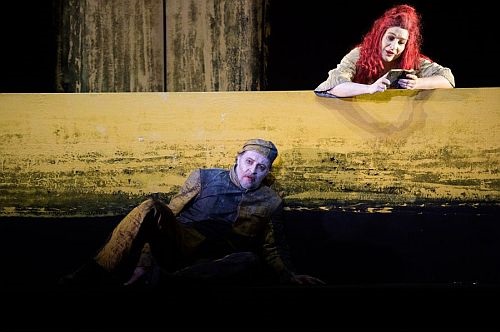 Production:
Director – Andreas Homoki
Scene assistant – Nina Russi
Set – Michael Levine
Costumes – Meta Bronski
Lighting – Franck Evin
Chorus – Janko Kastelic
Dramaturgy – Kathrin Brunner
Cast:
Wozzeck – Christian Gerhaher
Drum-Major – Daniel Brenna
Andres – Iain Milne
Captain – Wolfgang Ablinger-Sperrhacke
Doctor – Jens Larsen
1st Journeyman – Pavel Daniluk
2nd Journeyman – Cheyne Davidson
Fool – Martin Zysset
Marie – Gun-Brit Barkmin
Margret – Irène Friedli
Marie's son – Braulio Camarena
A boy – Tae-Jin Park
This universally lauded Andreas Homoki production premièred back in 2015 and this most welcome revival brought back almost the entire cast, with Christian Gerhaher once again in the title role; it garnered him the accolade of 'Singer of the Year' in 2019 ('Opus Klassik Prize'). Zurich Opera's decision to revive this opera after four years shows the depth of appreciation of the production, and its success at the box office.
For the background to the opera, I can do no better than refer you to the review of a recent performance in Helsinki by Göran Forsling (review click here); my colleague Rick Perdian saw the première in Zurich four years ago and also thought highly of Homoki's production (review click here).
The story is simply told: it is the brutal descent of one impoverished man from the lower classes (he is a barber) who has a life partner and, by her, an illegitimate child, watching her having an affair with a virile soldier, naturally becoming jealous, having visions, then descending close to insanity, ultimately committing murder and then suicide.
Wozzeck is not, by any stretch of the imagination, an 'easy' opera. Its story is stark, but it is the music that can tax a listener accustomed to a diet of Verdi and Puccini. It is, however, not wholly atonal; Berg was composing this whilst his teacher, Arnold Schoenberg, was putting together his twelve-tone technique. Wozzeck employs a dizzying combination of tonal, atonal and twelve-tone music, with fascinating orchestration (the work requires no fewer than eight percussionists) and an array of musical styles; listen carefully and hear Hänsel und Gretel; watch carefully and see Cunning Little Vixen. There is plenty of burlesque; after all, the opera was written in 1920s Berlin. Homoki – as is his wont – brings out the comedy of the piece and the grotesque throughout, to lessen the dramatic gloom. Nevertheless, the work packs a punch when we see the orphaned young son go off to look at his mother's dead body.
Homoki depicts the protagonists as puppets, with floppy arms and jerky movements – after all, he says, are we not all puppets on this Earth, unable to fathom the meaning of the cosmos and unsure who may be pulling our strings? Marie's child is an actual puppet, only coming to life after his parents have died. The set consists of a series of striking yellow overlapping wooden picture frames, to resemble the inside of a camera lens, with actors and singers on different levels – it works exceedingly well. Gerhaher clambers athletically from one level to another, until finally he climbs to the very top to hurl himself backstage into a (hidden) river.
Gerhaher delivers a veritable tour de force, strong and clear of voice (louder than all others on stage), secure of intonation (no easy task) and utterly convincing in theatrical expression. No less impressive was Gun-Brit Barkmin's Marie, with thrilling top notes. Scottish tenor Iain Milne was the new Andres; he gave a solid performance, with only a hint of strain to his highest note. All the other singers were first-rate; Wolfgang Ablinger-Sperrhacke occasionally had difficulty making himself heard above the onslaught of the brass. Pavel Daniluk's resonant bass impressed, as usual.
The intricate score makes heavy demands on the orchestra, especially the trombones and tuba. The Philharmonia Zurich delivered a sterling performance under the expert eye and guidance of conductor Hartmut Haenchen. I would not be surprised if Zurich Opera stages a third revival in some years' time – it is well worth seeing and hearing. The work drew a distinctly younger audience, and the house was packed.
Meanwhile, if this opera is to your taste, do not hesitate and purchase the Zurich Opera DVD with Gerhaher and Barkmin in the main roles, conducted by Fabio Luisi. If you don't know the opera but have an open mind on 'modern' opera (it's nearly 100 years old!), then this production should convert you to this important, moving and ingenious work.
John Rhodes