United States Various composers – The Swedish Nightingale: Ann Hallenberg (mezzo-soprano), Venice Baroque Orchestra / Gianpiero Zanocco (concertmaster and leader). Carnegie Hall, New York, 27.2.2020. (RP)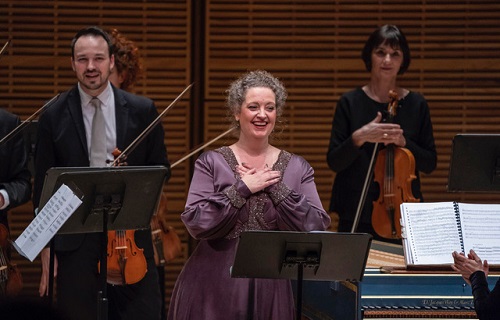 Vivaldi – Sinfonia in B minor for Strings and Continuo RV168, Farnace RV711 'Gelido in ogni vena', Concerto in D minor for Two Violins, Strings and Continuo RV514, Juditha Triumphans RV644 'Armatae face et abguibus', Concerto in D major for Strings and Continuo RV121, Concerto in C major for Strings and Continuo RV114
Handel – Ottone HMV15 'Dopo l'orrore', 'Vieni, o figlio', Serse HMV40 'Crude furie degli orridi abissi', Ariodante HMV 33 'Scherza infida'
Torri – L'Ippolito 'Quando il flebile usignolo'
Broschi – Artaserse 'Son qual nave ch'agitata'
Somewhat incongruously, this superb evening of Baroque music was in homage to Jenny Lind, known as the 'Swedish Nightingale', who was one of the most beloved singers of the nineteenth century. Lind achieved tremendous popularity in Europe in the operas of Mozart, Meyerbeer, Bellini, Donizetti and Verdi, and she was a personal favorite of Mendelssohn, who composed the soprano part in his oratorio Elijah with her in mind. Much of the fortune that she amassed was given to charitable causes.
As for the music of Handel, Lind sang a Messiah in Liverpool before departing for her highly successful American tour, which made a fortune for its impresario, the huckster and politician P. T. Barnum. Lind's memorial plaque, inscribed with 'I know that my redeemer liveth' from the Messiah, is near the composer's in Westminster Abbey. Lind would have known nothing of the Italian Baroque composers whose music was performed by the extraordinary Swedish mezzo-soprano Ann Hallenberg and the superb Venice Baroque Orchestra.
Few singers get the hype that Hallenberg received before this concert: The New York Times ran a feature on her with the headline 'Is This the Best Opera Singer You've (Probably) Never Heard Of?' Even fewer live up to the hype, but Hallenberg did. She is known mainly on this side of the Atlantic through her many recordings – she has performed in North America just a handful of times. Her only previous appearance in New York was in 2017 with the Venice Baroque Orchestra in a performance of Vivaldi's Juditha Triumphans at Carnegie Hall.
The orchestra played four of Vivaldi's instrumental concertos in addition to accompanying Hallenberg in arias. Piety was not one of Vivaldi's virtues as a priest, but he was an incredibly exciting violinist and a prolific, popular composer (almost 500 of his concertos survive), who nonetheless died in poverty. He perfected the three-movement, fast-slow-fast concerto form employing the ritornello, in which an orchestral refrain alternates with virtuosic displays by solo instrumentalists.
The Concerto in D minor for Two Violins, Strings and Continuo RV514 displayed Vivaldi's genius as a composer and his flare as a violinist. Gianpiero Zanocco and Mauro Spianzzè were perfectly matched musical duelists who tossed off the rapid-fire solo lines of the outer movements with disarming confidence and ease. Especially lovely were the orchestral colors in the Concerto in D major for Strings and Continuo RV121, particularly those added by the lute and harpsichord, whose sounds were otherwise absorbed into the particularly homogenous sound of the ensemble.
The orchestra did not really accompany Hallenberg: the singer and ensemble performed as an integrated whole, with the players' musicianship and emotional connection to the music at the same exceptionally high level as hers. In Baroque arias, however, it falls chiefly to the singer to decorate the musical line through dynamics, phrasing and ornamentation, a realm where Hallenberg reigns supreme. Each trill, appoggiatura, grace note, passing tone and change in dynamics was a combination of beautiful tone and emotion.
Hallenberg's ability to musically paint words was brilliantly displayed in Torri's 'Quando il flebile usignolo' from the opera L'Ippolito. The lighthearted aria tells of a nightingale who is forced to flee his nest but finds contentment in another with his mate. Equally charming (actually downright funny) were the violins who sent the song into flight. A single consonant could vividly illustrate the meaning of a word, as in 'Crude furie' from Handel's Serse, where she punctured the word spira to depict the explosion of fury in the breast of a scorned woman.
The icy sounds of winter produced by singer and orchestra in 'Gelido in ogni vena' from Farnace, in which a mother grieves for her son, were chilling to the bone. Fast, furious coloratura passages – ascending scales crescendoing into cries of vengeance – fueled 'Armatae face et abguibus' from Vivaldi's Juditha Triumphans with passion, while a stately simplicity, exquisite ornamentation, warmth of voice and legato combined to create a stunning 'Vieni, o figlio' from Handel's Ottone. The program concluded with fireworks and fun in Broschi's 'Son qual nave ch'agitata' from Artaserse. The aria was one of the famed countertenor Farnelli's showpieces (he was the composer's brother).
Hallenberg returned for two encores. The first was a bravura performance of 'In braccio a mille furie' from Porpora's Semiramide riconosciuta. Porpora died in poverty, but he had enjoyed great success as both a composer of operas and a teacher: Farinelli and Haydn numbered among his students. The final encore was 'Lascia ch'io pianga' from Handel's Rinaldo. The playing of lutenist Ivan Zanenghi was as pure and poignant as Hallenberg's singing; each note was the sound of a tear dropping from Almirena's eyes as she laments her cruel fate.
Rick Perdian