United Kingdom Beethoven: Daniel Lebhardt (piano), Hallé / Gergely Madaras (conductor). King George's Hall, Blackburn, 13.3.2020. (MC)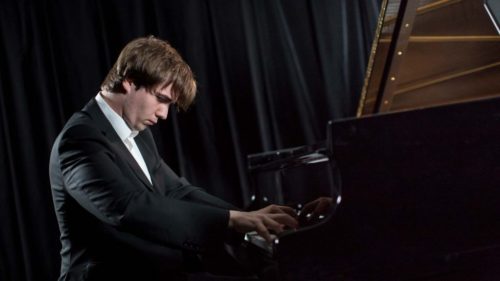 Beethoven – Overture to The Creatures of Prometheus; Piano Concerto No.5 'Emperor'; Symphony No.5
On a day when the spread of coronavirus caused postponement of football and rugby matches, golf tournaments and Grand Prix I can't have been the only one with tickets wondering that afternoon if the evening concert at King George's Hall would be going ahead. But the decision was business as usual and events are going ahead in the hall as planned, for now. For its second visit this season to King George's Hall the Hallé brought an all-Beethoven programme marking the 250th anniversary year of the great man's birth. This was also an opportunity to see and hear piano soloist Daniel Lebhardt and conductor Gergely Madaras both Hungarian born artists previously unfamiliar to me.
Opening the concert was the Overture to The Creatures of Prometheus a dramatic ballet composed in 1801, an allegorical tale centred on the myth of Prometheus. Few conductors effusively radiate as much delight at being on the podium as Madaras with the Hallé, right from the bold opening chords, responding with distinctly first class playing. One of my favourite Beethoven works the Piano Concerto No.5 'Emperor' was completed in 1809 during the time of the Napoleonic Wars. From a terribly testing period in Beethoven's life as Napoleon's armies had reached the gates of Vienna, which was under siege and suffering artillery bombardments, with Beethoven seeking shelter in cellars. Lebhardt was plainly unfazed by the demands of this courageous and magnificent score. Throughout this frequently encountered work I relished the soloist's unerringly stylish and frequently ebullient playing in a bold performance that abounded with fresh ideas. With a significant sense of purpose this compelling account from Lebhardt displayed unquenchable verve in the outer movements drawing the listener into the affecting Adagio with a lovely affecting tone and impressive degree of concentration.
After the interval came what might be called Beethoven's calling card, the Symphony No.5 completed in 1808 after a gestation period of several years. Madaras's confident interpretation of this alluring and enduringly popular score was neat and precise, yet never felt underpowered. Setting the tone was the playing of the bold opening movement that felt focused with an ideal tempo and no shortage of intensity generated. One of my most beloved episodes in all Beethoven's symphonies is the Andante con moto where Madaras paced the movement impeccably, creating a gratifying level of tenderness. As impressive as I have heard for some time, the playing of the Finale delivered a rewarding sense of resolution to this magnificent symphony.
Michael Cookson