United Kingdom Handel, Susanna, HWV 66: Soloists, members of the Royal Opera Chorus, London Handel Orchestra / Patrick Milne (conductor). Linbury Theatre, Royal Opera House, Covent Garden, 5.3.2020. (CC)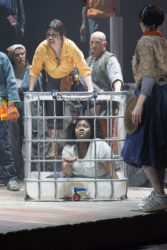 Production:
Director – Isabel Kettle
Designer – Grave Smart
Lighting designer – D. M. Wood
Movement director – Namiko Gahier-Ogawa
Cast:
Susanna – Masabane Cecilia Rangwanasha
Joacim – Patrick Terry
Chelsias / Judge – Michael Mofidian
Daniel – Yaritsa Véliz
Attendant – April Koyejo-Audiger
First Elder – Andrés Presno
Second Elder – Blaise Malaba
Last year, a surtitle-less performance of Handel's Berenice offered a candy box of delights (review click here). The lack of surtitles felt more serious for this year's Handel outing for Jette Parker singers, perhaps because diction was less focused. The biblical story of Susanna forms the material of one of Handel's least-known oratorios (although Laurence Cummings did a good job of whetting our appetites with his live Göttingen recording on Accent in 2016; there was also a recording on Dabringhaus & Grimm from 2000 conducted by Peter Neumann as well as a fine Harmonia Mundi performance under Nicholas McGegan starring Lorraine Hunt). The piece is not short, and the sheer length of the first part seemed as if it might have deterred a number of audience members. Susanna was premiered at Covent Garden in February 1749 – it was written in July – August 1748 and published in London by John Walsh the next year – and this run constitutes its first performances back there since that premiere run.
That is a shame, as this is a wonderful score, offered here both as a showcase for the Jette Parker artists and as part of the London Handel Festival. Susanna is chock-full of da capo arias, offering plenty of opportunity for show, and a number of fine choruses, well performed here by effectively a semi-chorus drawn from the Royal Opera's full corpus. Handel's invention hardly seems to drop throughout the long evening. The story is taken from the Apocrypha, the Book of Daniel, and is a story of male abuse (from the Elders, who move in when Susanna's husband, Joacim, leaves town for a few days), of wrongful accusations (the Elders subsequently accuse Susanna of adultery) and of affairs finally set aright thanks to the intervention of the prophet Daniel. The relevance to the #MeToo movement is clear; we are similarly drawn by director Isabel Kettle to present-day environmentalism in the fishermens' extraction of various plastics from their nets.
The stage contains a room that could be from the 1960s (at least, the cooker looks familiar from my childhood!). A cage (which will hold Susanna prisoner) is suspended from the ceiling in the second part. The whole thing feels rather cluttered, particularly when one adds a chorus into the mix, but on the plus side this means no clunky or, even worse, time-consuming scene changes, while D. M. Wood's lighting is always apt, often atmospheric. Clutter, as far as the band is concerned, is not something one could accuse Handel of: a core band of strings and wind is sparingly (very sparingly) augmented by trumpets, although when the latter do play, they certainly make their point. The playing, led by Patrick Milne from the harpsichord, was sometimes variable, particularly when it came to upper string ensemble; perhaps this will sort itself out as the run continues.
The cast was led – and in fact positively dominated – by the fabulous Susanna of Masabane Cecilia Rangwanasha. Her voice is something special. She is firm over her entire, wide range; she can be meltingly expressive (while never departing from Handelian style); but she can convey the fieriest deluges of anger (as when she rejects the Elders). The point is that we journeyed with her, from domestic happiness (making one think of the 'süsser Häuslichkeit' over on the main stage's Fidelio) through disrespect, wrongful judgement and through to joy. No dramatic heroine is complete without a confidante, as well as a lover who is almost certain to be taken from her. That confidante here was the excellent April Koyejo-Audiger, making her Royal Opera debut, not that one could guess it: confidence aplenty and a superb ability to calibrate her sound with Rangwanasha's point towards Koyejo-Audiger as another singer to watch. She is clearly a fine, sensitive musician.
As her husband Joacim, the American countertenor Patrick Terry is a wonderful singer: his 'On fair Euphrates' verdant side' was a masterclass in Handelian lyricism. He has already, as a Jette Parker member, essayed Arsace (Berenice), Artemis (Phaedra) and Serafino (The Intelligence Park); this may well be his finest moment yet. His voice is full and expressive; not to mention pliable. It is the variety of his vocal colour that impresses the most, perhaps.
Of the two Elders, it was the second, Congolese bass Blaise Malaba, who impressed the most, by far, his voice firm and powerful with real presence. His colleague in (literal) crime, the First Elder, was sadly the weakest link in the cast; the Uruguayan tenor Andrés Presno, in his first solos precarious of pitch and rather lacking in both eloquence and charisma; the glorious 'Ye verdant hills, ye balmy vales' can be such magic, but was here rather lacklustre.
One of the problems, if such it is, with such young casts is that the older characters can have to work harder to convince us of their wisdom and life experience. Such is the case with Susanna's father, Chelsias, finding Scottish bass-baritone Michael Mofidian on one level looking very youthful, but vocally and dramatically delivering the goods with aplomb and a firm, burnished voice of the utmost security (the part is really quite agile).
Although the story is from the Book of Daniel, it is interesting that that character himself only appears towards the end. The role of Daniel was in fact taken by the superb Chilean soprano Yaritsa Véliz, whose Barbarina in Le nozze di Figaro I very much enjoyed in the Big House (review click here). Handel's 'Chastity, thou cherub bright' asks much of its singer in terms of breath control, particularly as much is either very exposed or even unaccompanied; and to cap it all the story requires one dies not drop the ball. Yaritsa was heart-meltingly eloquent.
There is so much to enjoy in this evening that it would be a crime to miss it; this despite the odd caveat or two. Handel's music triumphs: his demands on the singers are almost completely conquered. And performances of this piece are rare, so do go if there are any tickets left!
Colin Clarke
For more about what is on at the Royal Opera House click here.