United Kingdom Mozart In Italy [3]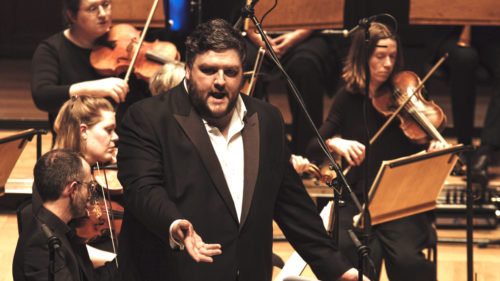 Illustrated Talk: Mozart's First String Quartet. Cliff Eisen (speaker) with George Clifford, Naomi Burrell (violins); John Rogers (viola); Gavin Kibble (cello).
Concert: The Commission: Kiandra Howarth, Sarah Aristidou (sopranos); Stuart Jackson (tenor); The Mozartists / Ian Page (conductor). Cadogan Hall, London, 8.3.2020. (CC)
Mozart – Symphony No.44 in D, K81/73l; Mitridate, re di Ponto  (1770): 'Se di lauri' (first version, completed Sadie); 'Pali' ombre che scorgete'; Symphony in D, K 84 / 73q
Baldasare Galuppi – L'amante di tutti (1760): 'Un pensier mi dice'
Niccolò Jommelli – Armida abbandonata (1770): 'Misera me! .. Ah! Ti sento'; 'Fra l'amor di note oscura'; 'Misero Armida … Odio, furor, dispetto'
Quirino Gasparini – Mitridate, re di Ponto  (1767): 'Se di lauri'; 'Pali' ombre che scorgete'
It is not often one gets to hear Mozart's First String Quartet in G major, K80, much less experience it in the context of an introductory lecture. Professor Cliff Eisen gave a self-confessedly impromptu lecture in the unavoidable absence of Sergio Durante; the joy was in the music itself, a performance of great style that I am sure convinced many that this  item of 'juvenilia' actually contains huge beauty. The primary interest was in the (again impromptu) experimentation with quartet layout (antiphonal violins lending to the experience) and indeed with mode of delivery (they also tried playing it while standing, and the music blossomed). But do search out the first quartet – the eloquent performance here, the epitome of chamber music, a perfectly balanced conversation, spoke volumes as to its worth. Completed in March 1770, it is full of the sheer joy of composition. Contextualising it was Pietro Nardini's joyous, Haydnesque String Quartet No.5, which it is posited may have been a model for Mozart. Nardini was a friend of Leopold Mozart's, and Nardini certainly encountered the young Wolfgang during the 'Italian year'. Difficult to know which is the greatest discovery, really.
A rare performance of the Symphony 'No.44' opened the final concert of this Mozart weekend, its exuberant opening movement giving way to moments of huge beauty in the central Andante, where suave violin exchanges sang over a poignant-sounding pair of oboes. There was some fine horn playing from both players in the finale.
Baldasare Galuppi's L'amante di tutti is not quite an unknown quantity: there is a recording on the Bongiovanni label, conducted by Marco Fracassi. It was good to hear an aria live, though, and Stuart Jackson was considerably more eloquent than his recorded counterpart. The melody Galuppi gives Don Orazio is heavenly; and Jackson's legato was superb in the first verse, ceding to anguish in the second stanza and onwards. What a treat, though, to then have not one but three excerpts from Jommelli's Armida abbandonnata. Sarah Aristidou was outstanding in Armida's aria 'Misera me! … Ah! ti sento, ' singing from memory with supreme assurance, her staccato scales positively popping (and perfectly in tune). This is probably the best-known excerpt from Jommelli's opera.  Tancredi's aria 'Fra l'amor note oscura' was despatched with emotive power by Jackson before Aristidou excelled again in the extended 'Misera Armida … Odio, furor, dispetto': each word of 'Odio, furor, dispetto' was beautifully separated. Aristodou has a huge voice, and can manage the fireworks superbly. The final section ('Il caro usato') begins, apparently, after a chariot drawn by a winged dragon rises from the earth …
How wonderful to have both Mozart's and Quinto Gasparini's settings of 'Se du lauri' from Mitridate, both from Stuart Jackson, giving us a chance to recognise the clear similarities between the two. The huge leaps of the Gasparini found a lyrical interpreter in Jackson, the lines making complete sense; the Mozart of course goes up a compositional notch or two, the melody now reaching heavenwards for its inspiration. A superb exercise, and musically much more than that, especially give Ian Page's sensitive work with his players.
The Symphony 'No.44' is a splendid piece, the Andante central panel holding deliciously Gluck-like attributes, while the scampering finale relies on exactitude of execution for its success, something that was delivered with complete assurance on this occasion.
But it was vocal music that got the final word. Another Gasparini and Mozart pairing of the same text, Arpesia's 'Pallid' ombre che scorgete'. Kiandra Howarth did the honours for the weekend's final lap. The Gasparini seemed to continue the Gluck reference Mozart brought up in the symphony (lovely pianissimi from Howarth), a lovely piece. But it was Mozart who, rightly, got the last word, 'his' Aspesia (in its first version, completed by Stanley Sadie) garlanded with bitter-sweet woodwind dissonances, poignantly given, an absolutely magical setting in a spellbinding performance from both Howarth and The Mozartists. One encore was given, the 'Se viver' from Mitridate.
This was a supremely successful weekend, as touching musically as it was stimulating intellectually. The invitation is to go out and explore – Mozart's sublimity is only enhanced when one hears the music around it, and there are discoveries aplenty to be had in the process.
Colin Clarke