United Kingdom Beethoven: Pinchas Zukerman (violin), Daniel Barenboim (piano). Pierre Boulez Saal, Berlin, 1.3.2020. (MB)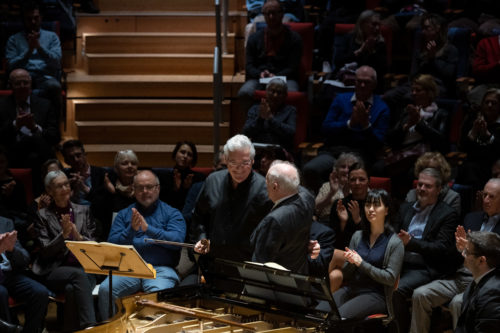 Beethoven – Violin Sonata No.5 in F major, Op.24, 'Spring'; Violin Sonata No.6 in A major, Op.30 No.1; Violin Sonata No.7 in C minor, Op.30 No.2
Elegant yet variegated violin playing announced the opening of Beethoven's Spring Sonata, one of the loveliest pieces he wrote. The way the piano, or rather the pianist, leaned into his first melodic phrase and then sang – piano song, not vocal, nor for that matter violin song – proved just the ticket in response. We were to be in excellent hands, it seemed, with Pinchas Zukerman and Daniel Barenboim: a partnership whose give-and-take was very much that of equals. The first movement's tempo was spot on. Rhythms were nicely sprung. Mozart's utopia may have vanished, yet it seemed close –shadows included, becoming more prominent as the movement progressed. Dialogue that was magical not precious, harmonic as well as melodic, characterised the slow movement. Mysteries were revealed through phrasing and modulation alike. An initially frisky scherzo turned uncomfortable, but even the finest musicians can fall out of sync on occasion; they, like Beethoven, are only human. There was full recovery, in any case, for a finale truly worthy of the name, already of the nineteenth century in dramatic vigour, yet with vernal sweetness and chirpiness that looked back as much as forward.
The first of the Op.30 sonatas, that in A major, immediately spoke with greater complexity. Barenboim and Zukerman's first movement seemed to communicate fully Beethoven's balance between profusion of material and longer line: no easy thing, be it in Mozart or Beethoven. It was fascinating here and in the slow movement to hear that work itself out in complement and contrast with its dramatic implications. In the latter, the very emergence of melody in both instruments made for absorbing – and far from easy – listening. The opening of the finale initially seemed less enigmatic, both more straightforward and charming. Gathering of pace, however, also afforded gathering of complexity. Here was authentic Beethovenian struggle, brought to us via outstanding playing by any standards.
Barenboim's communication of harmonic rhythm, ever founded on the bass line, unleashed a stark yet sensitive account of the C minor Sonata. First-movement rhetorical interplay between piano and violin and motivic transformation alike fuelled the dramatic engine, its tumultuous coda the truest of climaxes. The slow movement was songful, soulful, sublime. What one could learn from Barenboim's voicing of piano chords alone! Not, of course, that one listened to any one aspect in isolation. Dramatic eruptions gained much of their force from integration within a larger whole. The organic may well be a Romantic construct in need of deconstruction; it nevertheless became reality here. Accenting in the scherzo both gave the appearance of spontaneity and spoke of an understanding that left nothing to chance. There were many characters to encounter here, still more in a trio that was, properly, both contrasted and related to its elder sibling. Taken attacca, a finale imbued with fury and pathos made for a duly tragic conclusion both to the sonata and to the recital as a whole.
Mark Berry