NEW!

2020 Three Choirs Festival – 25 July to 1 August

20/03/2020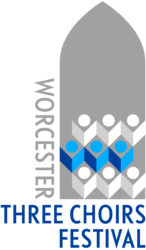 2020 Three Choirs Festival offers an exciting musical voyage.
With the United Kingdom currently battling the Covid-19 virus, society is facing restrictions on everyday life which are unprecedented in peacetime. The short-term outlook for cultural events looks pretty bleak at present. Not a good time, you might think, for the Three Choirs Festival to launch its 2020 programme. However, the Festival, which is being hosted this year in the city of Worcester, is scheduled to take place between 25 July and 1 August by which time it is hoped that restrictions will have eased. Three Choirs Festival Chief Executive, Alexis Paterson struck a very positive note as the programme was launched today: she and her colleagues are continuing to plan firmly on the basis that the Festival will go ahead as planned, subject, of course, to appropriate health advice.
In the current uncertain climate, the Festival has waived its usual refunds policy. The public can make advance bookings with full confidence that if they're unable to attend for any reason relating to Covid-19 (either through illness or suspected contact) they will be eligible to receive a full refund, even if their tickets can't be resold.
Let's cheer ourselves up with a foretaste of what's in store in Worcester this summer, all being well.
The Festival's Artistic Director will be Samuel Hudson, who took up his post as Director of Music at Worcester Cathedral in autumn 2019. He arrived in Worcester from Blackburn Cathedral, where he had been Director of Music since 2011. He made his Three Choirs debut last year, conducting a concert at the Gloucester Festival. However, he now has the exciting prospect of directing his own Three Choirs Festival for the first time.
The 2020 Festival will explore as a major theme the concept of Voyages. This year marks the 400th anniversary of the voyage of the Mayflower to North America, so the opportunity has been taken to feature music by a number of American composers. Some of these, such as John Adams and Aaron Copland are well known but others may be less familiar. The opening night concert, to be conducted by Samuel Hudson, has a strong US element, including pieces by Copland and Nico Muhly as well as Stephen Paulus's Sea Portraits. The other work, though, is right in the Three Choirs English tradition: Elgar's The Music Makers (25 July). Another great English choral work will close the Festival when Mr Hudson conducts a programme that includes Walton's sizzling Belshazzar's Feast (1 August)
The schedule of evening concerts includes two intriguing works, both of which, in differing ways, fit with the Voyages theme. One is the cantata Hora Novissima by the American composer, Horatio Parker (1863-1919). That work, which is surely virtually unknown in the UK, was the first piece by an American composer to feature in a Three Choirs programme; it was heard at the Worcester Festival of 1899. Parker is perhaps best remembered these days as the teacher of Charles Ives at Yale University so this will be a great opportunity to evaluate one of his major scores. Geraint Bowen, Director of Music at Hereford Cathedral, will conduct Parker's work, which is paired with Elgar's Enigma Variations, another piece heard at the 1899 Worcester Festival (26 July).
The other large work that will be new to many listeners is the choral symphony, Odysseus (1938) by Cecil Armstrong Gibbs (1889-1960). A recording of Odysseus was made a few years ago (Dutton Epoch CDLX7201) but otherwise it is little known nowadays. Adrian Partington, Director of Music at Gloucester Cathedral, conducts this programme which also includes Copland's evergreen Appalachian Spring. (29 July) Mr Partington will also be on the rostrum for a morning concert which includes an exciting twentieth century score, The Great Journey (1988) by Colin Matthews. This vivid piece relates the story of the Spanish Conquistadores' voyage to South America. The soloist will be baritone Roderick Williams. (28 July).
Besides this Matthews piece, the Festival programme will include significant works by several other important contemporary composers. The Marian Consort will bring Gabriel Jackson's compelling Stabat Mater, a work written for them in 2017 and which they have recorded (review) (30 July). The Latvian composer Ēriks Ešenvalds' choral/orchestral work, The Pleiades (2018) will receive its UK premiere in a concert to be guest conducted by David Hill, Excitingly, that same concert will include the world premiere of The World Imagined, a major work by Gabriel Jackson, commissioned by the Festival. Jackson's new score is described as "an ecstatic contemplation of creation and humankind's small place in an infinite cosmos". Both Jackson and Ešenvalds have a gift for fertile and imaginative choral and instrumental textures so this promises to be an unmissable concert. (31 July).
The Marian Consort is just one of a number of notable guest ensembles featured in the Festival. Paul McCreesh and the Gabrieli Consort and Players will bring their highly acclaimed interpretation of Purcell's King Arthur (27 July) while the National Youth Choir of Great Britain present a morning concert featuring a varied and tempting mixed programme which includes Tallis's Spem in alium (1 August)
Recent Festivals have included a concert by the Three Choirs Festival Youth Choir. This year, Geraint Bowen will be conducting an enticing programme. Joshua Ellicott will be the soloist in Britten's Saint Nicholas. There'll also be a chance to hear Visions, a less well-known work by John Rutter and there'll be a revival of Centuries of Meditations (2012) by Dobrinka Tabakova; this was the first work commissioned for the Youth Choir. (28 July)
Inevitably, the Festival will pay its respects to Beethoven as the musical world marks the 250th anniversary of his birth. Several of his works will be performed. However, it's good to find that other composers will also be given their due. The 150th anniversary of the birth of the French organist-composer Louis Vierne (1870-1937) will be marked. His imposing Messe solenelle will be sung at the Festival Sunday Eucharist (26 July) and all four organ recitals during the Festival, including a celebrity recital by David Briggs (27 July), will include one of his compositions. Pleasingly, the Festival will also salute a noted English composer much associated with Three Choirs during his lifetime: Herbert Howells. Among the Howells pieces to be performed is Jonathan Clinch's completion of the Cello Concerto. The soloist will be Guy Johnston, who first performed it in public (review) and has since has recorded the work (review). The programme will also feature Anthony Payne's inspired performing version of Elgar's sketches for his Third Symphony (30 July). This concert, guest conducted by the talented young Finnish conductor, Anna-Maria Helsing, will be one of the many opportunities during the week to hear the Festival's resident orchestra, the Philharmonia.
Chamber music and song recitals will also feature strongly during the week. The service of Choral Evensong is always a daily cornerstone of the Festival and the music for this year's services will give particular prominence to British composers, including the first performance of a brand-new anthem by John Rutter at the Wednesday service which will be broadcast live on BBC Radio 3 (29 July).
This preview has merely scratched the surface of a wide-ranging and exciting programme of concerts, recitals, talks and other events.
The full programme is now available to view online at www.3choirs.org. General booking opens on 22 April when bookings can be made by phone on 01452 768 928 or through bookings@3choirs.org .
John Quinn
Comments