Jeannette Sorrell of Apollo's Fire talks with Mark Sebastian Jordan about 'O Jerusalem!'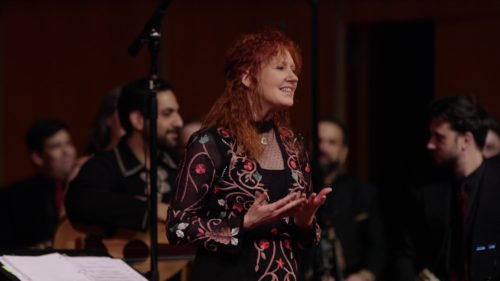 In its first quarter century, Apollo's Fire, the Cleveland baroque orchestra, has made creative programming a cornerstone — a key part of engaging and building a dedicated public throughout northeast Ohio and beyond. In 2018, the ensemble unveiled a program entitled O Jerusalem! Crossroads of Three Faiths, which I reviewed in concert at that time. Now the group is bringing the program back for a second look and taking it on tour to New York City and Chicago. I spoke with harpsichordist and conductor Jeannette Sorrell as she was returning to her hotel from a rehearsal for the group's current tour.
MSJ: How did this program come about?
JS: I am really interested in history and world cultures. We had done a program called Sephardic Journey in 2014, and it seemed to really strike a chord with people, for the concerts were all sold out immediately and the CD did really well. So, people were asking me for a sequel. I often think that sequels end up being less good than the original, so I set out to do something a bit different.
The 'O Jerusalem' program is not only Jewish, but it looks at the Four Quarters of Jerusalem — the Jewish, Arab, Christian, and Armenian quarters — from the period of the late Medieval to the early Baroque, from 1300 to 1650, approximately. Being able to delve into the music from all four of those cultures and see how they interweave with each other and how they influenced each other was a really fascinating experience. Putting the program together was every bit as much fun as performing it.
MSJ: Where do you go to find your sources for this material? This isn't the most well-traveled ground.
JS: Right! A lot of different places. A program like this is quite collaborative. René Schiffer, our principal cellist, helped me with the research, and recommended this wonderful book by Abraham Idelsohn about the history of Jewish music. That book has quite a few historical melodies that have survived in manuscripts and other historical sources.
I worked closely with our Palestinian musician, who was Ronnie Malley when we launched this program last season. We'll have a different Palestinian musician this time — Zafer Tawil — who will be the guru and authenticity police for the Arab music on the program, which is all traditional, passed down orally.
For the Christian quarter of the program, for example, one of the pieces is a medieval cantiga called 'Santa Maria strela do Dia'. There's a surviving manuscript source for that which I arranged, adding a little harmony and a descant so the whole ensemble can play along.
For the Armenian music, there was a piece called 'Havun, Havun,' which I asked René Schiffer to arrange. It's for cello, two flutes, and double bass. We did that because our double bass player, Sue Yelanjian, is Armenian. She had to be in it. The piece refers to birds, that's why the flutes are in it.
MSJ: Why is a program like this important?
JS: I think that artists have always had an important role in trying to encourage people to think about societal issues and cultural tensions in a new way, trying to get people to perhaps see what we have in common as human beings, even from different cultures and different parts of the planet. In the case of the Middle East, that's an incredibly urgent problem. So, this program really brings together musicians from these different backgrounds: Jewish, Israeli, Palestinian, Christian. All of us are there on stage, and we all love each other, and we all know people in the Middle East who just want to live in peace.
There's a section of the program I put together that is called 'Synagogue, Mosque, and Cathedral,' and in that section of the program, everything segues – it's completely woven together. It begins with the Muslim call to prayer and goes through Gregorian Chant from a Renaissance Catholic cathedral, and then goes from that into Jewish cantorial chant, and then into the Monteverdi Vespers at the end. In that section, when you hear all these different types of sacred music from these different religions woven together, you realize how closely they resemble each other. They were each influencing each other. The Jewish cantorial singing sounds very similar to the florid singing in the Monteverdi Vespers. And the Arab music also sounds similar to the Jewish music. It helps us to realize we all have the same roots as human beings. If people walk away from this concert perhaps thinking about some Middle East issues in a new way, that will make us happy as performers.
MSJ: When you first debuted this program last year, what sort of feedback did you get?
JS: I was a little uncertain what the feedback would be from the Jewish community, but we performed it at the Temple-Tifereth Israel [in Cleveland], which is a wonderful congregation, and they welcomed it with open hearts. Feedback was very positive, as were the reviews.
Performing this program is such a special and magical experience for all of us who are in it. Everybody who is returning to this project — who did the premiere last year — is saying this is their favorite project they've ever done, because of the audience reaction to it.
Mark Sebastian Jordan
Apollo's Fire will perform this program four times throughout northeast Ohio in early March 2020, and offer tour performances at the Metropolitan Museum of Art in New York City on March 7, 2020, and at Northwestern University in Evanston, Illinois, on March 12, 2020. For more about Apollo's Fire click here.