For a singer whose career was cut short in the 1960s by illness, Canadian-American bass-baritone George London's presence still looms large in the opera world. His magnificent voice can be heard on recordings, including a 1960 Tosca with Renata Tebaldi that for many remains a definitive version of the Puccini opera, but it is the work of The George London Foundation for Singers that is his true legacy. Each year the Foundation awards tens of thousands of dollars to young American and Canadian singers who are in the early stages of their careers.
London was born on 30 May 1920 in Montreal, the son of Russian immigrants, naturalized American citizens who had moved to Canada. In Los Angeles, where he relocated with his family when he was 15, London earned money chasing whatever opportunities there were for young singers at the time, from church choirs to movie soundtracks. There were lean years on what he recalled as a difficult road to success, and after his retirement from the stage his goal was to make that path a little easier for future generations of aspiring singers.
London's early success in opera came in Europe, a destination for many Americans at a time when there were far fewer opportunities for young singers in the US than there are now. Hired on the spot by Karl Böhm after a hastily arranged audition in Brussels, London made his debut as Amonasro in Aida at the Vienna State Opera in 1949. He was the first American singer to appear with the company after World War II, in what was to be a career of firsts.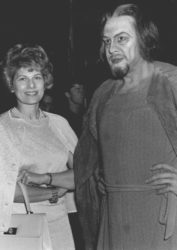 Wieland Wagner hired London to sing Amfortas in Parsifal in a groundbreaking minimalist production at Bayreuth in 1951, the first postwar performance of a Richard Wagner opera at the festival. London was Jewish, and Wagner received threats. There were even rumors that the production would be sabotaged, but it was a triumph: the bass-baritone would return to Bayreuth to sing the role each summer until 1964. The operatic collaborations of Wieland Wagner and London culminated in the singer's appearances as Wotan in a complete Ring for Cologne in the early 1960s.
In the fall of 1951, London premiered at the Metropolitan Opera as Amonasro in Aida. American composer and critic Virgil Thomson hailed him as 'a great barytone star in the grand manner. Beauty of voice, perfection of musical style and a stage power, both by personal presence and by dramatic skill, of the very first class are his'. London made over 270 appearances at the Met during his 15 seasons with the company, and was especially acclaimed as Don Giovanni, the Count in Le nozze di Figaro, Scarpia and Boris Godunov, his favorite role. London was not only the first American to sing Boris Godunov at the Met, but also at the Bolshoi in Moscow in 1960.
The experience of performing with London is still vivid for colleagues who shared the stage with him. Mezzo-soprano Mildred Miller Posvar sang at the Met for 23 seasons and performed with London in Le nozze di Figaro, Faust, Les contes d'Hoffmann, Boris Godunov and even a 1954 Parsifal. Miller still remembers the sound of London's voice, which she describes as 'clean and masculine', and 'his incredible ability to communicate the text'. Miller sang with many Count Almavivas, but London was her favorite: 'The whole opera whirled around him, the Count, the way it should'.
Mezzo-soprano Rosalind Elias, who sang more than 680 performances at the Met over 42 years, recalls that 'George London had the most glorious voice'. Elias and London appeared together in Le nozze di Figaro, Les contes d'Hoffmann, Boris Gudunov and Eugene Onegin. Like Miller, Elias remembers London's intensity and how he used words, adding that he had 'the sound of greatness and goodness in his voice'.
Elias also fondly recollects how London nurtured younger singers, adding that he was a reassuring presence on stage. One such instance, her Met role debut as Giulietta in Les contes d'Hoffmann in which London sang the role of the sinister Dapertutto, is still vivid in her memory. She was so nervous as she made her entrance descending a staircase that the mirror she held was shaking, but when she reached the bottom of the stairs 'the mere touch of his hand calmed me'.
Tenor George Shirley sang at the Met for 11 seasons and appeared with London in Der fliegende Holländer and Boris Gudunov. As the young steersman who falls asleep as he sings about his girlfriend in the Der fliegende Holländer, Shirley feigned sleep but kept his eyes open to watch London as the Dutchman. (Karl Böhm, who had engaged London for Vienna over 20 years earlier, was the conductor.) Shirley agrees with his colleagues Miller and Elias: 'George London just took over the stage'. Watching London, he states, 'was a lesson to all other singers on how to command a role'.
Rosalind Elias and George Shirley have also been active in the work of the George London Foundation. Shirley was asked to judge the competition in the 1980s when he was teaching at the University of Maryland, and he helped pick the singers who would appear in the finals in New York. Shirley subsequently served as a judge at the competition finals for many years. He modestly sums up his contribution as playing 'a minor role in the major work of the Foundation'.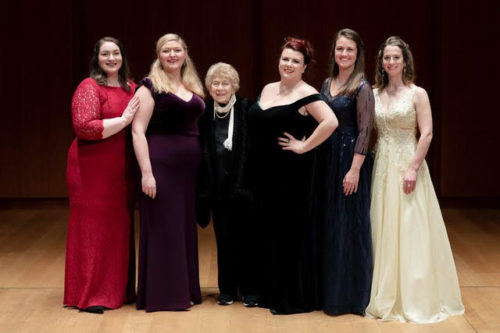 Elias, who has also served as a judge in the competition finals and regularly attends the concerts sponsored by the Foundation, is likewise proud to be a part of its work – 'one of the best and longest lasting vocal competitions' in her view. She readily acknowledges that she needed assistance when she was starting out and is happy to be able to help where she can. There is no doubt in her mind, however, as to who receives credit for the Foundation's success: Nora London. Elias adds that Nora London's 'positive attitude is phenomenal, and she instinctively knows the right thing to do'.
Elias's words of praise are echoed by everyone who is connected with or knows of the Foundation. For 30 years, Nora London has been its driving force. Now 95, she is optimistic for the Foundation's future and that its work will continue, expressing great confidence in the commitment and abilities of its Executive Director, John Hauser. Equally important to her is that there will continue to be a family connection with the Foundation's work: her daughter, Marina London, now serves on the board as vice president.
The 49th George London Competition was held at New York's Morgan Library and Museum on 21 February 2020, and sopranos Jessica Faselt and Jana McIntyre and mezzo-sopranos Katherine Beck, Lindsay Kate Brown and Anne Maguire were each given top awards of $10,000. They joined the ranks of prior winners such as Joyce DiDonato, Renée Fleming, Christine Goerke, James Morris, Matthew Polenzani, Sondra Radvanovsky and many others who have gone on to international stardom.
If Nora London has a regret, it is that there isn't enough money to assist even more singers. Most of all, however, she expresses gratitude for the great gift that her husband bequeathed her – the privilege of making the dreams of young singers come true – just as her husband envisioned in 1971 when the first award was given.
Rick Perdian