Finland Mozart, Don Giovanni: Finnish National Opera Chorus and Orchestra / Patrick Fournillier (conductor). Finnish National Opera, Helsinki, 6.3.2020. (GF)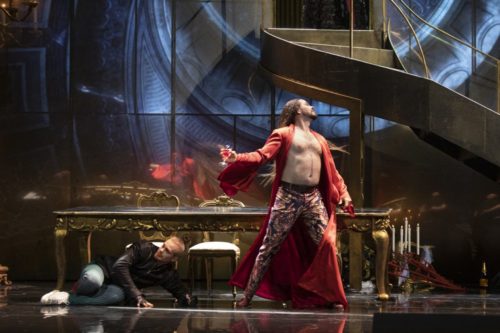 Production:
Director – Jussi Nikkilä
Sets and projections – takis
Costumes – Erika Turunen
Lighting design – Kalle Ropponen
Choreography – Ima Iduozee
Battle scenes – Seppo Kumpulainen
Cast:
Don Giovanni – Tuomas Pursio
Donna Anna – Liine Carlsson / Hanna Rantala
Commendatore – Koit Soasepp
Donna Elvira – Tamuna Gochashvili
Don Ottavio – Jussi Myllys
Leporello – Markus Suihkonen
Masetto – Henri Uusitalo
Zerlina – Olga Heikkilä
I was a bit confused when I saw the pantomime during the overture and feared that this would be another of those laboured re-workings of the story: a curved staircase leading up to an apartment in what I assumed to be the house of the Commendatore, the Commendatore himself pacing to and fro like some kind of overseer; at the top of the stairs Don Giovanni, bare-breasted, receiving a succession of skimpily dressed females and showing them into a room, his last visitor being Donna Anna, dressed like a whore! Was this a brothel? In the house of the Commendatore? I never got an explanation, but when the drama unfolded everything – well, most of it anyway – was in line with the original story, despite some unexpected twists, but those were refreshing and contributed to a performance full of life, movement and entertainment. Donna Anna, in a different outfit, became the serious, noble upper-class lady, whereas her Don Ottavio was the usual wimp, only sloppier. Donna Elvira was portrayed as strong-willed, sad, still infatuated and volatile – a human being of flesh and blood. The rural couple: Zerlina, intelligent but lusty, Masetto, stubborn, hot-tempered and jealous. They all fit in with the traditional picture. Leporello was younger, stronger and more vivacious than most. The Commendatore was nobly statuesque – and in the final scene truly commanding. Did I forget someone? Oh, yes, the libertine himself, Don Giovanni: hyper-active, always on the move, continuously snorting cocaine. Both vocally and physically Tuomas Pursio went all-out during the entire evening and the memory of his reading will remain for a long time.
A considerable part of the success of this production rests on the shoulders of the director, Jussi Nikkilä. This was his first opera, having previously worked as an actor in theatre, films and TV-productions and also directed theatre productions (Shakespeare at the Finnish National Theatre, no less). Coming fresh to opera with unprejudiced eyes, he was able to find solutions that were unorthodox but very often eye-openers. To mention only one example, there is the scene when Don Giovanni and Leporello encounter the Commendatore. In the original they stumble upon the statue in the churchyard – which is remarkable, since he has only just been killed. Here he is, more logically, in the mortuary and the inscription on the plinth of the statue is replaced by a label attached to his big toe, the print so small that Leporello needs his reading glasses to decipher the message. In the final scene, Don Giovanni is so stoned that he runs around in his underpants, obviously horror-struck before the meeting with the Commendatore. He still maintains that he is no coward, but shivers with fear and crawls about the floor. The end comes quickly: he grabs the hand of the Commendatore, followed by a black-out and the curtain. The appendix ensemble where the remaining characters rejoice, is cut, quite logically as well. This is Don Giovanni's opera, what happens to the others is of secondary importance.
One feature of this production that contributes strongly to its overall greatness is the choreography. There is a splendid group of dancers enlivening the proceedings and there are several scenes with 'organized' movements, most notably when Masetto and his friends gather in the second act and show their weapons with synchronized movements. This is of course common practice in musicals, but I can't see that it should be banned on the opera stage. Even closer to showbiz is the sextet in Act II, when all six produce sunglasses and perform the piece as if it were a rock music show, with two lead singers (Leporello and Don Ottavio), the Donnas playing air guitar, Masetto keyboards and Zerlina castanets. Purists may have frowned but I found it truly entertaining.
Inventive use of the turntable made the many changes of scenes simple and elegant and Patrick Fournillier had honed the orchestral forces to a homogenous body. The stage musicians who appeared in both acts deserve special mention – and they were also paid before they left. That doesn't always happen!
Singing and acting was on a high level, from the booming Koit Soasepp's Commendatore via his bass colleagues Henri Uusitalo (Masetto) and Markus Suihkonen (Leporello), both excellent comedians, to the four(!) ladies. Due to an accident towards the end of the first act, Liine Carlsson (Donna Anna) had to leave during the interval, but fortunately the other Donna Anna, Hanna Rantala, was at hand and could step in. Both were excellent. Jussi Myllys's Don Ottavio was not as honeyed as one could wish but his smug heroism leading to nothing was well conveyed. And Tuomas Pursio, whose Donner in Das Rheingold last autumn was a disappointment, proved emphatically that it was a one-off, since here he owned the stage whenever he was present, vocally as well as scenically. A glorious achievement!
Summary: an unconventional but downright inspiring production, with singing and acting on the highest of levels.
Göran Forsling