United States An Audience with The King's Singers – Various: The King's Singers. Saint Thomas Church Fifth Avenue, New York, 3.3.2020. (RP)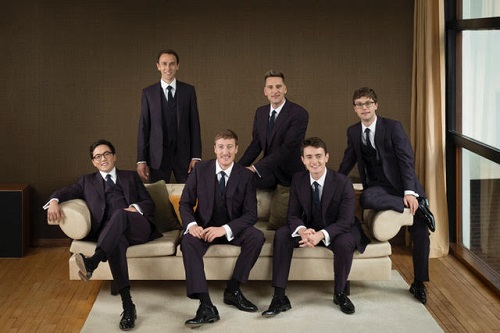 Cyrillus Kreek – 'Mu Jumal!', 'Õnnis on Inimene'
Orlando Lassus – 'In pace', 'Adoramus te, Christe', 'Ad te levavi'
Albert Hay Malotte – 'The Lord's Prayer' (arr. The Beach Boys)
John McCabe – Scenes in America Deserta
Camille Saint-Saëns – 'Calme des nuits', 'Saltarelle'
Stanley Glasser – Lalela Zulu: 'Uhambo Ngesitimela', 'Lala Mntwana', 'Mambabo!'
Alma B. Androzzo – 'If I can help somebody' (arr. Stacey V. Gibbs)
Urmas Sisask – 'Heliseb väljadel'
Quirino Mendoza y Cortés – 'Cielito lindo' (arr. Jorge Cózatl)
Leyb Yampolski & Leah Rudnicki – 'S'Dremlen feygl' (arr. Toby Young)
Harold Arlen – 'Get Happy' (arr. Richard Rodney Bennett)
John Cameron – 'O, chì, chì mi na mòrbheanna' (arr. James MacMillan)
George Gershwin – 'Love is Here to Stay' (arr. Richard Rodney Bennett)
Freddie Mercury – 'Seaside Rendezvous' (arr. Paul Hart)
It is hard to imagine a more fitting venue in New York for a concert by The King's Singers than St. Thomas Church. The six men – countertenors Patrick Dunachie and Edward Button, tenor Julian Gregory, baritones Christopher Bruerton and Nick Ashby and bass Jonathan Howard – were boy choristers in cathedral choirs, save Howard, who at the advanced age of eight joined a community choir. Bruerton is typical of the lot. After hearing a service of Lessons and Carols at Christ Church Cathedral, the New Zealand lad told his parents, 'I want to be in that choir'.
Founded in 1919, Saint Thomas Choir School is one of three in the world, and the only one stateside, that maintain the musical tradition from which The King's Singers sprang. In 1968, six young male choristers, all past their expiration dates as choral scholars at King's College Cambridge, decided to 'keep singing'. They did indeed become a 'global phenomenon', as the group's website, in a departure from stereotypical British reserve, justifiably proclaims. Several generations of choristers later, The King's Singers continue to tour the world with eclectic programs of choral music sung to perfection.
The absolute freedom and ease with which they sing was evident immediately in three works by Lassus. The sounds produced by the three higher-voiced men – Dunachie, Button and Gregory – in Lassus's 'In pace' were light and ethereal, almost otherworldly in their purity. As if to prove that they are indeed flesh and blood, Bruerton, Ashby and Howard produced a more raw, earthier sound in 'Adoramus te, Christe', which was less homogenous though equally fine. When all six voices reunited for 'Ad te levavi', their seamless blend was once again to be heard.
All this perfection could become cloying, although I doubt if that was even a remote possibility for this New York audience. But it never does, due in equal parts to their adventuresome repertoire and the fact that the men, in whose number are some excellent whistlers, are damned good entertainers. Their program was drawn from classical standards, works commissioned by the group and selections from their recently released recording, Finding Harmony. While not overtly political, Finding Harmony, a survey of songs that have either brought communities together behind a common cause or helped to give identity to people whose culture or language have been threatened, resonates with the themes of our times. Its title celebrates the work of The King's Singers Global Foundation which champions music as a means to foster social harmony by celebrating what unites us rather than focusing on things that divide us.
In this concert, the hodgepodge of musical styles ranged from Lassus to Freddie Mercury. Novelties, such as the Beach Boy's take on Malotte's chestnut, 'The Lord's Prayer', nestled easily beside the lushness of Saint-Saëns's 'Calme des nuits'. Almost beyond description were the shimmering vocal renderings of light and color in John McCabe's Scenes in America Deserta, which the ensemble commissioned in 1986.
More spirited and rhythmically alive were three selections from Stanley Glasser's Lalela Zulu, a 1977 commission, depicting the sights and sounds of Johannesburg. You could hear the train chugging along in 'Uhambo Ngesitimela' and beautifully expressive solos united to create a tender lullaby in 'Lala Mntwana'. Dunachie warned that a young man's reaction to the sight of a buxom girl was not politically correct, but spot-on in describing their cocky, hyperventilated performance of 'Mambabo!' as 'jolly good fun.'
Far more solemn were religious works by the Estonian composers Cyrillus Kreek and Urmas Sisask. The latter's hymn to the Virgin Mary, 'Heliseb väljadel', was especially moving. More profound emotions were felt in as the men sang 'S'Dremlen feygl', a setting of the Lithuanian poet Lea Rudnicka's compilation of the recollections of children who had escaped death at the hands of the Nazis. Arranged by Toby Young for Finding Harmony, the setting of Rudnicka's Yiddish text, in which she mixes images of innocence and peace with metaphors for the hails of bullets flying across the fields, evoked the strongest emotions of the concert.
There were no printed texts or program notes, only brief spoken introductions to the works and the concept behind the program. It was a lesson they learned as boys: music speaks for itself. The sole encore was Richard Rodney Bennett's arrangement of 'One Day' by Michel Legrand, the first song on Finding Harmony. Their beautiful voices and impeccable musicianship combined to deliver a message of hope – 'one day the rains will be softer, one day the winds will be sweeter'.
Rick Perdian