United Kingdom Curtains (music by John Kander, lyrics by Fred Ebb, book by Rupert Holmes, original book and concept by Peter Stone with additional lyrics by John Kander and Rupert Holmes): Company of Curtains, filmed at the Palace Theatre, Manchester, and directed for the screen by Martin Riley. Live online stream reviewed on 14.4.2020. (JPr)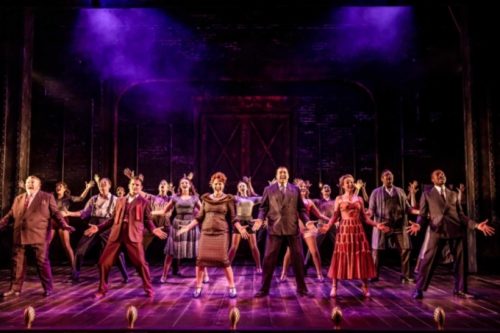 Production:
Director – Paul Foster
Choreographer – Alistair David
Music director – Alex Beetschen
Musical Supervisor & Arrangements – Sarah Travis
Set design – David Woodhead
Costume design – Gabriella Slade
Lighting design – Tim Mitchell
Cast:
Jason Manford – Lieutenant Frank Cioffi
Ore Oduba – Aaron Fox
Carley Stenson – Georgia Hendriks
Rebecca Lock – Carmen Bernstein
Samuel Holmes – Christopher Belling
Leah West – Niki Harris
Alan Burkitt – Bobby Pepper
Emma Caffrey – Bambi
Adam Rhys-Charles – Daryl Grady
Martin Callaghan – Oscar Shapiro
Minal Patel – Johnny Harmon
Nia Jermin – Jessica Crenshaw
Mark Sangster – Sidney Bernstein
Ensemble – J.R. Ballantyne, Kathryn Barnes, Pamela Blair, Charlie Johnson, Kate Ivory Jordan, Robin Kent, Thomas Lee-Kid, Ben Mundy, Gleanne Purcell Brown and Samuel John-Humphreys.
Thanks to Turbine Theatre's artistic director Paul Taylor-Mills online audiences were given the rare opportunity to see Kander and Ebb's last musical, Curtains, which recently toured the UK before the coronavirus crisis and had a limited run in the West End at Wyndham's Theatre. The best news was that it was all in a good cause and Taylor-Mills recalled how 'I woke up and like many, felt so helpless as I heard stories of those within the theatre community struggle. I threw caution to the wind and set up a fund with a primary ambition to get funds to as many people as possible as quickly as possible. So far, we have allocated over £50,000 to those who are in need. Thanks to DLAP Entertainment you can now watch their production of Curtains and know that all of the profits will be going to the Funds For Freelancers cause. I'm so grateful to them for doing this and that I'll get to see this show! I'm always overwhelmed by the resilience of the theatre community and truly humbled that the streaming of this show will help so many people at a time that they need it most.' For more about Fund For Freelancers click here and do support them if you can.
Curtains was something I wanted to review when it came to London, but I was unable to due to a clash of dates and it was good to see this now after all. Peter Stone was responsible for the original book, however he died in April 2003 leaving it unfinished and Rupert Holmes rewrote it. Fred Ebb also died in 2004 before the musical was completed. Eventually Curtains premiered in July 2006 in Los Angeles before transferring to Broadway the following March.
Not for the first time we see a musical set backstage in a theatre but to this has been a murder mystery plot. It opens in 1959 Boston when Jessica Cranshaw, the inept star of an equally dire new musical, Robbin' Hood, collapses during her opening night curtain call and subsequently dies having been poisoned. Enter Lieutenant Frank Cioffi, a police detective who lives for his summers when he gets the chance to appear on stage and as a musical theatre fan he had been Billy Bigelow in Carousel and also 'In Midsummer Night's Dream my Bottom was very well received'. The latter gives you an idea of how witty Curtains gets! We get the usual backstage shenanigans involving stage-struck and ambitious performers, songwriters hoping to revive their careers, an egotistical director, money-conscious producers, romantic entanglements, a stage mother, and two further deaths.
In detective fiction lore there are at least a couple whose first names have been kept secret for some little while. I think about Inspector Morse who we did not know was Endeavour until the 12th book. Throughout Curtains the inspiration behind the Lieutenant Cioffi character was clearly none other than TV's famous fictional LA homicide detective, Lieutenant Columbo. After Cioffi has solved the crime and fixed the musical – even appearing in the lead role on opening night – one of the investor's in Robbin' Hood offers Cioffi a new gabardine from one of his stores. We remember Columbo's ever-present raincoat and a further connection is that – though never spoken in all the films from 1968 to 2003 – his first name was also Frank!
Cioffi is a gift of a role for the right person; indeed its Broadway creator David Hyde Pierce (remembered from TV's Frasier) won a Tony and Jason Manford is an admirable presence as the detective who is rather brighter than he is willing to let on. Cioffi has to balance solving the sudden deaths with his infatuation for the company's young starlet Niki (Leah West), as well as, assisting the British director Christopher Belling (Samuel Holmes) sort out Robbin' Hood given that he has '24 hours to hold a week of rehearsals'. Cast and crew are under investigation and also 'quarantined', something that has poignant resonance in our current sad world. Holmes gets one of the best lines when the egotistical, sneering, Belling responds to an overeager chorus girl's 'I've had a thought' with 'How long we've waited for this day'. She is Bambi, who in reality is the stardom-obsessed daughter Elaine (Emma Caffrey) of the hard-hearted producer Carmen Bernstein (Rebecca Lock) who constantly belittles her. Carmen is another who raised a laugh when after her husband's murder she acerbically quipped how it was 'The first time my husband was ever accused of being hung'. Thereby hangs a tale and I won't spoil it for those who might get a chance to see Curtains when the world gets back to normal.
Kander and Ebb are better remembered for Cabaret and Chicago and certainly the first act's 'The Woman's Dead' with the chorus's phony reactions to their leading lady's death, as well as, its closing ensemble number 'Thataway!' mines them for all its worth. Unfortunately for a show about a new musical having an out-of-town tryout, Curtains gives evidence that it needs a lot more work before it should be ranked aside Kander and Ebb's more famous creations. Perhaps – acknowledging the sad deaths of both Stone and Ebb – the idea was Curtains deserved to remain as untouched as possible in their memory?
The overlong Act II meanders all over the place until all the plot treads are drawn together in a satisfactory, upbeat, ending. Carmen's 'It's a Business' is not one of Kander and Ebb's best numbers and the repetitions of 'In the Same Boat' become tiresome. Elsewhere there are some genuine showstoppers including an Act I quartet 'What Kind of Man?' that questions who in their right mind would want to be a critic (indeed!); the rousing 'Show People'; and 'I Miss the Music' a heartfelt paean from Aaron Fox, one half of Robbin Hood's song writing team. Curtains adds into this mix (mishmash?) a cod ballet ('Kansasland') and a dry ice-shrouded song and dance number 'A Tough Act to Follow' for Cioffi, Niki, and the company.
Where this revival of Curtains succeeds in the convincing, engaging, and – definitely West End worthy – high energy performances from the entire cast and the rollicking production it gets from Paul Foster aided by some suitably exuberant choreography from Alistair David. The two likeable leads – Manford and West – are well supported by Carley Stenson, who is other half of the songwriting team who finds herself catapulted into the lead of the show-within-a-show, and Rebecca Lock as the ballsy producer, Carmen. Ore Oduba was a revelation as Aaron Fox; we knew he could dance but perhaps not that he is also a passable singer and, significantly, a more than creditable musical theatre performer. Emma Caffrey was an appealing presence as Bambi and Alan Burkitt proved himself to be a remarkably assured dancer when, as Bobby, he got an opportunity to leap and soar through 'Kansasland'. Believe me, there was not a weak link in the entire cast. Supporting all this there was the rumbustious account of the score from Alex Beetschen – who the Robbin' Hood cast frequently refer to as Sasha – and his nine-piece band and Curtains proved the perfect antidote to these coronavirus-blighted times and I hope it raised lots of money for its worthy cause.
Jim Pritchard
For more about Fund For Freelancers click here.
For those who were unable to purchase tickets and therefore missed out, there maybe a 'repeat stream in due course for information click here.