NEW!

Musikfest Berlin 2020

03/04/2020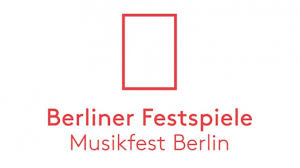 Please note the planned programme of Musikfest Berlin 2020 with interest and anticipation. We present the publication of the festival programme filled with hope and optimism that the Musikfest Berlin 2020, and all the preparations surrounding it, can take place as planned from 29 August to 27 September. Naturally, we are keeping a close eye on current developments and are adhering to official regulations in all of the festival's planning and implementation phases.
You can download the festival magazine for Musikfest Berlin: 'A Festival for Beethoven and the Music of our Times' on our website.
16th Musikfest Berlin from 29 August to 27 September 2020
Musikfest Berlin 2020:
A Festival for Beethoven and the Music of our Times
The complete programme of this year's festival issue is published on berlinerfestspiele.de. The advance ticket sales for concerts starts today, 2 April at 2 p.m.
Presented by the Berliner Festspiele in cooperation with the Berliner Philharmoniker Foundation, the Musikfest Berlin launches the new concert season in Berlin and takes place from 29 August to 27 September. 34 events at the Philharmonie, its Chamber Music Hall and at the Zoo Palast Cinema will feature 100 works by around 30 composers, performed by 23 instrumental and vocal ensembles and 45 soloists from the international music scene. Together with the large Berlin-based orchestras, high-calibre guest ensembles from London, Amsterdam, Paris, Rome, Lucerne, Leipzig, Frankfurt, Vienna, Cologne, Bremen and Bamberg present an ambitious festival programme.
During this Beethoven Year, Musikfest Berlin will transform the Philharmonie into a place for encounters between Ludwig van Beethoven's music and the works of composers from our own times. This already starts with the opening concert on 29 August, in which conductor François-Xavier Roth and violinist Pekka Kuusisto, along with the Concertgebouworkest, combine Beethoven's 'Eroica' with the music of Rebecca Saunders and Wolfgang Rihm. The music by Beethoven will be performed in historical practice by François-Xavier Roth with his Les Siècles orchestra from Paris and John Eliot Gardiner with his Orchestre Révolutionnaire et Romantique and the Monteverdi Choir.
Showcasing its work for the first time at Musikfest Berlin is the Orchestra e Coro dell'Accademia Nazionale di Santa Cecilia from Rome with Igor Levit as soloist in Ferruccio Busoni's large Concerto for Piano and Orchestra with a men's chorus. In addition to this, the pianist will perform all 32 of Beethoven's sonatas in eight performances. Further guests are the Gewandhausorchester Leipzig with its chief conductor Andris Nelsons and the Bamberger Symphoniker under Jakub Hrůša. Participating for the first time at this year's Musikfest Berlin is the chief conductor of the Berliner Philharmoniker Kirill Petrenko, who will perform works by Iannis Xenakis, Alban Berg and Josef Suk with his orchestra. The Ensemble Modern Orchestra from Frankfurt presents the world premiere of 'A House of Call. My imaginary Notebook' by Heiner Goebbels, a work that takes up an entire evening.
Alongside Ludwig van Beethoven, Rebecca Saunders is the composer with the most works represented at Musikfest Berlin. Orchestras and soloists involved in this portrait of Rebecca Saunders will include Concertgebouworkest from Amsterdam, Rundfunk-Sinfonieorchester Berlin, Klangforum Wien, Ensemble Musikfabrik from Cologne, the Orchestra of the Lucerne Festival Alumni, the Karajan Academy of the Berliner Philharmoniker, trumpeter Marco Blaauw and soprano Juliet Fraser.
This year, the musical spectrum of the festival spans central works by the celebrated composer Ludwig van Beethoven and his contemporaries through Ferruccio Busoni, Josef Suk, Richard Strauss, Richard Wagner, Gustav Mahler and Arnold Schönberg all the way to contemporary music. A total of 14 compositions by Rebecca Saunders will be performed in seven concerts, as well as new works by Georges Aperghis, Milica Djordjević, Olga Neuwirth, Arnulf Herrmann, Sofia Gubaidulina, Christian Jost, Heiner Goebbels and Wolfgang Rihm – a total of six world and several German premieres.
The Berliner Festspiele is hopeful and optimistic that all scheduled festivals, events and exhibitions can take place as planned. Please note that we are required to take into account all official regulations and assessments in connection with the spread of the coronavirus and, if necessary, make changes to our plans.
Tickets:
Tickets begin at 15 Euros and can be purchased online and by telephone +49 30 254 89 100, Mondays to Fridays between 11 a.m. and 3 p.m.
The box offices remain closed until further notice.
The Musikfest Berlin offers package deals: 3 or 5 concerts can be chosen from almost all concerts, offering savings of up to 15% of the normal price.
Musikfest Berlin online:
berlinerfestspiele.de/musikfest
facebook.com/musikfestberlin
instagram.com/berlinerfestspiele
twitter.com/blnfestspiele
blog.berlinerfestspiele.de
#musikfestberlin
Comments