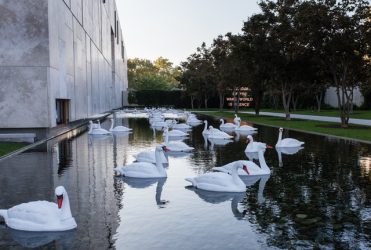 Over a few days in early March, concert halls, opera houses and theaters went dark around the world in an attempt to halt the spread of the coronavirus. Countless works of music, both new and old, could not be performed, among them the premiere of a symphonic piece by the American composer David Hertzberg. Hertzberg gave the piece the working title Madig, a German word that may translate to worm-eaten but has a range of meanings in colloquial usage. The work was commissioned by the New York Philharmonic in partnership with the Mahler Foundation and additional support from the Francis Goelet Charitable Lead Trusts. The Goelet name is synonymous with classical music in America, especially in the funding of new works.
Madig was to be performed by the New York Philharmonic under Music Director Jaap van Zweden in a program entitled Mahler Grooves, along with the Austrian composer's Symphony No.1 and Lieder eines fahrenden Gesellen. The concert was intended to be part of a two-week celebration of Mahler, who was the NY Phil's music director from 1909 to 1911. Mahler Grooves was instead transformed into an online event, Mahler in New York, that drew from the orchestra's rich archival material on the composer. The Hertzberg premiere is now postponed without date.
Critics have heaped praise on the thirty-year-old composer, with The New York Times hailing Hertzberg as 'utterly original' and Opera News deeming him 'opulently gifted'. Awards and commissions have flowed his way, and in 2020 alone he has been the recipient of the Andrew Imbrie Award in Music from the American Academy of Arts & Letters and a Guggenheim Fellowship. Hertzberg is currently working on a new opera for The Industry, a Los Angeles opera company committed to creating experimental productions that expand the definition of opera. (For Jane Rosenberg's recent S&H review of The Industry's streamed production of Raven Chacon and Du Yun's Sweet Land, click here.)
The opera world took notice of Hertzberg in 2017 when The Wake World premiered at Opera Philadelphia's Inaugural O17 Festival. The festival garnered high praise, with The Wall Street Journal proclaiming it 'an artistic triumph' and describing Hertzberg's opera as 'an opium dream in music'. The Wake World would go on to win the Music Critics Association of North America's 2018 award for Best New Opera. For those of us who missed the premiere, Tzadik Records has released The Wake World, featuring the original cast, conducted by Elizabeth Braden and recorded and mastered by Grammy Award winning engineers Andreas Meyer and Scott Hull.
Opera Philadelphia had commissioned Hertzberg, who was then its composer in residence, to write an opera in response to a workshop performance of his first opera, The Rose Elf, which at the time was a work in progress. Hertzberg's charge was to relate in some way to The Barnes Foundation, one of the world's treasure troves of Impressionist, Post-Impressionist, and early Modernist paintings. It also contains important examples of African art, Native American pottery and jewelry and wrought-iron metalwork. The collection was more than the inspiration for The Wake World, however: the opera was first performed in the museum.
Hertzberg turned to a fairy tale by the British poet, magician and occultist, Aleister Crowley (1875-1947), who dabbled in practices such as sex magic, for the source of his libretto. Although later published in a collection entitled Konx Om Pax: Essays in Light, Crowley's 'The Wake World' was originally conceived as a bedtime story for his daughter, Lola Zaza, in which he portrayed himself as the Fairy Prince who leads the child through an ecstatic journey of initiation that ends with her attaining enlightenment in a magical palace. Hertzberg's libretto, however, is as lush and erotic as his score.
The mysticism and exoticism of the story not only fueled Hertzberg's musical and literary gifts, it made him aware of the synergies that existed between two world-class eccentrics who were exact contemporaries. Dr. Albert C. Barnes (1872-1951) was perhaps not as randy as Crowley (who attracted a legion of acolytes and sex partners of both sexes), but the entrepreneur from Philadelphia nonetheless inspired fierce loyalty in his disciples. One in particular, Violette de Mazia, zealously guarded his legacy until her death in 1988. She was the stuff of legend and the fodder for countless news stories in her later years, as was also the case with the Barnes itself. (I lived in Philadelphia at the time, and it was fascinating reading.)
Dr. Barnes held views that were as unorthodox as those of Crowley, notably his progressive, indeed radical, notions on race; neither man was afraid to thumb his nose at society. A major difference between the two men, however, was that Crowley squandered his inherited wealth, while Barnes, born to working-class parents, made a fortune from an antiseptic of which he was the co-inventor and bequeathed a treasure trove of art to the world.
As with The Rose Elf, for which Hertzberg based his libretto on Hans Christian Andersen's story of the same name, his choice of Crowley's mystical fantasy for this second opera emerged from what he terms his 'fascination with the morphology of fairy tale and myth, the way these idées fixes recur and recombine, and their strange, sensuous euphony with the shapes and shadows of musical form'. With The Wake World, Hertzberg found a literary vehicle that enabled him to discover the music contained in The Barnes Foundation, thereby freeing him to unite 'Crowley's misty love story of self-seeking, Barnes' weirdly wonderful method of visual illumination and also [his] own sense of the alchemical possibilities in operatic form'.
Writing for an orchestra of five instruments, Hertzberg crafted a score of exceptional complexity and depth in The Wake World. His libretto is full of color, and the orchestrations capture images such as 'the vermillion of pomegranates' and 'amber scarlet-flecked gold' in scintillating, jewel-like tones. Hertzberg injects the same sonic splendor into the opera's vocal lines. Stylistically, Hertzberg is hard to peg. There are traces of Hollywood film music from the 1930s (think Shirley Temple); rich, colorful orchestrations that some have likened to Ravel; and Straussian climaxes that create a sense of awe and ripple with sensuality. The latter are remarkable for their clarity and spaciousness. One has to suspend belief that five instruments can produce such sounds.
We tend to think our current situation is unique, but it has played out on local and global levels countless times before. In August 1892, the thirty-two-year-old Mahler was on his way to Hamburg, where he was chief conductor at the Stadttheater, when a cholera epidemic hit the city. Defying orders that he report to work, Mahler instead retreated to Berchtesgaden, one of the Alpine Mountain retreats that he favored, to ride it out. He was single, making his living as an opera conductor and barely known as a composer: his next major composition would be the Resurrection Symphony.
Escape, whether physical or mental, is a luxury at present. Many of us are cut off from society, and all of us from the live musical performances that entertain, sustain and nurture so many. Drawing any comparisons between 1892 and the present is folly, as are predictions for the future, but I can offer you a means to escape reality for a brief while. Just enter into an exotic, mesmerizing place where goodness and perseverance triumph – David Hertzberg's The Wake World. It's every bit as stunning as the mountains of Southern Bavaria where Mahler sought refuge.
Rick Perdian
For my review of the 10 June 2018 performance of The Rose Elf produced by The Angel's Share in the Catacombs of Brooklyn's Green-Wood Cemetery, click here. For more information on Tzadik Records' release of The Wake World, click here.