Opera Philadelphia's Digital Festival O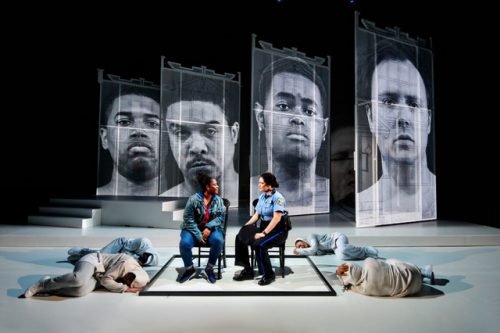 Opera Philadelphia will stream five operas in May 2020 as part of its Digital Festival O. Southeastern Pennsylvania, where Philadelphia is located, has been hit hard by the coronavirus, but at present there is hope that the peak of the epidemic has passed.
The company cancelled its May production of Puccini's Madama Butterfly. In its stead, they will provide the opportunity to view three operas presented in the first seasons of Festival O, as well as Missy Mazzoli and Royce Vavrek's Breaking the Waves from the 2016-2017 season and Rossini's Barber of Seville, which launched the company's fortieth anniversary season in 2014. Michael Shell's production of this comic delight was described by Seen and Heard International's Bernard Jacobson, in what he confessed was perhaps an inelegant but absolutely appropriate expression, as 'a gas'.
Since the Festival's inaugural season in 2017, Philadelphia has become one of the most exciting destinations for opera in the US. For two weeks in late September, opera can be found in venues across the city, ranging from the Academy of Music, The Barnes Foundation and parks to hip bars and clubs and almost anywhere else a performance is imaginable. Critics have raved about the adventuresome programing and the daring productions. Opera Philadelphia has rewritten the map for opera in the twenty-first century.
The five operas, four of which were world premieres, will receive digital premieres throughout the month of May on YouTube and operaphila.org. Special opening night content – such as pre-show interviews with artists that reveal the nuances involved in bringing new work and new productions to the stage – are included in the broadcasts. Following each digital premiere, the operas will remain available on demand for varying lengths of time through 31 August.
The Festival opens on 1 May with Denis & Katya by Philip Venables and Ted Huffman, which received its world premiere as part of Festival O19. Commissioned and produced in collaboration with Music Theatre Wales and France's Opéra Orchestre National Montpellier, the opera was included in The New York Times's 'Best Classical Music of 2019', awarded the 2019 FEDORA-GENERALI Prize for Opera and nominated for Best World Premiere at the 2020 International Opera Awards. Note: the stream, which runs through 8 May, is available only in North America as the production has not completed its European run. (For Rick Perdian's review, click here.)
We Shall Not Be Moved, with music by Daniel Bernard Roumain and libretto by Marc Bamuthi Joseph, had its world premiere at Festival O17. The opera is set in West Philadelphia where, on 13 May 1985, police bombed the MOVE Compound. It tells the story of five North Philadelphia teen runaways and their confrontation with the local police, in an exploration of national identity, race, gender, personal responsibility and the limits of the public education system. NYT named We Shall Not Be Moved as one of the 'Best Classical Music Performances of 2017', and it was subsequently produced at Harlem's Apollo Theater in New York and Amsterdam's Opera Forward Festival, where it was presented by Dutch National Opera. It premieres on 10 May and will be streaming through 31 August.
The Barber of Seville was a co-production with the Opera Theatre of St. Louis. The outdoor HD broadcast of the popular Rossini opera drew over 5,000 people to Philadelphia's Independence Mall. It will premiere on 15 May and be available on demand through 30 June. (For Bernard Jacobson's review, click here.)
Sky on Swings premiered on World Alzheimer's Day at Festival O18. With music by Lembit Beecher and a libretto by Hannah Moscovitch, the opera is a realistic, multi-faceted exploration of Alzheimer's Disease. Two beloved artists, Marietta Simpson and Frederica von Stade, created the roles of Martha and Danny, leading a cast of excellent young singers in this poignant but surprisingly uplifting love story. Sky on Swings premieres on 22 May and will be available through 31 August. (For Rick Perdian's review, click here.)
Digital Festival O concludes on 29 May with Breaking the Waves. Adapted from Lars von Trier's Oscar-nominated film, the opera depicts a tragedy of conflicting ethical imperatives that serves as a meditation on the nature of goodness. After traveling to New York's Prototype Festival, the opera was recognized with the Music Critics Association of North America's inaugural Best New Opera Award. The production is scheduled to receive its West Coast premiere in February 2021 with LA Opera. Breaking the Waves will be available from 29 May through 31 August. (For Simon Thompson's review of the 2019 Edinburgh International Festival production, click here.)
Opera Philadelphia's General Director and President David B. Devan stated that Digital Festival O celebrates 'the joy so many singers, musicians, composers, librettists, conductors, directors and designers have brought into our lives through these new operas and productions, giving us an opportunity to share in the power of music and theater while reminding us that we will all gather together again in the future. It is our hope to see everyone in September at Festival O20, but until that time Festival O stands for Online'. From his mouth to God's ears.
For more information on Digital Festival O click here and for Festival 20 click here.
Rick Perdian