Austria Tchaikovsky, Swan Lake: Dancers of the Vienna State Ballet, Orchestra of the Vienna State Opera / Alexander Ingram (conductor). Recorded at the Vienna State Opera on 16.3.2014 and reviewed on 11.4.2020. (JPr)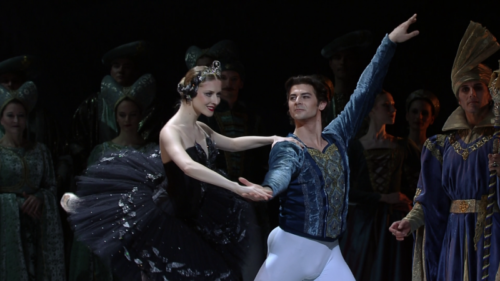 Production:
Choreography and Production – Rudolf Nureyev, after Marius Petipa and Lev Ivanov
Set and Costume designer – Luisa Spinatelli
Lighting – Marion Hewlett
Restaged by Manuel Legris, Alice Necsea, Lukas Gaudernak, and Jean Christophe Lesage
Video director – Michael Bayer
Cast included:
Odette/Odile – Olga Esina
Prince Siegfried – Vladimir Shishov
Rothbart, the Magician – Eno Peci
Queen – Dagmar Kronberger
Prince's friends – Alice Firenze, Kiyoka Hashimoto, Masayu Kimoto, Greig Matthews
Big swans – Gala Jovanovic, Oxana Kiyanenko, Laura Nistor, Prisca Zeisel
Cygnets – Maria Alati, Ioanna Avraam, Eszter Ledán, Rui Tamai
At the beginning of April, I was anticipating reviewing The Royal Ballet's current Swan Lake in the cinema, but of course this was not possible in what became a rapidly coronavirus blighted planet. The opportunity not to see their (now) former artist in residence Liam Scarlett's over-choreographed 2018 new production (review click here) made my thoughts turn back to one of my happiest Swan Lake memories. I was in Vienna in the late 1970s I believe (I wish I could remember exactly when – possibly 1979 or even early 1980s) and saw Rudolf Nureyev dance Prince Siegfried in his legendary version of this famous ballet which he created for the State Ballet. Online you can find it introduced as follows: 'On 15 October 1964 the ballet world looked towards Vienna. Rudolf Nureyev, the foremost dancer of the second half of the 20th century and just 26 years old at the time, had just choreographed Swan Lake for the Vienna State Opera Ballet [as the Vienna State Ballet was formerly called]. It was a performance that went down in the history of ballet. Just three years after Nureyev had abs­conded to the West, the young choreographer from the Soviet Union succeeded in giving a new and convincing interpretation to the Tchai­kovsky ballet. His central idea was to elevate the leading male role, putting it on a par with the role of the ballerina.'
You can go on and read how it was performed over 200 times there and in guest performances until 2009. Former Paris Opera Ballet star, Manuel Legris, became director of the State Ballet in 2010 and after a gap of a few years brought Nureyev's Swan Lake back to the Vienna stage in 2014 – over ten years after the premature death of the great Russian dancer/choreographer – to celebrate its fiftieth anniversary. Legris had been a member of the Paris company when Nureyev was in charge there during the 1980s. Luisa Spinatelli was given the responsibility to create new stage designs and costumes.
Those resistant to classical ballet being dragged kicking and screaming out of the nineteenth century and into the twentieth often disparaged Nureyev's reimaginings, referencing his fussy and difficult steps. However, I like ballets where the dancers dance – as against parade across the stage – and where the staging and some bravura dancing suitably showcases the beauty, drama and theatrical vitality of the timeless stories. So, my favourite Sleeping Beauty and Romeo and Juliet are those created by Nureyev for London Festival Ballet (now English National Ballet) in 1975 and 1977 respectively. I will now add this restaged Swan Lake to that list mainly because I was gripped by its (spoiler alert) heart-wrenching ending.
I will look back at this Swan Lake as a standalone performance because I don't have detailed memories of when I first saw it in Vienna or later on video (as it was back in those days!) though – danced by Nureyev and Margot Fonteyn – it can be found now on DVD and this 2014 performance is readily available too. In typical fashion, Nureyev embellished Prince Siegfried's role and if given the chance to do a solo he does. Nureyev went on to promote Siegfried to the central character in the story in a version is created for Paris in 1984; here the prince is the equal of the White Swan (Odette), yet it is his tragic fate that grips us as the ballet ends.
Nureyev plays fast and loose with the score – as we often hear it – though who know what Tchaikovsky's original intention were? It was very interesting to watch this Swan Lake after seeing The Royal Ballet's Marianela Nuñez choosing her favourite performances on ROH Rewind on YouTube. I watched the Black Swan pas de deux she danced with Vadim Muntagirov only a couple of hours before sitting through Nureyev's version which is not the familiar Petipa showstopping choreography but – I understand – Vladimir Burmeister's 1953 Moscow version. It is believed that this reflects Tchaikovsky's musical intentions more than Petipa. The music is indeed more romantic and the interaction between the Black Swan (Odile) more seductive and Siegfried is so enthralled that he ultimately swears the undying love for her that will doom Odette. My admiration for Marianela Nuñez is boundless however Oleg Esina – while perhaps not as technically at ease as Nuñez (though her 32 fouettés were spot on) – she proved by far the superior actress as Odile. As Esina looked straight into Michael Bayer's camera she induced a visceral response in me which I suspect Siegfried is supposed to be feeling during this act! Her Odette was equally fine too with delicate movements of her head and arms to imitate a swan.
What Nureyev has left us – even if it has been somewhat diluted since 1964 – is a near-perfect retelling of a ballet we thought we knew as a lyric tragedy. Spinatelli's designs allow the story to unfold without encouraging the audience watch the scenery rather than the dancing. For the royal court festivities, the opulent costumes – all pastel shades – seem more suited to Renaissance Italy rather than King Ludwig II's Germany that I suspect was the original location. The sets are impressionistic with atmospheric backdrops of a medieval castle for Act I and a richly decorated palace ballroom ceiling for Act II. The lakeside scenes are traditionally staged, and intriguingly during the musical introduction to this Swan Lake Bayer has filmed real swans gently moving across some gently lapping water. It seems Nureyev was not particularly interested in Rothbart (Eno Peci) and often just has him flap around on the sidelines, looking less 'owl-like' and more like a Firebird.
Usually in Swan Lake Siegfried might just as well be offstage for the first hour or so as he usually has little to dance in Act I. Nureyev not only has him pivotal to the pas de cinq danced with his four 'friends', he also has the contemplative adagio he first interpolated in 1963 into Ninette de Valois and Frederick Ashton's Swan Lake for The Royal Ballet. In the second act there is a further added solo variation during the usually sacrosanct Lev Ivanov duet where Siegfried usually does little more than hold Odette upright and steady.
Before his moody solo to conclude the first act Vladimir Shishov – a clean, elegant, dancer – exuded little personality and certainly showed none of the introspection that makes Siegfried want to flee the suffocating confines of court protocol and be willing to redeem a cursed swan princess. No one would expect Shishov to be Nureyev, but as more and more was demanded of him – and he tired – then he seemed bring his Siegfried to greater life. Ultimately as the ballet ends, he will drown alone beneath the lake's raging waters that have been stirred up by the storm Rothbart has created.
There was much to admire from the dancing of the entire Vienna State Ballet company with everyone appearing to be on top form. This included the corps de ballet who showed synchrony and discipline as cygnets or swans and, in particular, the Act III ballroom divertissements were danced with enormous verve. Accepting the limitations of recorded sound, Tchaikovsky was well served by the Vienna State Opera Orchestra (who are members of the Vienna Philharmonic) and the score sounded as good as you would want it to. The experienced Alexander Ingram conducted with commendable balletic flair, dynamic light and shade, and considerate attention to the dancers.
Jim Pritchard
Vienna State Opera has opened its livestream archives of recordings of previous opera and ballet performances and these are available – some free – via its streaming platform (click here).