United States Verdi, Don Carlo (archived Live in HD encore): Soloists, Chorus and Orchestra of the Metropolitan Opera / Yannick Nézet-Séguin (conductor). Performance of 11.12.2010 and reviewed on 2.4.2020. (RDA)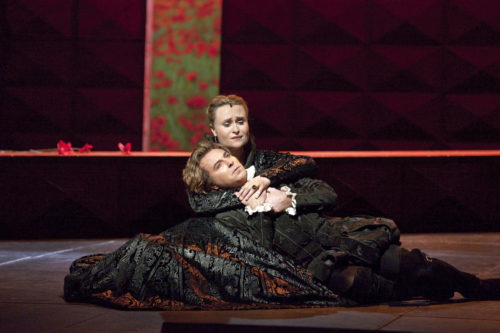 Production:
Production – Nicholas Hytner
Designer – Bob Crowley
Lighting designer – Mark Henderson
Live in HD Director – Gary Halvorson
Cast included:
Don Carlo – Roberto Alagna
Elizabeth of Valois – Marina Poplavskaya
Rodrigo – Simon Keenlyside
Princess Eboli – Anna Smirnova
Philip II – Ferruccio Furlanetto
Grand Inquisitor – Eric Halfvarson
Priest Inquisitor – Tommaso Matelli
Celestial Voice – Jennifer Check
Friar – Alexei Tanovitski
Tebaldo – Layla Claire
Count of Lerma – Eduardo Valdes
Countess of Aremberg – Anne Dyas
With director Nicolas Hytner, conductor Yannick Nézet-Séguin, and a starry array of singers, the Metropolitan Opera crafted a world-class production of Giuseppe Verdi's Don Carlo. (The company has been showing encores of its Live in HD series during the current pandemic crisis.)
The terrific cast includes tenor Roberto Alagna in the title role, soprano Marina Poplavskaya as Elisabeth, bass Ferruccio Furlanetto as King Philip II, baritone Simon Keenlyside as Rodrigo, mezzo-soprano Anna Smirnova as Eboli, and bass Eric Halfvarson as the Grand Inquisitor. Recorded in 2010, this video is a visual and aural treat, from its opening Fontainebleau scene (mercifully uncut here) to the finale in which the ghostly monk (is it Charles V?) carries the Infante off — into either the netherworld or the hereafter, depending on one's preference.
The singing is top-notch. After a tentative start, Alagna scores as the emotionally off-kilter heir-apparent to the throne of Spain. Poplavskaya acts well, looks great, and her superb voice never betrays its Slavic training or ethnicity. Ditto for the huge-voiced Russian mezzo Smirnova, whose 'O don fatale' threatens to shatter the rafters of the house. Keenlyside is the kind of Rodrigo that can do justice to the long-lined Verdian cantilena of 'Per me giunto' and then turn around and hold his own in the nighttime trio with Eboli and Carlo.
Some great basses have walked the Met stage as King Phillip. I hesitate to fault Furlanetto, whose take on the role of the aging monarch is immensely compelling. The Italian bass brings great gravitas, and at age 60, if his ability to spin out the long phrases of 'Ella giammai m'amò…Dormirò sol nel manto mio regal' is not that of a Siepi or a Pinza, he still commands dramatic stature and authority, never better than in the auto-da-fé confrontation with his son. And as the Grand Inquisitor, bass Eric Halfvarson looks properly feeble but is like a vocal Rock of Gibraltar.
These days, in which we are all deprived of live music, the Met's videos online are nothing short of a blessing, and, to be honest, there's nothing like a first-row seat in the comfort of one's home with no candy wrappers or coughing — just you and the music.
Rafael de Acha
For more the Met's Nightly Opera Streams click here.