United Kingdom Glyndebourne Open House – Mozart, Le nozze di Figaro: Soloists, Glyndebourne Chorus and the Orchestra of the Age of Enlightenment / Robin Ticciati (conductor). Glyndebourne Festival Opera performance 17.8.2012 and streamed and reviewed on 24.5.2020. (MMB)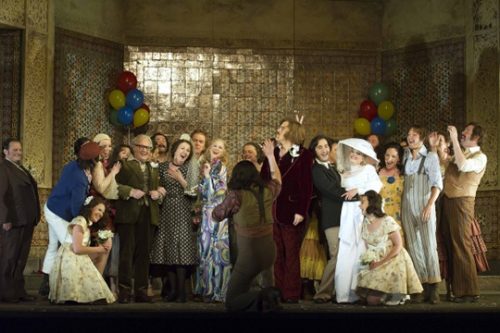 Production:
Director – Michael Grandage
Designer – Christopher Oram
Lighting designer – Paule Constable
Movement director – Ben Wright
Cast:
Figaro – Vito Priante
Susanna – Lydia Teuscher
Count Almaviva – Audun Iversen
Countess Almaviva – Sally Matthews
Cherubino – Isabel Leonard
Bartolo – Andrew Shore
Marcellina – Ann Murray
Don Basilio – Alan Oke
Barbarina – Sarah Shafer
Antonio – Nicholas Folwell
Don Curzio – Colin Judson
First Bridesmaid – Ellie Laugharne
Second Bridesmaid – Katie Bray
Glyndebourne – like so many opera houses and other cultural centres across the UK and the world – was forced to close due to the pandemic of Covid-19. Sadly, they cancelled their entire 2020 Festival, which means they are also desperately looking for donations and some sort of financial help to keep them going. With this in mind they have now started streaming, following the example of others around the world. Their streaming is called Glyndebourne Open House and it began on Sunday 24 May as it was approximately the date of the start of the Festival had it gone ahead.
Gus Christie, executive chairman of Glyndebourne and grandson of John Christie (Glyndebourne's initial owner and founder of the festival) chose Mozart's Le nozze di Figaro to start the Open House series online due to the special relationship that Glyndebourne has always had with Mozart's music. The first Festival in 1934 and the new opera house in 1994 were opened with Le nozze di Figaro. It is therefore appropriate to start their stream-season with the same work. As stated on Glyndebourne's website John Christie had a major stake in Mozart from the start and his love for the composer becomes clear in an interview he gave in 1957 when he said, 'His music [Mozart's] is a matter of detail. It's not a question of size and space, it's a question of beauty, the most lovely melody, the most perfect musical construction and inevitably a sense of endearment which Mozart must still spread to any of those who knew anything about the marvels of his life and the appalling way in which he was treated … we must try to rectify his position, and feel that we are consciously in touch with Mozart when we are doing our best to show his work.' I simply couldn't agree more.
The production is available on Glyndebourne's website (click here) and on YouTube until 31 May was premiered at the 2012 Festival. Directed by Michael Grandage it is quite original with a fresh, unusual approach. He decided to transport the story to the 1960s and mostly, especially the comedy aspect, it works very well. I have seen this production before and actually reviewed it (click here) during its first revival in the 2013 Festival with a different cast. The original cast from 2012 is to my mind superior to that one, with some marvellous singing and therefore more of a treat. Then, as now, I enjoyed it very much. It is amusing, entertaining, funny, and imaginative. Again, then as now, I think the political message embedded in the piece is completely lost. Although The Marriage of Figaro is a first-class comedy, there is another, more serious side to the story, meaning the class struggle – between aristocracy and the lower social classes. It is an important part of the work and Mozart and Da Ponte were intent in keeping its message. This struggle is depicted in the relationship of Figaro (the servant) with his master (Count Almaviva) and appears in the original second play of the Figaro trilogy by Beaumarchais on which it is based. The subject of the droit de seigneur, which the Count is intending to restore in order to make Susanna his lover by his right as lord and master, makes no sense in the 1960s – the period of the counter-culture generation, sexual liberation, Hippies and Woodstock. The 1960s strip the opera of its message but enhance the comedy aspect. The tone is immediately set in the final moments of the Overture when the Count and Countess arrive at their home in an authentic Austin Healey – a famous sports car of the fifties and sixties or so I am told. Personally, I also find 1960s' fashion aesthetically unappealing especially the costumes and, in particular, men's hairstyles, which makes the whole thing slightly less attractive in my view.
Mozart's music for Figaro is some of the best he created, and to me, the opera is as close to perfection as one can get. With such beautiful, memorable, and sublime music everything else becomes secondary and almost irrelevant. As I wrote earlier, the singing is magnificent in this 2012 production. Italian Vito Priante as Figaro excels in the role and harmonises brilliantly with German soprano Lydia Teuscher's sweet but feisty Susanna. Britain's Sally Matthews as betrayed and neglected Countess Almaviva is outstanding and very believable. She has a reach, warm soprano tone with well-projected, sonorous high notes. She was a little patchy in 'Porgi, amor', almost as if she didn't have enough time to warm up, however when it came to the countess's breath-taking moment, 'Dove sono i bei momenti', she was faultless, delivering the aria with exquisite grace, an elegant legato line, very moving and emotional but without sentimentality and unleashing the full power of her voice in the final moments. She received a well-deserved loud ovation from the audience.
Norwegian baritone Audun Iversen was in fine voice and outstanding as philanderer Count Almaviva, achieving some memorable moments, especially in his rendition of the Count's musical big moment 'Hai gia vinta la causa' – to my mind one of the most magnificent arias ever written for a baritone. However, to me, the greatest moments of this production are the ones with American mezzo Isabel Leonard as Cherubino. She was virtually unknown on the international stage at the time of this performance and only at the start of her career but she literally shines and to my mind completely steals the show – a fact that becomes obvious with the roar of the audience when she comes on stage at the end for her individual bow. The other minor roles in the opera are all very well performed and exceptionally sung, notably Irish mezzo Ann Murray as Marcellina and a very young Sarah Shafer (American soprano) in her professional operatic debut as Barbarina.
The revival of The Marriage of Figaro in 2013 was with the London Philharmonic Orchestra, conducted by Jérémie Rhorer. The 2012 original production is with the Orchestra of the Age of Enlightenment under the baton of Robin Ticciati and it is to my mind a superior and a more composer-faithful reading of Mozart's masterpiece. As always, the Glyndebourne Chorus are also simply magnificent.
Michael Grandage's and Glyndebourne's 2012 production of Le nozze di Figaro makes for exceptional entertainment. It is lively, colourful (to which the costumes and settings by Christopher Oram greatly contribute) and with some skilful, gorgeous singing. You can enjoy it, as mentioned earlier, on Glyndebourne's website (click here)  or YouTube until 31 May. After that Glyndebourne Open House will stream the two other Mozart operas with libretti by Lorenzo Da Ponte, namely from 31 May to 7 June Don Giovanni and from 7 to 14 June Così fan tutte. Something to look forward to, no doubt.
Margarida Mota-Bull