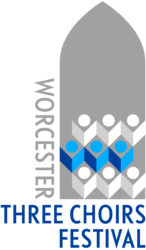 Three Choirs Festival postpones for a year
The Three Choirs Festival has announced that it will postpone this year's eighty-event festival till 2021, with the Worcester festival taking place between 24 and 31 July next year.
In a statement published on the festival's website CLICK HERE, the festival's Chief Executive, Alexis Paterson, expressed her gratitude to the festival's performers, partners, staff and audiences for their patience during the uncertainty of the lockdown period, but stated that in placing collective welfare at the forefront of the Board's decision making, it had become clear that 'the essence of our festival – collective music-making enhanced by the warmth and camaraderie of those who come to listen – cannot be realised this summer in a way that would do justice to the ambition of our performers nor the expectations of our audience'. She confirmed that the festival organisers would be aiming to honour commitments to as many of this summer's performers as possible, within a reshaped programme which broadly resembles this summer's abandoned plans.
Those who had already made bookings or ticket reservations for the 2020 programme can expect to be contacted by the festival box office next week and given the option of a full refund or a transfer of their reservation to 2021. The full 2021 programme is expected to be confirmed towards the end of 2020.
This is not the first interruption the 305-year-old event, thought to be the oldest music festival in the world, has suffered. 2020 marks the centenary of the festival's resumption following the outbreak of the First World War, before it fell silent again during World War II. This will be the first planned edition not to go ahead in peacetime, making 2021 the 293rd Three Choirs Festival.