United Kingdom ENB at Home's Wednesday Watch Party – Prokofiev, Romeo & Juliet (Rudolf Nureyev Production): Dancers of English National Ballet, Students from English National Ballet School, English National Ballet Philharmonic / Gavin Sutherland (conductor). Bristol Hippodrome, 14.10.2015 and reviewed on 6.5.2020. (JPr)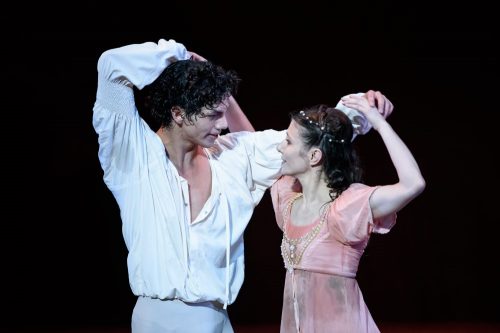 Production:
Choreography – Rudolf Nureyev
Sets and Costumes – Ezio Frigerio
Lighting – Tharon Musser
Cast included:
Juliet – Alina Cojocaru
Romeo – Isaac Hernández
Mercutio – Cesar Corrales
Benvolio – James Forbat
Tybalt – James Streeter
Paris – Max Westwell
Lord Capulet – Fabian Reimar
Lady Capulet – Jane Haworth
Nurse – Tamarin Stott
Rosaline – Alison McWhinney
Friar Lawrence/Escalus, Prince of Verona – Michael Coleman
Initiatives like English National Ballet's 'at home' content and their Wednesday Watch Parties must be giving great pleasure – and incalculable solace – to those missing seeing dance live during the ongoing strife. This week it was – in my opinion – one of the great ballets in a magnificent staging by a legendary dancer/choreographer. That is enough superlatives for the moment!
Sadly I am unaware of any recording that exists of Rudolf Nureyev dancing in his own 1977 version of Romeo & Juliet with ENB (or London Festival Ballet as it was until 1984) but he can be seen with the La Scala Ballet in a 1980 recording. This more than adequate recording of ENB's 2015 revival served as a reminder of Nureyev's rich artistic legacy. I began my review of a performance I saw – just a couple of weeks after this Bristol opening night – by writing: 'Not too long ago I reviewed Derek Deane's "in the round" version of Romeo & Juliet for English National Ballet writing how it is "a tame Disneyfied version where there is sword fighting but few seem to get hurt, the 'Harlots' lift their skirts only briefly and are more like gypsies from Carmen and there is little genuine feel of the real splendour – or the death and decay – of a "real" renaissance Italian city. To put it more bluntly … it is not Nureyev's wonderful 1977 Romeo & Juliet the staging that I returned to time and again in my formative ballet years. This is still, I believe, in English National Ballet's repertory and would be a stunning showcase for their current wonderful roster of dancers."
At the time I doubted anything I wrote made the slightest difference  – and I am still pleading for the return of Nureyev's 1975 Sleeping Beauty by the way! – yet I added how pleased I was that Tamara Rojo's ENB had brought this production back for a short tour. It began in Bristol, followed by Milton Keynes, Southampton, and Manchester, but London missed out then. When I saw it a couple of weeks after this opening night in Bristol in October 2015 it proved to be the stunning showcase I had predicted! What we have here now for posterity is Alina Cojocaru making her debut in the production and on that current tour she only danced it once more (in Manchester)!
My opinions of the production and performance have not greatly changed in the intervening years and I will just repeat much of what I wrote back in happier times in 2015 including how 'I was there on the first night [in 1977] – where have those intervening years gone? Nureyev was almost 40 and for some his physical artistry was not what his was; yet for many like me what he still had then – and for many years thereafter – was the ability to always be dramatically compelling and someone who could transcend even the most modest showcase for his talents. His ballet was conceived on a grand operatic scale and there is so much going on from the first moment till the last. It is all framed by Ezio Frigerio's magnificent red and orange sets … There is a melancholy start which establishes Nureyev's themes for this version of a story we believe we all know. Despite being deeply romantic its primary concern is that predetermined fate cannot be avoided.'
The opening scene now takes on a deeper meaning in our current sad times. 'The first thing we see are four scrambling figures of fate who are playing dice with people's lives and then a cart rolls by piled high with the corpses of plague victims. It is not long before Romeo gives a coin to a beggar who immediately dies … Nureyev's Verona is a fated place. At the Capulets' ball the dancers seem to form a blindfolded Rota Fortunae or wheel of fortune and just before the bedroom pas de deux Juliet appears to be ravaged by a very Shakespearian hooded death figure. Throughout this Romeo & Juliet there is a struggle for the lovers' souls between the spirits of love and death.'
Nureyev shows us a Verona 'filled with sex, violence and vendetta. It is also quite bawdy, and men posture, brawl and pursue young women lustily. This extends to Juliet's Nurse (the superb Tamarin Stott) who usually is a rather prim and prissy figure but here is first seen being groped by a servant; Juliet catches her with her skirts round her waist and in an instance we appreciated Juliet's innocence and her own future sexual awakening.'
Unlike Kenneth MacMillan's famous Romeo and Juliet for The Royal Ballet, 'What we also get [from Nureyev] is not just the CliffsNotes but a plausible story – a play without words.' This is especially relevant in Act III where are a series of vignettes – almost like movie montages – moving the story on to its tragic denouement and the warring families subsequent reconciliation. Juliet is in her room and has a premonition that her wedding can only end in her death; she is conflicted as to whether to live or die; she encounters Tybalt's ghost holding the dagger (suicide), and that of Mercutio encouraging her to drink the potion given to her by Friar Lawrence (to stay alive). We have seen the Friar describe how she will seem dead, how he will write to Romeo to explain everything, and are shown her awakening as a flashforward. (Later we will see how Friar Lawrence's letter never reaches Romeo.) Romeo is shown dreaming of Juliet – actually, multiple Juliets – before Benvolio (James Forbat) awakens him to tell him of his beloved's 'death'.
Clearly there is huge scope in this ballet for great dramatic credibility as Nureyev gives splendid opportunities to those even in the smallest roles such as Lady Capulet (Jane Haworth) and Paris (Max Westwell). There are too many sublime moments in Nureyev's Romeo & Juliet – which had been affectionately restaged by Élisabeth Maurine and Lionel Delanoë – to mention them all, but it remains (as I wrote in 2015) 'a powerfully atmospheric piece which is haunting, amusing, captivating and deeply affecting by turns.'
English National Ballet were performing far from their regular home and on what seemed to be a stage a size smaller than the London Coliseum's. As in Milton Keynes they 'oozed energy, discipline, hard work, commitment and pride. There were a number of strong performances and James Streeter's mean, manic and brutish Tybalt stood out especially. Everyone seemed to know why there were on stage and this extended even to non-dancing characters such as a priest and Paris's young page.' Isaac Hernández 'was dreamily elegant but no street fighter and for that the eye was caught by Cesar Corrales's swarthy and bullish Mercutio … Hernández had a hint of Nureyev's slight physique about him and acted and danced extremely well. His line was pure and lean, his leaps … had ease and élan and his spins were accurate and impressively speedy. Nureyev's steps have occasionally been described as over-elaborate and fussy, but Hernández brought them all off without any awkwardness whatsoever. He was the epitome of a young boy in the flush of being in love for the first time.' (It was wonderful to be reminded of how impressive Cesar Corrales was when he was with ENB, whilst now hidden in the ranks of The Royal Ballet his meteoric rise has somewhat stalled, at least temporarily.)
Alina Cojocaru was recently to dance Juliet at the Royal Albert Hall, something that has now been postponed until 2021. What a treat we can anticipate. She brought naiveté, a fragile beauty, and a firm resolve to her characterisation. She was the epitome of technical perfection in her movement and none of Nureyev's choreographic challenges held any fears for her. She appeared genuinely in love with Romeo from the first moment she bumped into him at the ball. Comparing the dancers of today with the legendary Russian and his partner Patricia Ruanne in 1977, all the intricate, convoluted, and physically demanding duets have rarely seemed as wonderfully natural as they performed them, but Hernández and Cojocaru were exceptional. Nureyev shows us how Juliet becomes emotionally connected with Romeo through the climbing she does over his shoulders and with all the hanging upside down and her intertwining herself with him: this conveys more passion and tenderness than it may sound!
My final words of praise goes to Gavin Sutherland who probably had to overcome issues arising from a smallish orchestra pit at the Bristol Hippodrome yet clearly, as before, 'swept along his excellent English National Ballet Philharmonic with great distinction for an exhilarating account of Prokofiev's score. He clearly delineated its entire colourful palette and it was the perfect accompaniment to Shakespeare's timeless tragedy and the remarkable vision of the much-missed legend that was Rudolf Nureyev.'
Jim Pritchard
For details of all ENB at Home performances click here.