Austria Wagner, Tristan und Isolde: Soloists, Chorus and Orchestra of Vienna State Opera / Peter Schneider (conductor). 18.1.2015 performance and streamed by Wiener Staatsoper Live at Home and reviewed on 28.5.2020. (JPr)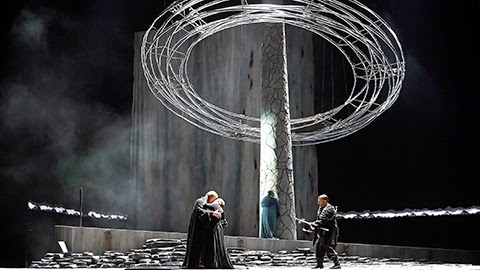 Production:
Director – Sir David McVicar
Designs – Robert Jones
Lighting – Paule Constable
Choreography – Andrew George
Chorus director – Martin Schebesta
TV Director – Jakob Pitzer
Cast:
Tristan – Peter Seiffert
Isolde – Iréne Theorin
Brangäne – Petra Lang
König Marke – Albert Dohmen
Kurwenal – Tomasz Konieczny
Melot – Gabriel Bermúdez
Shepherd – Carlos Osuna
Steersman – Il Hong
Voice of Young Seaman – Jason Bridges
I reviewed this Tristan und Isolde at the Vienna State Opera in March 2017 having seen this live stream in January 2015, though I did not write about it at the time. My thoughts two years later were heavily influenced by that first look at David McVicar's 2013 production – his first there – and are little changed in these 2020 coronavirus-blighted days.
In 2017 I mused how 'The more Sir David McVicar does as an opera producer the less controversial … he is becoming. Perhaps this depends on how willing the opera house who employs him is at embracing outrageous ideas? Vienna or New York are two of the most "conservative" there are and perhaps that explains his approach to his recent work there.' I wondered if McVicar was 'now the natural successor to Jonathan Miller. Not that there is anything especially wrong in that, but it is not how he became famous, or should that be infamous?'. Adding how, 'This was McVicar's debut production at the Vienna State Opera and he seems not to have much to say about the opera. He just provides a framework for the singers to stand and deliver which is what they mostly do exceptionally well.'
Still for me, 'The staging does neither a service nor disservice to Wagner's opera and the set is mainly dark with a cyclorama which has a thin strip of what looks like waves. Paule Constable's lighting often has a blue-black hue, but is occasionally red for Isolde, possibly the "scarlet woman". A large moon – a familiar Japanese image – is often seen in the background and also turns red at times. For Act I there is the skeletal remains of a boat … In Act II there is a jetty and a highly stylised stage-deep trunk of a tree which is a potent phallic symbol; though I was not sure what the crown-of-thorns in neon lighting was supposed to represent. Finally, in Act III there is a huge landslide of rocks and a simple chair for Tristan to be slumped in. That is about all there is for the three acts. McVicar seemed to have one good idea and that is when Tristan and Isolde drink the potion, their "fatal attraction" is so strong that there is no opportunity for anything to take effect before they embrace in a grey homage to Gustav Klimt's The Kiss: they remain – and not for the last time – in a clinch seemingly without end. All McVicar otherwise did was introduce some tumbling, prancing, sailors (choreographed by Andrew George) who would have been better suited to Rodgers and Hammerstein's South Pacific than to Wagner's transcendent opera.'
I was keen to see and hear this Tristan und Isolde again mainly because of the involvement of Iréne Theorin and Petra Lang who both were due to sing Brünnhilde in the new Bayreuth Ring this summer and I was planning to be there. Sadly, this year's Festival has been cancelled, as so much live performance throughout the world has been for our foreseeable futures. The last time I saw Iréne Theorin was in 2013 when she sang Isolde; however, it was in two remarkably different circumstances. The first was in an enjoyable version for children at Bayreuth (review click here) and then not long after in the Barbican Hall with the London Symphony Orchestra (review click here) when – as in Vienna – Peter Seiffert was Tristan. Based on this 2015 Isolde – and hoping the intervening years have treated her kindly – then the Immolation Scene in Bayreuth's Götterdämmerung would have been something to keenly anticipate and I hope Theorin can be back there sooner rather than later.
The libretto suggests Isolde is a 'wild Irish maid' of the libretto and if I think about Hollywood 'golden age' that conjures up the flame-haired Maureen O'Hara in John Ford's The Quiet Man whilst Theorin has the blondness, refinement, and glacial good looks of Grace Kelly in any of her Alfred Hitchcock films. Therefore, Theorin was a superb – if somewhat different – Isolde. Amongst her attributes was that she could be alternatively regal, imperious, naïve, or romantic; yet there was little of the vengeful hysteria of some Isoldes. When she fought with Tristan it seemed just the prelude to 'make up sex' and no love potion was needed. Before they even took a drink from the bowl they were clearly about to kiss. Theorin's sang well with just an occasional hint of shrillness at the top of her voice and occasionally I would have liked to hear more of the words. Her closing Verklärung (Transfiguration) – or Liebestod as it more familiarly called – was a deeply affecting culmination to an impressive performance. It was sung as a eulogy to her dead lover and Isolde survived to glide away in her blood-red gown with its long train. It was clear that her mission would be – Alma Mahler-like – to keep her hero's memory alive
Peter Seiffert is a veteran Tristan who had just had his 61st birthday before this performance. Five years on he still sings leading heroic tenor roles, proving that – in 2020 – being in your 60s should not stop you doing anything you want to if you still can. Seiffert's commitment could not be faulted and there seemed some genuine chemistry with Theorin's Isolde. His singing was full-throated nearly throughout, but he was stretched to his limit more than once – though what Tristan isn't? – and Seiffert became shouty or his voice lacked security. Nevertheless, there were many highlights not least the quiet control and sense of resignation he brought to the conclusion of Act II ('Wohin nun Tristan scheidet, willst du, Isold', ihm folgen?') prior to impaling himself on Melot's sword.
This was Petra Lang's final Brangäne and in a little over two years she would sing a wonderful Isolde in this same production. Her familiar dark rounded mezzo was a pointed contrast to Theorin's soprano when too often these days Brangäne and Isolde can sound remarkably similar. As a result, Lang's 'Einsam wachend in der Nacht' had true portent and was a genuine warning. She was the perfect foil to Theorin's impetuous Isolde; the perfect companion and confident who cared deeply for her and strove vainly to prevent Isolde following her heart (for which the love potion is just the deus ex machina). Brangäne knows – as we who are watching understand – that there can be no happy ending for Tristan and Isolde.
Tomasz Konieczny's Kurwenal was unusually youthful – in voice and physicality – and this made for an interesting dynamic with Seiffert's Tristan who was clearly much older. Staggeringly drunk in Act I, Kurwenal had sobered up by Act III when Konieczny brought genuine pathos to his character's attempts to revive Tristan's spirits and keep him alive long enough for Isolde to arrive to heal him. Albert Dohmen was a very moving, deeply expressive, Marke, the most human(e) of all the characters in Tristan und Isolde. Dohmen was the epitome of a man heartbroken by being betrayed by his wife and supposed 'best friend'. Gabriel Bermúdez was a suitably sturdy Melot, Carlos Osuna a mellifluous and natural sounding Shepherd, and Jason Bridges was a plaintive Young Seaman.
Peter Schneider is a vastly experienced Wagnerian and it was fascinating to see his head in the score, unspectacular, and very economic conducting style. Yet it yielded great results and the Vienna State Opera Orchestra sounded – through my good headphones – as good as one would hope, playing ebulliently and with much passion and vibrancy. From the Prelude to Tristan und Isolde's closing bars – despite the very occasional drift in tempi – Schneider conducted with a magisterial sense of the musical and dramatic arc of Wagner's incandescent score.
Jim Pritchard
For more about the Wiener Staatsoper Live at Home click here.