France Prokofiev, Cinderella (Rudolf Nureyev's production): Dancers of the Paris Opera Ballet, Orchestre Pasdeloup / Vello Pähn (conductor). Opéra Bastille, Paris, 31.12.2018 performance (directed for the screen by Isabelle Julien) and reviewed as an Opéra national de Paris online stream broadcast on 1.5.2020. (JPr)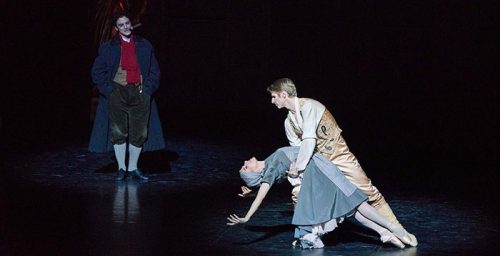 Production:
Choreography – Rudolf Nureyev (after Charles Perrault)
Adapted and directed by Rudolf Nureyev
Sets – Petrika Ionesco
Costumes – Hanae Mori
Lighting design – Guido Levi
Cast included:
Cinderella – Valentine Colasante
The Film Star – Karl Paquette
The Two Sisters – Dorothée Gilbert, Ludmila Pagliero
The Mother – Aurélien Houette
The Film Producer – Alessio Carbone
The Dance Teacher – Paul Marque
The Stage Director – Nicolas Paul
His Assistant – Francesco Mura
The Father – Pierre Rétif
Spring – Marion Barbeau
Summer – Émilie Cozette
Autumn – Sae Eun Park
Winter – Fanny Gorse
Cinderella goes to Hollywood Studios … well sort of! This is Rudolf Nureyev's famous version of Cinderella – the fairy tale you thought you knew! When he was director at the Paris Opera Ballet Nureyev conceived his version of Cinderella for his new young protégé, Sylvie Guillem, who did her own 'leap to freedom' a few years later and left Paris for The Royal Ballet and – hackneyed as it is – the rest is history. Nureyev cast himself in the fairly minor role – acknowledging he was nearly 50 then – as The Film Producer, his 'take' on the original story's fairy godmother. He enters in Act I looking as if his plane has crash-landed on Cinderella's doorstep – although he is holding some handlebars! – before transporting her to a 1930s film set to audition her and set Cinderella on the path to stardom; at least initially until the spell is broken when the clock strikes 12. The character was originally named 'Pygmalion Diaghilev' and Nureyev is rather ambivalent as to how good his producer is, particularly since he appears to pressure her into signing her contract with him before she is allowed to dance her final pas de deux with the Film Actor. But beware the small print, because – in a chilling presentiment of all that is wrong with modern celebrity – when the camera no longer loves her, she will be back to her sweeping duties pretty quickly. Truthfully, Nureyev was ahead of his time and with this Cinderella out-Bournes Matthew Bourne's New Adventures.
Remember the days when we all videotaped programmes off the TV? Well in the late 1980s I recorded Nureyev's Cinderella, kept it for a long time, but never ever saw it. I assume that had been the 1987 version I recently found on YouTube (filmed in a studio) – with Guillem, Nureyev and Charles Jude as The Film Actor – that I now watched in less than high definition and have been able to compare with this 2018 performance that celebrated the opening of the Paris Opera's anniversary year. It featured étoile (star) dancer Karl Paquette's farewell to the stage at 42 after 25 years with the company.
Perrault's original Cinderella is still there in outline, but it is now a timeless tale given an equally timeless revamp. Petrika Ionesco's sets are impressive and literally larger-than-life; Hanae Mori's costumes are mostly all pastel shades, yet also include some gaudy unitards for the men during a 'Four Seasons' fashion show. Throughout there are often a vast number of dancers crisscrossing the stage and their intricate group dances hark back to all the famous Hollywood 'Golden Age' musicals.
Cinderella and her two stepsisters are aspiring actresses, though because she is not getting anywhere, Cinderella is just a servant in her own home after her downtrodden, alcoholic father gets remarried to a bossy new wife. Cinderella is physically abused by both her tyrannical stepmother and the stepsisters. Her only refuge is the dreams she harbours of becoming a famous movie star. While her sisters are rushing off to film auditions, she imagines she is Charlie Chaplin – while paying homage to Fred Astaire by having a coat stand as a dance partner – or on a film set and falling in love with her leading man. The Producer reappears, presents his 'fashion show' before taking her to the film studios in a limousine that emerges from a deflated giant pumpkin. Before this we have had nods to Fritz Lang's Metropolis, some large Betty Grable figures, seen Marilyn Monroe, as well as, the Producer chomping on his ever-present cigar to whirl through a solo in full Groucho Marx get-up.
At the start of Act II there are films being made, including a Keystone Cops (or is that Keystone Gendarmes?) sequence followed by what looks like some Polynesian girls being sacrificed to a huge King Kong. There is a comic number for the stepsisters, The Stage Director, and his Assistant and the cast and crew seem inordinately preoccupied with getting their scheduled breaks and some food. Cinderella – who earlier swept onto the set – soon wins the heart of the leading man during a deeply romantic pas de deux intriguingly beginning and ending on a revolving stool. The fear of losing her dream is never far away, as well as, something that always haunts actresses, the insidious march of time! Eventually – the now dowdy again – Cinderella flees the set dropping a glittery high-heeled shoe as she goes.
Of course, there will be the happy ending of sorts, given the contractual conditions I have hinted at above. Firstly, Cinderella's Hollywood 'Prince' must seek her out via the tempting delights of a Spanish nightspot called 'Lolita' and a visit to the Orient to smoke some opium. We are soon back with Cinderella who gets a joyful solo as she remembers happier time, before she again suffers at the hands of her stepmother and stepsisters; despite her father finally showing Cinderella some genuine affection. Eventually her matinee idol prince – despite her rags – recognises her and doesn't even need to get Cinderella to try the shoe on, before tenderly sweeping her up in his arms. After an extended lyrical duet, our reunited hero and heroine get top billing and the last we see of them is trailing a long billowing scarf like Cyd Charisse and Gene Kelly in 'Singin' in the Rain'.
Typically, Nureyev makes great demands on his dancers and there are a lot of rapid changes of direction, as well as, quick, intricate, steps throughout this Cinderella. Three decades separate the two casts I was able to see; dancers are probably more athletic in 2018 than 1987 and perhaps that is the reason why the new generation of dancers seemed more at ease and made this the better of the two versions. Of course, seeing Nureyev create the role of the producer brought back memories of when the great Russian was at the height of his powers. Also, it is clear how much Charles Jude's Film Star gained from being coached by Nureyev and he danced throughout stylishly and with brio. I thought the statuesque Sylvie Guillem with her famous high extensions was not entirely suited for Cinderella and lacked vulnerability. The 1987 studio bound Cinderella was otherwise very well danced and benefitted from some cinematic fade-ins and fade-outs, as well as, magical effects that had not, as now, been 'diluted' by successive revivals.
By contrast, Valentine Colasante was the ideal Cinderella with her open face, grace, impeccable technique, and beautiful legato phrasing. She clearly expressed how eager Cinderella was to fall in love through the delicacy of her movement and her airy, bounding leaps. Paquette was more impressive as a partner than with his solo dancing. He provided Colasante with absolutely security in all the spectacular lifts but Paquette – admittedly a relaxed and accomplished actor – was never entirely comfortable with all of Nureyev's complicated beaten jumps and those twisty changes of direction.
The stepsisters were well cast and Dorothée Gilbert and Ludmila Pagliero squeezed every bit of comedy they could from their roles without ever seeming to strain for cod-balletic effect. Aurélien Houette's stepmother was a very believable harridan and was particularly good on pointe. Alessio Carbone did an exceptionally good impression of Nureyev's Producer and clearly is a fine dancer. Paul Marque was an impressively haughty and demanding dance teacher/choreographer. All the other cameos were well delineated from the Paris Opera Ballet company dancing on top form. The women did well during the 'Four Seasons' divertissements and the men cavorted energetically as chorus boys, film extras, or gesticulated mechanically – and ominously – as the 'hours' of a huge skeletal clock.
Both on film and in the theatre, Prokofiev's Cinderella score seemed remarkably well served: in the Opéra Bastille, Vello Pähn sounded as if he conducted the extremely competent Orchestre Pasdeloup with equal parts fervour and finesse.
Nureyev's Cinderella proves another memorable production from the legendary dancer/choreographer's legacy. That was entertainment indeed from the cast of (nearly) thousands!
Jim Pritchard
For more about the Opéra national de Paris click here.
For more about The Rudolf Nureyev Foundation click here.