United States Rossini, Il barbiere di Siviglia: Soloists, Chorus and Orchestra of the Metropolitan Opera, New York / Maurizio Benini (conductor). Performance of 24.3.2007 and reviewed as a Nightly Met Opera Stream (MMB)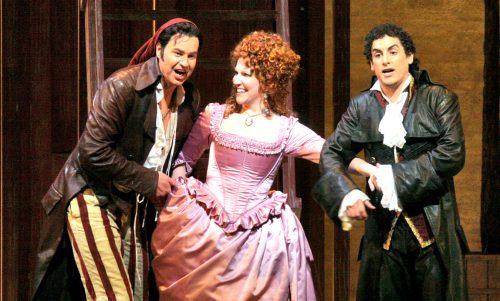 Production:
Production – Bartlett Sher
Set designer – Michael Yeargan
Costume designer – Catherine Zuber
Lighting designer – Christopher Akerlind
TV Director – Gary Halvorson
Cast:
Figaro – Peter Mattei
Rosina – Joyce DiDonato
Count Almaviva – Juan Diego Flórez
Dr. Bartolo – John Del Carlo
Don Basilio – John Relyea
Berta – Claudia Waite
Fiorello – Brian Davis
Sergeant – Mark Schowalter
Ambrogio – Rob Besserer
During the years of his association with Naples, Rossini also wrote several operas for other Italian cities. Il barbiere di Siviglia is one of them and arguably his most important work. In any case it is a masterpiece and can boast being the oldest opera by an Italian composer never to have disappeared from the repertoire. Some scholars think it the greatest of all comic operas. I wouldn't completely disagree but for me it would come second, the title of the greatest should to my mind go to Mozart's Le nozze di Figaro (based on Pierre Augustin Caron de Beaumarchais's trilogy – the second play – and with a libretto by Lorenzo da Ponte).
Cesare Sterbini's libretto is extremely well constructed and a fine adaptation from its literary source (Beaumarchais's first of his trilogy of plays). Rossini's score has all elements that made him famous – melodic elegance, rhythmic excitement, outstanding ensemble writing and beautiful orchestrations, with expressive dramatic situations and clever use of irony. The opera was originally entitled Almaviva, ossia L'inutile precauzione (Almaviva, or The Useless Precaution) to distinguish it from Giovanni Paisiello's at the time well-known and celebrated opera Il barbiere di Siviglia from 1782.
During our current troubled times of Covid-19, New York's Metropolitan Opera has been streaming operas from their archives for free on a daily basis. This production of Rossini's Il barbiere di Siviglia was originally from 2007 and was broadcast to cinemas around the world Live in HD on 24 March 2007. It is a wonderful production with a 'deluxe' magnificent cast. Figaro is sung by Swedish baritone Peter Mattei who excels in the role. His voice is very warm and colourful. He has a charismatic stage presence, a special comic talent and is perfect as the city's factotum. He is cheeky, shrewd, opportunistic but at the same quite lovable and very funny. In fact, once you watch him as Figaro in this opera it will be difficult to imagine anyone else singing and acting the part so brilliantly. Rosina is sung energetically and beautifully by the extraordinary Joyce DiDonato. Her coloratura is dazzling and she negotiates Rosina's difficult arias with style and great easiness. Her rendition of 'Una voce poco fa' is sheer perfection and possibly one of the greatest ever, certainly the best I have ever seen and heard. She is also an expressive actress with an excellent talent for comedy. She visibly relishes the part of the feisty Rosina, who manages to elude all of her guardian's precautions to keep her under lock and key, so he can marry her and inherit her fortune. Count Almaviva is sung by exceptional Peruvian tenor Juan Diego Flórez. At the time of this production and at only 34 years of age he was at the peak of his powers. His performance as the count is faultless, displaying elegant, refined phrasing, irresistible warmth of tone, technically perfect and beautiful legato lines, and his trademark, effortless high notes. In fact, his coloratura rivals that of Joyce DiDonato's.
This production is the full version of the opera, meaning that Count Almaviva (Flórez) sings the tenor's show-stopping aria at the end of the opera – 'Cessa di più resistere'. This aria is usually removed from most productions of Il barbiere. It is long, at almost 8 minutes, and many conductors think that it unnecessarily disrupts the dramatic flow/action of the opera. This may well be true, however, when one has a tenor of Flórez's calibre it would almost be a crime to cut it out of the work. This aria is not only beautiful but extremely difficult to sing and there are many tenors who would struggle to deliver it at the end of 2½ hours. Before Flórez, I had never heard it as part of this opera and besides Flórez I have only seen it performed by 'the other' outstanding Rossini tenor (if I may say so, as the world of Rossini tenors is a scarcely inhabited one!) – American, Lawrence Brownlee. The score of 'Cessa di più resistere' is well known for many, not as Almaviva's but as Cenerentola's aria 'Nacqui all'affano, e al pianto' at the end of the opera of the same name. As was his custom, Rossini used the same music for various pieces. The aria appears to have been originally written for Almaviva in Il barbiere (premiered on 20 February 1816), however, still in that same year Rossini also used it as Cerbere's aria for a mezzo-soprano  'Ah non potrian resistere' in his cantata Le nozze di Tetti e di Peleo. Less than a year later he reworked it yet again for a mezzo in his opera La Cenerentola (Cinderella), premiered on 25 January 1817.
This Met production by Bartlett Sher bursts with energy; is fresh and sparkling, with excellent lighting and set designs. I particularly enjoyed the platform around the orchestra pit and at stage level, allowing the singers to walk along it and be much closer to the audience. Costume design is attractive and effective too. Flórez looks rather dashing in a long, stylish leather coat and DiDonato is fetching in the stylised eighteenth-century dresses.
The chorus and orchestra of the Metropolitan Opera under the sympathetic and expert baton of Maurizio Benini are in glittering form. The roles of Bartolo and Basilio, respectively John Del Carlo and John Relyea, are also performed with excellence, displaying great comic timing and sonorous, vivid voices.
As you may have guessed from what I wrote, I truly loved this Met performance and strongly recommend it. If you didn't catch it as a Nightly Opera Stream it is also available on their Met on Demand App, which you can enjoy with an initial seven-day free trial membership. This production is delightful, entertaining, very funny, musically outstanding, and with superb singing. You will escape the current distressing reality and spend a couple of hours of bliss that will leave you with a smile on your face – to me, rather valuable attributes in the troubled times we live in at present.
Margarida Mota-Bull
For more about the Metropolitan Opera click here.