United States Puccini, La bohème: Soloists, Chorus and Orchestra of the Metropolitan Opera House, New York / James Levine (conductor). 15.3.1977 performance reviewed as the Viewers' Choice Nightly Met Opera Stream on 9.5.2020. (JPr)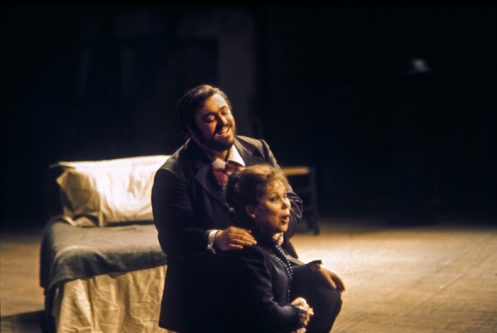 Production:
Production – Fabrizio Melano
Designer – Pier Luigi Pizzi
Lighting designer – Gil Wechsler
Cast:
Mimì  – Renata Scotto
Rodolfo – Luciano Pavarotti
Musetta – Maralin Niska
Marcello – Ingvar Wixell
Schaunard – Allan Monk
Colline – Paul Plishka
Benoît – Italo Tajo
Alcindoro – Andrea Velis
Parpignol – Dale Caldwell
Sergeant – Paul De Paola
Officer – Domenico Simeone
TV Director – Kirk Browning
Host – Tony Randall
In our ongoing strange times, I have been kept entertained by revisiting opera and ballets with some connection to what I might have been seeing before live performances became a thing of the past, at least for several more months. My thoughts turn now to La bohème that would have been opening soon at Covent Garden featuring one of this generation's leading tenors, Piotr Beczała. Coincidentally the Nightly Met Opera Stream had as their Viewers' Choice recently a La bohème with – in a starry cast – one of the greatest tenors of all time, Luciano Pavarotti. This performance from 1977 was notable in that it was the first time an opera had been shown live from the Met on public TV.
This was little more than a worthy first attempt which was clear from Kirk Browning's perfunctory fixed camera work – mostly coming from stage right – and particularly in the introduction from the host, Tony Randall, well known for his appearances on Broadway, film and TV. (Randall is now no longer with us, along with Luciano Pavarotti, Ingvar Wixell and Maralin Niska of the principal sextet who have also subsequently passed away.) Randall's introduction was also a marvel of its age as he reminded those watching how La bohème can mean 'The Bohemians' and how 'the term originally meant gypsies because it was supposed they came from Bohemia'; Randall then suggested how they typified those who want to live 'free from the conventions of society' being 'devoted to the arts and free love' concluding 'today we might called them hippies or beatniks'! How more 1970s can you get?
Firstly, this is not the famous Met La bohème directed by Franco Zeffirelli because that one – with its cast of thousands, well a hundred or so, plus a horse and donkey! – was not seen there until December 1981. Fabrizio Melano's La bohème was first seen in Chicago in 1972 and Pier Luigi Pizzi's sets were probably designed for a smaller theatre as they seemed rather lost on the huge Met stage; leaving wide gaps between the performers, even for the Act II Café Momus. The sets and costumes now looked entirely 'traditional' and museum pieces and I doubt they were considered anything other than that in 1977. The garret was realistic, but under furnished, considering there were at least four people living and working in it. The real Café Momus – where artists gathered – was on Paris's Right Bank and Pizzi showed us that. The Act III setting for the Barrière d'Enfer was perhaps the best with its realistic barrier (naturally!), a large tree for Mimì to conceal herself behind, and a light dusting of snow.
Fabrizio Melano clearly directed with a light hand and what we saw was the usual fun and frolics, again all very traditional. Regardless of any stage action the singers tended to gravitate towards the centre of the stage near the prompt box and the prompter could often be heard so clearly in this recording that it was possible – karaoke-like – to sing along if you didn't already know all the words, as some will. No director is ever likely to do anything very unusual with La bohème, though our post-Covid world will give them several new avenues to explore. Already in 1977 there was Mimì's violent coughing, mentions of how she was 'flushed with fever' and Rodolfo sings about how 'living with me will only kill her sooner'. Oddly, the large distances often seen between the singers – including between Mimì and Rodolfo during much of their Act III duet – suggested 'social distancing' had begun as early as the late 1970s!
Was what we heard a hark back to the Met's 'Golden Age' of singing? Possibly, but I enjoyed more the 2008 La bohème I saw earlier in these streamed Met operas with Angela Gheorghiu's manipulative Mimì and Ramón Vargas's devoted Rodolfo. What about Luciano Pavarotti? Beginning with him sitting at a table didn't bode well recalling his later sedentary appearances. However, for a man of his legendary bulk when he was required to interact with his fellow singers, and move with some speed across the stage, he did so surprisingly gracefully. Open-faced and at total ease in both the comedic and romantic moments, he was dramatically credible as Rodolfo. Obviously recording techniques have improved considerably in the intervening 40-plus years so could I trust what I heard? Maybe. For me, I suspect Pavarotti had sung – and would sing – better Rodolfos as there was a surprising element of strain to his top notes. Nevertheless, throughout there were many examples of Pavarotti's trademark open-throated vocal richness, eloquent lyricism, stylish phrasing, and impassioned delivery.
The men fared better in this La bohème than the two leading women: the three bohemians fully entered the spirit of Melano's production whilst probably repeating bits of business they used wherever they might have sung their roles before. All three looked somewhat older than those who would be cast in these roles in 2020, yet the gain was through their stage experience. Ingvar Wixell was a fine Marcello and sang with an evenly produced resonant baritone. Paul Plishka rose to the occasion for a very eloquent Act IV 'Vecchia zimarra senti' and Allan Monk did nothing wrong as Schaunard. There were two wonderful characterisations of Benoît and Alcindoro from Italo Tajo and Andrea Velis.
Only in her early forties in 1977 Renata Scotto looked much older and – with the camera closeups – also didn't look entirely comfortable as Mimì. Undoubtedly, she would have sung the role exactly the same way anywhere in the world – or even on the concert platform – and there was a lack of any evident chemistry with Pavarotti's Rodolfo. However, Scotto was a delight to listen to even though at times she strove too hard to lighten the quality of her voice for a more youthful sound. Her acting eschewed any naturalism and was often old-school operatic posturing at its worst. That was true too of Maralin Niska's big-bustled Musetta who made less of the role than some better singer-actors can.
I was to come to appreciate James Levine's conducting in the 1980s onwards from his Wagner performances, notably at Bayreuth, so it was a unique experience to see and hear this Puccini from him when he was only 34. Let's ignore how his reputation has suffered in recent years and celebrate that here Levine extracted every emotional nuance from Puccini's intensely romantic score. It was a surprisingly fleet-footed account; though only until Scotto sang when there was an audible lull in the music's forward momentum.
Jim Pritchard
For more about the Nightly Met Opera Streams click here.