United Kingdom Wayne McGregor's Woolf Works – a triptych: Dancers of The Royal Ballet, Orchestra of the Royal Opera House / Koen Kessels (conductor). 8.2.2017 performance streamed online and reviewed on 27.6.2020. (JPr)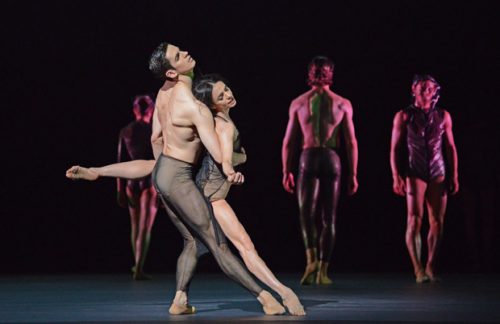 Production:
Music – Max Richter
Direction and Choreography – Wayne McGregor
Designers – Ciguë, We Not I, Wayne McGregor
Costume designer – Moritz Junge
Lighting designer – Lucy Carter
Film designer – Ravi Deepres
Sound designer – Chris Ekers
Make-up designer – Kabuki
Dramaturgy – Uzma Hameed
Director for the screen – Ross MacGibbon 
Casts:
I now, I then (from Mrs Dalloway)
Alessandra Ferri, Federico Bonelli, Gary Avis, Francesca Hayward, Beatriz Stix-Brunell, Edward Watson, Akane Takada, Calvin Richardson
Becomings (from Orlando)
Gary Avis, Matthew Ball, Calvin Richardson, Francesca Hayward, Paul Kay, Sarah Lamb, Steven McRae, Natalia Osipova, Beatriz Stix-Brunell, Akane Takada, Eric Underwood, Edward Watson
Tuesday (from The Waves)
Alessandra Ferri, Federico Bonelli, Sarah Lamb, and artists of The Royal Ballet
Anush Hovhannisyan (soprano)
Voiceover from a letter by Virginia Woolf spoken by Gillian Anderson
The Royal Ballet's Woolf Works is Wayne McGregor's first full-length work and was created in 2015. McGregor has been their resident choreographer since 2006 and this ballet was devised as a triptych drawing on three of Virginia Woolf's novels: Mrs Dalloway, Orlando, and The Waves. It will not come as a surprise to readers of my reviews that I have never read any of these and came to Woolf Works with little knowledge of the author's oeuvre, though I have some idea about her life and suicide, the Bloomsbury Group, as well as, her relationships with her husband Leonard and Vita Sackville-West. I wonder what McGregor expected me – and others watching – to have 'got' from his ballet if they are not really familiar with Woolf's writings and since no one is actually named as being someone from her circle or a character from any of the novels.
Projected handwritten words on the stage accompany Woolf's voice discussing language and the beauty of words. Soon we see legendary ballerina Alessandra Ferri for the first time at the start of I now, I then inspired by the 1925 Mrs Dalloway that – I understand – begins with London society hostess Clarissa Dalloway organising a party. Ciguë's set – such as it is – has three huge wooden frames which determine the performance space and there is an apposite use of video footage (from Ravi Deepres) to show London, and later some garden scenes, including possibly Monk's House, Virginia and Leonard's home for 20 years in East Sussex.
But who is Ferri supposed to be and who does Gary Avis represent with whom she engages in a push-me-pull-you tussle? Is it Virginia and Leonard Woolf or Clarissa and Richard Dalloway? These things matter. Anyway, we see Beatriz Stix-Brunell as Clarissa's younger self with Francesca Hayward – dancing with more freedom than she did in McGregor's recent new pas de deux (review click here) – as Sally with whom she has a brief flirtation, as well as, Federico Bonelli as a former love, Peter. Edward Watson is Septimus Warren Smith a traumatised soldier reliving the war and the death of his close friend Evans (Calvin Richardson) on the battlefield with Akane Takada as Lucrezia, Septimus's wife. (You will not get much of this from what you see unless you do some research, as I did afterwards!). As it seems Clarissa longs for something deeper with Sally, perhaps – for McGregor – Septimus was more than just 'good friends' with Evans. I understand Clarissa and Septimus never actually met but here they get a poignant duet. Edward Watson excels as the haunted Septimus but elsewhere during the evening the quick footwork McGregor demands leaves him playing catch-up more often than not.
Notably Max Richter's new score has a perpetuum mobile musical familiarity of Philip Glass or Ludovico Einaudi with occasional mournful strings. Also, somewhat repetitious is McGregor's dance language as what we see in I now, I then will suffuse Becomings and Tuesday. The tropes include: semaphoring, contorted, arms that are often raised; legs extended, hooked, or inelegantly splayed at any opportunity; and particularly extravagant forward and back bends; with much spinning, some off-axis movement, as well as, lots of embracing. It is difficult to take one's eyes off Ferri when she is dancing and whether as Woolf herself or Clarissa there is something deeply affecting in the way one by one characters leave her alone centre stage at the end of I now, I then.
There is now diminishing choreographic returns with the remaining two parts of this triptych. Becomings – based on Woolf's 1928 Orlando – apparently is about a male poet travelling through time from the Elizabethan era to the twentieth century, with a mysterious sex change along the way. Becomings has a bit of a sci-fi feel to it as the dancers begin in the dark as if part of an Elizabethan tableau and dressed accordingly. A variety of laser effects – which become more and more colourful – add some atmosphere, whilst the music at the start reminded me of Kylie Minogue's 'Can't Get You Out of My Head'. The original gold lamé costumes deconstruct with the increasing gender fluidity of what we see to leave some with basically just a ruff or a tutu over flesh-coloured leotards. The choreography is all very frenetic and – to be truthful – Becomings is about twice as long as it need be. Natalia Osipova and Sarah Lamb have such pliable bodies that they appear boneless at times and the bending and stretching McGregor asks of these ballerinas is even more extravagant than for those in I now, I then. Amongst the 12 dancers involved, Steven McRae is another to make a strong impression by whirling through it all with practiced ease and – highlighting the gender fluidity aspect – is shown mimicking many of Osipova's complicated steps.
Woolf Works ends with Tuesday, based on Woolf's 1931 The Waves, and where the novel has the characters' soliloquies set against a coastal scene, McGregor uses it as a starting point to address Woolf's suicide in 1941 when she drowned herself in the River Ouse near her home. We hear a recording of her suicide note to Leonard and see a backdrop of gently rippling waves. The music is slower, yet the movement is much the same albeit also slower. Anush Hovhannisyan's disembodied intoning deepens the sadness of what we see. Ferri is a magnetic stage presence as the sad denouement approaches. She engages in a long pas de deux with a bare-chested Federico Bonelli who seems to me like a 'Messenger of Death' (as in Kenneth MacMillan's Song of the Earth). The appearance of Sarah Lamb with a group of six young children (the characters from the novel?) playing with skipping ropes, alludes perhaps to Woolf's childhood. Soon a larger group of dancers swirl around as the waters that will eventually engulf her, though I was not sure what they were wearing that partly covered their faces. Nevertheless, the entire ensemble slowly vanishes into darkness as the music surges and this leaves Ferri and Bonelli in a pool of light and he gently lays her down on the stage as the curtains close. In reality her weighed-down body was swept away and not discovered for three weeks.
The profoundly moving ending notwithstanding, I feel Woolf Works would have all been better abridged to a one-act ballet. Kudos to Koen Kessels and the Orchestra of the Royal Opera House for their accomplished performance of Richter's insistent and occasionally elegiac score. Apologies for my ignorance about Virginia Woolf but even those with a degree-level knowledge of her life and writings would have difficulty, I suspect, following most of McGregor's reimaginings.
Jim Pritchard
For more about The Royal Opera House #OurHouseToYourHouse series click here.