United Kingdom Grange Park Opera's Found Season – The Son of a Farmer (Staying at Home): Sir Bryn Terfel (bass-baritone) and Hannah Stone (harp). Reviewed on 6.6.2020. (JPr)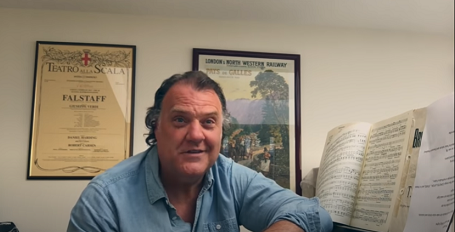 After weeks of worldwide coronavirus lockdown and the archives of some great institutions almost exhausted, we are seeing an increase in the amount of newly recorded content, or even actual live performances. Grange Park Opera and their inspirational founder Wasfi Kani have curated an eclectic Found Season following the loss of its summer season due to the ongoing pandemic. The second event featured a relaxed recital from the great bass baritone Sir Bryn Terfel and his acclaimed harpist wife, Hannah Stone. We are also shown their cute pug dog and are told their daughter, Lily, was listening and not far away either.
After the 'The Pandemicist's Cinema' opening titles in the style of MGM but with a conducting squirrel (that must be seen to be believed) we are encouraged by Sir Bryn to donate as 'this will help fund this Found Season and the livelihoods of artists, technicians, and the future of opera.' I urge you to do so if you can, and let's hope the summer of 2021 is a much happier time and we can return to Grange Park Opera's Theatre in the Woods to see him in Falstaff.
I go back a long way with Sir Bryn and first met him in 1989 when he auditioned for me and won (naturally!) the Wagner Society's Bayreuth Bursary. The same year he also won – the slightly more prestigious(!) – Lieder Prize (now known as the Song Prize) at the Cardiff Singer of the World competition, where he had gone note for note during the week with the competition's eventual overall winner, the wonderful Russian baritone Dmitri Hvorostovsky, who is sadly now longer with us.
It was after an earlier enforced rest in 2018 that Sir Bryn sang a recital at the Aldeburgh Festival and I wrote then how 'The good news is that the rest has done him good and his voice sounds in rude health. Terfel produced some elegant long phrases and consistently rounded tone, more big than intimate, but mostly well-tempered to the acoustics of the concert hall. His voice was capable of lightness with delightful – and frequently poignant – pianissimos, alongside, his famed operatic power which tested the strength of the distressed red brick walls of Snape Maltings.' Well – with all these remarkable qualities firmly still in place – when he sang Javert's 'Stars' from Les Misérables, near the end of this short recital, I was hoping his Welsh home has a secure roof as it must have been sorely tested, and anyway he would probably have been heard in England! As he claps his hands after a very impassioned performance it is clear how much Sir Bryn has thoroughly enjoyed himself.
Each song has an informative introduction at Sir Bryn's piano – with a poster for his La Scala Falstaff behind him – and the inspiration for those we heard was 'constellations, stars, and in these fragile times there will emerge a multitude of stars'. Sir Bryn begins with an ardent 'Ar Hyd y Nos' that is much better with John Ceiriog Hughes's Welsh words than as 'All Through the Night'. Immediately we are aware of the delightful intimacy of this short recital. In a panelled room Sir Bryn is seen in imposing close-up and in the background – yet always in shot – there is his wife whose virtuosity is integral to all the wonderful music we hear.
Hannah (Lady Terfel of course) has played her Lyon & Healy harp since she was 17 and in a short interview described the challenges for her instrument in accompanying the songs in place of a piano. She explained how 'repetitive chords [were] quite tricky because we can't use a pedal to sustain the chords', as well as, the need to rethink chords with five notes 'because we do not use our little fingers'.
We hear a delightful rendition of 18-year-old Debussy's 'Nuit d'etoiles' ('Starry nights') which was his first published song and Sir Bryn said it shows how 'nature and literature inspired this young composer'. Here some high-lying phrases remind us how on the cusp of a tenor voice his timbre can sometimes sound. Then there is Robert Schumann's 'Mein schöner Stern!': for the composer his 'beautiful star' was the pianist Clara Wieck, for Sir Bryn that of course would be Hannah who provided a delightful postlude to this heartfelt love song. Next is the only operatic aria we hear, Wolfram's 'Italianate hymn' from Wagner's Tannhäuser. Sir Bryn tells us how (surprisingly) 'I sang the role once at the Met [1997] and never again … You have to be very courageous with this role [though] it's fine to sing it with your wife playing the harp beautifully in the comfort of your own home', as indeed Hannah does with another postlude, this time a heartachingly sad one to match Sir Bryn's 'O du mein holder Abendstern' which is sung with his customary generous tone and deep emotion.
There was even an encore, James Frederick Keel's delightful 'Trade Winds', and Sir Bryn relished every word of John Masefield's poem. He described Keel (1871-1954) as 'a Londoner, a composer of art songs, was a baritone singer, and an academic [and] a very popular recitalist'. He had been introduced to the song by his first singing teacher – Arthur Reckless at the Guildhall School of Music – who 'used to say, Bryn don't sing opera, sing songs'. Seeing and hearing this enjoyable recital – that surely is critic-proof given the conditions in which it was recorded and the goodwill behind it – I wonder if Sir Bryn has any lingering tinge of regret at not following his mentor's advice?
Jim Pritchard
For more details about The Son of a Farmer and future events in the Found Season click here.