United Kingdom Beethoven, Schumann, Chopin: Guy Johnston (cello), Melvyn Tan (piano). Wigmore Hall, London, 24.6.2020. (CS)
Beethoven – Seven Variations on 'Bei Männern, welche Liebe fühlen' from Mozart's Die Zauberflöte WoO.46
Schumann – Fantasiestücke Op.73
Chopin – Cello Sonata in G minor Op.65
Looking back through my reviews and diaries, I was surprised to see how long it was since I had heard either of the performers who presented today's Wigmore Hall lunchtime recital play live.  Today's music-making wasn't quite a 'live' experience, in the sense of 'in the flesh' or 'in the same room', but it might as well have been so superbly did cellist Guy Johnson and pianist Melvyn Tan invite the radio and online audience to share in their understated but innately sensitive journey through three works from the first half of the nineteenth century.
It might not have been a particularly adventurous or intriguing programme, but it was a comfortingly familiar and brilliantly executed one.  Sometimes one's musical taste-buds want satisfying old favourites 'cooked' well rather than new flavours that leave one cogitating.  Johnston and Tan began with Beethoven's Seven Variations on 'Bei Männern, welche Liebe fühlen' from Mozart's Die Zauberflöte.  Elements that were to characterise the whole recital were immediately apparent: Tan's crystalline textures, with crisply articulated motifs and patterns above a tenderly placed bass line; Johnston's lovely sweet tone, evenly weighted and coloured across registers, and the cellist's relaxed legato bowing; the perceptive phrasing of both, eloquent and subtly nuanced – a delicate emphasis here, a slight rubato there – with a general sense of spaciousness even in the more impetuous episodes; engaging conversations between the two instruments as the dialogues moved back and forth; a flexible and entirely persuasive approach to tempo which confirmed a sure appreciation of overall structure and the relative status of the parts within the whole.
Remarking such consistency is not to suggest uniformity.  Beethoven's variations, which in a sense look 'back', had a classical definition and lucidity enlivened by a Beethovian vigour which at times threatened to overturn the apple cart – a sort of adolescent Till Eulenspiegel – but never really endangered the grace and certainty.  In contrast, the first of Schumann's Fantasiestücke Op.73 immediately conveyed a Romantic restlessness and questioning, wondering spirit, through Tan's light-fingered triplets and Johnston's soft tone.  The music may have been more reticent, but the alternating dialogues were no less immaculate and seamless.  The sweetness and absence of any sense of strain when the cello's phrases arched high, did not prevent Johnston injecting a gentle note of sehnsucht, and both he and Tan whispered at times with tantalising delicacy.  Towards the end of the first 'fantasy piece', there was a brief moment of freedom and release, but the clouds quickly descended, although Johnston's firmness of tone in the final rise and fall seemed to suggest an inner assurance, whatever troubles tormented the surface.
'Lebhaft, leicht' seemed to commence in medias res, so swiftly did Tan's rapid triplets suck us into the storm.  In contrast, the duetting scales of the following episode had a playful slippery quality, before Johnston 'opened up' his sound to sing a plaintive song of Mendelssohn-ian yearning.  Schumann's instruction at the top of the final movement is Rasch und mit Feuer, and there was certainly fire propelling the duo who adopted a precipitous tempo as Johnston chose to inflame the initial rising quaver motif with semiquaver repetitions, creating an urgent and angry mood.  This also had the effect of enhancing the legato contrast of the subsequent episode.  Despite the tempest, the clarity never waned, and the curt, assertive final cadence seemed to demand an outburst of audience appreciation – I hope those at home raised a bravo.
Chopin's Cello Sonata in G minor offered yet another of Romanticism's faces.  The grandeur and sparkle of the piano, an added weight but not 'heaviness', were immediately apparent at the start of the Allegro moderato¸ as if Chopin's presence was literally making itself felt, while Johnston's legato seemed to acquire even greater fluidity in imitation of the composer's trademark liquid arabesques and elaborations.  Chopin's processes of development are surprisingly radical in this Sonata, and the duo captured the freedom of pulse, tempo and structure – often the result was more fantasia-like than in Schumann's more formally conventional Fantasiestücke.  The urgency of the first section was brilliantly interrupted by brief moments of meditative reflection and stillness, but there was an underlying propulsion which made one feel as if the music didn't quite have its feet firmly on the floor but was racing, searching, seeking, ever onwards.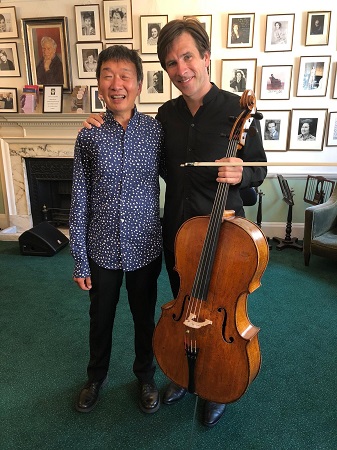 There was nothing Mendelssohn-ian about this spiky, slightly menacing Scherzo even if a few passages did seem to want to give in to the underlying dance.   Again, the contrasts were effortlessly crafted: Johnston's cantabile really did sing, while Tan's placing of the supporting bass was movingly tender.  The Largo finds Chopin in 'piano nocturne' spirit, though this is not to suggest that he neglects the cello whose melody always has space to breathe.  At the close, Johnston's firm tone again drew one's attention, and the final two bars were just perfect: a simple one-tone rise and fall was a gentle question, the concluding tonic, delicately approached by ornament, the unequivocal answer that the whole brief movement required.  The classical precision that we heard at the start of the programme in Beethoven's variations gave the Finale real definition even as it swept forward insistently, and again the small details revealed appreciation of larger structures.  Occasionally a lighter heart was felt but the tugs and sways did not relent and now Tan judiciously unleashed the force of Wigmore Hall's Steinway.
After such a rousing end, we needed our encore: Mendelssohn's Song Without Words Op.109 which established a prevailing and consolingly calm.
Claire Seymour
The remaining lunchtime recitals, and previous concerts in the series, can be seen here and on BBC Sounds.
The live stream of this concert is supported by Hamish Parker.