Malta Grange Park Opera Found Season's With love from Malta – Joseph Calleja (staying at home): Joseph Calleja (tenor) and Maria Elena Farrugia (piano). Streamed online and reviewed on 23.6.2020. (JPr)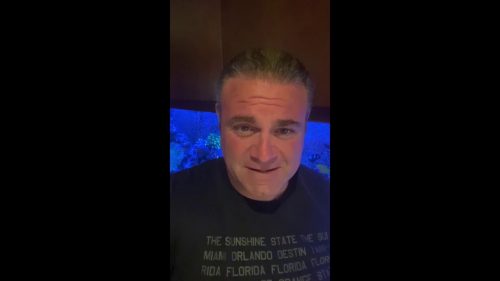 Had 2020 gone as planned I would have been looking forward to hearing only my second-ever performance of La Gioconda. The first was in the Verona Arena nearly forty years ago and this would have been at Grange Park Opera's Theatre in the Woods and was to feature Joseph Calleja as Enzo. Of course, our Covid-19-blighted summer put an end to that, and this new production will not now be seen until 2022. The best that was possible was for the always pleasant and open-faced Calleja to beam into his iPhone from a breezy Malta and introduce a  20-minute 'mini recital' by saying: 'As you know this theatre was built in record time in 2017 and I inaugurated it together with my colleagues [and] Gianluca Marciano [conductor] with the opera Tosca … In my opinion, it is not just a feat of beauty and acoustic but also of perseverance by the amazing Wasfi Kani primarily … It was such an incredible experience doing rehearsals and literally seeing the theatre being finished in front of our own eyes. Probably that will never happen again, to me, to us, in our lifetime.'
Calleja readily admitted his recital – filmed in what probably was his music room – was 'not Blu-ray quality, not DVD quality, it's with the iPhone'. He was accompanied on a rather clangourous piano – at least as heard with my YouTube sound (click here) – by Maria Elena Farrugia, but during an eclectic selection of arias and songs it was very uplifting to hear one of the world's greatest voices from his home to my home. Another critic-proof event and I await the days when I can unleash the full force of my critical faculties – such as they are! – on the first (as near as) 'normal' live performance I am in a theatre or concert hall for!
Calleja began with an impassioned 'O inferno! Cielo pietoso rendila' from Simon Boccanegra. As evidence of what makes The Maltese Tenor's voice so special just listen to the beauty of his final phrase 'Ch'io non la vegga piu'. Remarking on how Sir Bryn Terfel's Found Season recital was about stars (review click here) led us into 'E lucevan le stelle' from Tosca and just listen again to what Calleja does at 'Mentr'io fremente le belle forme disciogliea dai veli!' when his voice truly does reach for the stars! With images of Valletta (possibly from the Malta Tourism Authority?) I was introduced to Stefano Donaudy's 'Vaghissima sembianza' where his homeland replaced the woman's 'Very charming image' the Italian song tells us about. 'Questa o quella' from Rigoletto was next and Calleja seemed to have asked his admirably supportive and accomplished pianist to play it as fast as she liked and he would go with it. Anyway, that is what it sounded like to me and it was a sung with great joie de vivre. Then Calleja sang a yearning, wonderfully supple, 'Ideale', Francesco Paoli Tosti's paean to the ideal woman.
No sooner had the 'mini recital' began than it was time for the last song though not before being introduced to Mars, Calleja's clearly much-loved German Shepherd dog. Calleja mentioned something about the suggestion of a giraffe as a 'mascot' (by Grange Park Opera?) but apparently there was 'no way it's not going to be this little dog here'. It seems the (rather big!) dog enjoys nothing better than being out and about near Mellieħa's Red Tower playing with a ball. The closing credits acknowledged The Pandemicists (those who have donated towards this Found Season and, as well as, Calleja and his accompanist, it displayed 'Featuring Mars (who hopes Joseph will throw that ball)! Cesare Andrea Bixio's famous 'Parlami d'amore Mariù' brought everything to a close as we were shown record sleeves and movie stills. If you replaced Mariù and it became 'Talk to me about love Malta' then you would truly understand where Calleja's heart probably lies. And as for that voice, bathe in the radiance of his closing diminuendo.
Grange Park Opera's Found Season has much yet to offer and for more details of what you can see – including how to donate – click here.
Jim Pritchard