Germany Wagner, Lohengrin: Sächsischer Staatsopernchor Dresden, Sinfoniechor Dresden, Sächsische Staatskapelle / Christian Thielemann (conductor). Performance of 25.5.2016 and reviewed as a Semperoper Weekend Stream on 27.6.2020. (JPr)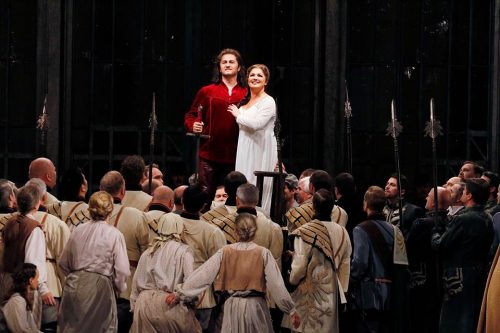 Production:
Original Director – Christine Mielitz
Revival direction – Angela Brandt
Set and costumes – Peter Heilein
Lighting – Friedewalt Degan
Chorus master – Jörn Hinnerk Andresen
Dramaturg – Matthias Rank
Video Director – Tiziano Mancini
Cast:
King Heinrich – Georg Zeppenfeld
Lohengrin – Piotr Beczala
Elsa of Brabant – Anna Netrebko
Friedrich of Telramund – Tomasz Konieczny
Ortrud – Evelyn Herlitzius
The King's Herald – Derek Welton
Four Noblemen of Brabant – Tom Martinsen, Simeon Esper, Matthias Henneberg, Tilmann Rönnebeck
Gottfried – Ferdinand Meier
It was a case of the Wagnerian ridiculous to the sublime this week as the UK emerges step by step from lockdown: there are still no live performances with audiences possible in this country and music lovers remain glued to their TVs or laptops for streamed content. A couple of days ago Grange Park Opera offered The View from the Villa described as pianist Iain Burnside's 'innovative form of music theatre' which hopes to illuminate Wagner's Wesendonck Lieder – and the operas he was composing at the time – against the backdrop of Richard Wagner and his wife Minna living in a small house close to the villa owned by the composer's patron, Otto Wesendonck, and his wife Mathilde. The View from the Villa had scheduled performances cancelled at the Bath and Leeds Lieder Festivals due to the coronavirus pandemic and the artists came to the Theatre in the Woods for an impromptu workshop performance to show the work in development. Those involved were singers mezzo-soprano Susan Bickley as Mathilde, bass-baritone Matthew Brook as Otto Wesendonck, with Victoria Newlyn in the non-singing role as Minna Wagner.
There was lots of the vernacular put into the mouths of Otto and Minna (particularly) and it lowered the tone to bring in elements of EastEnders (Newlyn's Minna was a dead ringer for a young Anita Dobson), Downton Abbey (because of Otto's grand house and its servants), as well as, Carry On Up the Rhine, especially when Otto talks (Oh, er, missus!) of 'I'm loving your big sword, Wagner'! We also heard how his factory 'would supply the silk that would rub against Richard Wagner's genitalia. Pastel shades, I'm told. Pink was a particular favourite'. From Minna we heard about Richard's many obsessions which included names, dates, birthdays, water cures, hypochondria, dogs, and that underwear. Don't get me wrong there is much humour to be mined from the life of Wagner (and I have done so myself over the years) but this is clearly a work in progress – in words, music, and performance – and lacked a consistent tone. The ending jarred a little as we heard from Minna how 'The real love of his life came along with that nancy boy Ludwig, Ludwig the pansy prince, followed by [his second wife] Cosima, followed by his dogs'. Poignantly we heard how Minna 'was long dead by the Cosima era' when Richard finally got the 'slave-like devotion that was his thing'.
In reviewing not along ago a 1986 Met Lohengrin (click here) I thought I had found some things were better then than in performances I had seen – before coronavirus – in more recent years. I reflected on the emotional engagement and sheer acting ability of the singers involved. Finally, I have got to see and hear Anna Netrebko in her (short-lived) role debut as Elsa as part of a stunning Lohengrin recorded at Dresden's Semperoper in 2016. Apparently, Netrebko struggled with learning the German and has not sung Elsa since though there was an announcement before Covid-19 that she would return to sing the role again in coming years. Anybody hoping for an Elsa singing 'Einsam in trüben Tagen' with a sense of transcendental spiritual purity, well, that is not Netrebko, though there is much to relish in the beautiful refinement of 'ich sank in süßen Schlaf'. Her Elsa is very much a self-possessed (modern?) wronged woman protesting her innocence.
Nebtreko – with perfectly acceptable German – unleashed the full glory of her remarkable spinto soprano on this vastly different 'take' on Elsa compared to how we are more used to hearing the role sung these days. Reminders of the singer's bel canto past were undeniable in a nuanced, richly sung, and romantic interpretation. Netrebko clearly shows the full arc of her character's emotional development; from personal conviction about a saviour, doubt, paranoia, and finally heartbreak, leading to her martyrdom. After Lohengrin defeats Telramund in the Gottesgericht Netrebko's Elsa looked 'like the cat that got the cream'. Christine Mielitz's deeply traditional staging focuses more than some on Elsa as the heir to the Brabant throne and somehow seeing Netrebko being crowned in Act II seemed entirely apt.
Mielitz's 1983 production (33 years old in 2016!) had updated the action to sometime, I suspect, in the nineteenth century judging from all the pomp and pageantry, as well as, the military uniforms, helmets, heavy – often fur-trimmed – robes for the men and flowing gowns for the women. The lighting for the video that was being streamed was slightly murky so I was not entirely certain whether we were inside a cathedral or a palace but there definitely were several wooden screens on or around the stage. Lohengrin appears towards the end of Act I from within a large (fibreglass?) swan and it will return at the end to disgorge the young Gottfried in answer to Lohengrin's prayers.
This was Piotr Beczala's role debut as Lohengrin, and I have subsequently admired his Bayreuth performances. In 2018 I wrote how 'Beczala was a revelation and sang with radiant musicality and gave all the words he was singing the attention they deserved'. Looks aren't everything of course, but it does help with his portrayal that he is a swan knight who in closeup reminds you of an old Hollywood matinée idol. More charismatic than ethereal he ardently caressed 'In fernem Land' though at the word 'Taube' the dove didn't flutter as airily as it did in the Festspielhaus. However, his deeply melancholic 'Mein lieber Schwan' helped bring the opera to its poignant conclusion.
It was one of the oddities in Mielitz's production that Lohengrin had been prevented from leaving the stage by King Henry before his farewell to the swan. Other 'unique' moments include: Telramund visible for most of Act II; King Henry seen initially in the bridal chamber(!); and Ortrud – who was present onstage for most of Act I – is there when Lohengrin dispatches her husband Telramund and subsequently shown mourning him when she usually just appears at the end of the opera.
Ortrud is also shown being physically abused by Telramund in the second act before she bends him to her will. Evelyn Herlitzius was more cartoonish 'wicked witch' than able to match some of the more natural acting from those around her. I was only hearing this with good laptop sound but Herlitzius did not always seem to hit the notes full on. I was quite impressed by Tomasz Konieczny's soft-grained bass-baritone as Telramund; looking and sounding younger than is usual with this role. I am used to Georg Zeppenfeld often having to portray King Henry as somewhat enfeebled, but although his king had nobility and much gravitas, this outstanding bass didn't seem at his best on this occasion. Also, Derek Welton was another singer I have seen and heard sing better and he seemed to struggle somewhat as the Herald. Kudos to the contributions from the well-schooled chorus.
Christian Thielemann is peerless in Wagner and it was interesting to see how undemonstrative he is at the podium and presumably all that he needs his wonderful musicians to do has been spelled out to them during rehearsals. The Dresden Staatskapelle sounded committed and virtuosic with shimmering strings, warm, enveloping, woodwind, and brilliantly focussed brass.
This was an unforgettable performance – a Lohengrin for the ages – with some great singing underscored by Thielemann's magisterial sense of the Wagner's dramatic arc.
Jim Pritchard
For more about Semperoper Dresden click here.