United States Verdi, La forza del destino: Soloists, Chorus, and Orchestra of the Metropolitan Opera, New York / James Levine (conductor). 24.3.1984 performance reviewed as a Nightly Met Opera Stream on 20.6.2020. (JPr)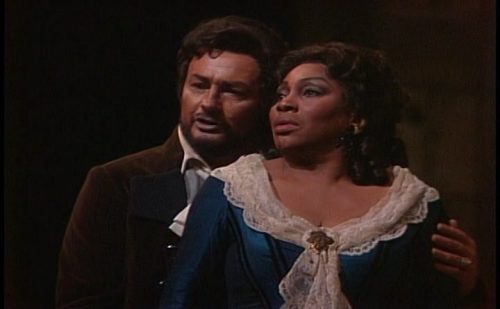 Production:
Production – John Dexter
Set designer – Eugene Berman
Costume designer – Peter J. Hall
Choreographer – Donald Mahler
TV Director – Kirk Browning
Cast:
Leonora – Leontyne Price
Don Alvaro – Giuseppe Giacomini
Don Carlo – Leo Nucci
Padre Guardiano – Bonaldo Giaiotti
Preziosilla – Isola Jones
Fra Melitone – Enrico Fissore
Marquis de Calatrava – Richard Vernon
Curra – Diane Kesling
Mayor – James Courtney
Trabuco – Anthony Laciura
Surgeon – John Darrenkamp
I know ignorance is no defence currently these days and I am sorry to have lived as long as I have without knowing about Juneteenth (19th this year) which in various incarnations dates to Texas in 1866. Research shows it allows for an exploration of African American history and celebrates when the last remaining slaves in the Confederacy were emancipated. To respect Juneteenth 2020 the Metropolitan Opera extended their nightly stream of a 1984 La forza del destino from 18 June to the next day. Why? Well, it was because the six leading singers featured Leontyne Price and Isola Jones who, like their distinguished Met colleague Shirley Verrett (review click here), have African American ancestry and – despite probably having many obstacles to overcome on their journey to the stage of the Met – were three of the most popular opera stars there of their generation. Remember, this was the US of the 1980s when it was not noted for its racial tolerance. This gives us much to ponder on in 2020 with #BlackLivesMatters having supplanted Covid-19 in the newspaper headlines of many countries, notably here in the UK.
The origins of this La forza del destino was difficult to establish but it seems to be a 1975 restaging by the late John Dexter (the Met's director of productions from 1974 to 1981) of an earlier (1952) Eugene Berman production. The sets and costumes are unashamedly period but the lighting – at least as seen on my laptop – didn't show either to any great effect. Oddly, it appeared Isola Jones's Preziosilla apparently hadn't received the 'dress code' and looked as though she had wandered in for a performance of Carmen.
Please permit me rehashing some La forza background from 2019: 'The story of the Verdi's opera takes a tragic turn during Act I which casts a dark shadow over the rest of the opera, and this is of course foreshadowed by the famous "Fate" motif, the three Es played in unison by the brass that develops in the strings. We will hear this theme time and again throughout the opera. La forza was written for St. Petersburg, where the first version premiered in 1862. The opera begins with the Marquis of Calatrava interrupting the planned elopement of Don Alvaro (son of a Spanish grandee and Inca princess) and his daughter Donna Leonora. Since Alvaro is mixed-race he is considered an unsuitable match. Calatrava is accidently killed [at the Met in a struggle between a servant and Alvaro for his gun] and Leonora's brother Carlo vows to avenge his father's death by killing Alvaro and his sister; and this will consume him for the rest of the opera. Right from the start there was a serious problem: destiny triggered by the Marquis's Act I curse on the two leading characters eventually caused the death of too many characters for the sensibilities of the opera's first night audience.
By 1869, at the urging of his publisher, Verdi had returned to La forza attempting to find what he called "that damned ending!". This time he was more successful, restructuring the four acts so that each had a distinctly different character. The curse remained, as did most of the deaths, yet the overall impression of the opera was far less depressing. Significant changes were the (now) very familiar overture; an additional final scene to Act III, following the duel between Carlo and Alvaro; and a new ending, in which Alvaro remains alive, instead of throwing himself off a cliff to his death. It is this 1869 version – that was well received – that has survived to become popular with admirers of Verdi.'
There are going to be problems with La forza in the future especially because Alvaro is mixed-race, has frequently – as here in 1984 – been portrayed by a singer in brownface and Francesco Maria Piave's libretto has numerous racial slurs, such as, 'half-breed' (worse still, 'mulatto') and 'wild Indian'. Still that is now, and this was 1984.
It is good to know that of the sextet at the top of the cast only Bonaldo Giaiotti is no longer with us and, interestingly, Leo Nucci (Carlo) only closed the score on his singling career last year. For interest, Leontyne Price (Leonora) is now 93 years young. In 1984 she was in her late 50s and – I can only go on what I heard – I thought her deeply resonant voice lacked a youthful bloom and sounded – even with an occasional shrillness at the top – more Wagnerian than Verdian: though I cannot find much Wagner in Price's repertoire. (If you know more please contact me.) Leonora has relatively little to sing in this long opera and Price returned to deliver an affecting 'Pace, pace, mio Dio' in Act IV. Like Giuseppe Giacomini – who unlike Price I saw and heard singing at Covent Garden – she was musically credible, however, neither of their faces ever fully registered the emotion of what they were singing; whether anxiety, joy, passion, anger, or pain. (To their credit I suspect little of John Dexter's original direction remained in 1984 and this might also have been responsible for the lack of any chemistry between the two leads.) As Alvaro, Giacomini often ramped – a word currently overused – up the ardour in his singing (a notable highlight was his Act III 'Oh tu che in seno agli angeli') and his tenor voice was dark-hued, lyric, and impassioned.
Three singers stood out as being totally dramatically credible, showing that in previous generations convincing acting was sometimes valued as much as a secure vocal technique. Isola Jones was a remarkable Preziosilla, her gypsy fortune-teller was sultry of voice and predatory in her pursuit of men. Enrico Fissore's Fra Melitone injected some much-needed humour into the rather dour proceedings through his remarkably nuanced performance, whilst giving equal weight to his venal character's lack of charity. Completing an impressive sextet was Bonaldo Giaiotti's pious and dignified Padre Guardiano. Kudos too to a stunning chorus contribution.
A young James Levine was again in the pit and there was no hanging about as he took his excellent Metropolitan Opera orchestra on an exhilarating journey through this La forza del destino. It bristled with excitement and enabled them to musically paper over the, still evident, longueurs of this late-period Verdi.
Jim Pritchard
For more about the Nightly Met Opera Streams click here.