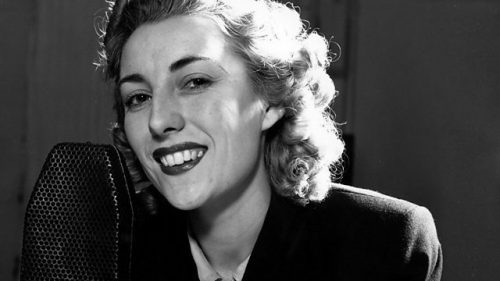 Reposted in part tribute to the passing of Dame Vera Lynn at 103
I was in my first decade during the Second World War. Two voices over the radio made me reach for the off switch: Vera Lynn and Kathleen Ferrier. Both sounded to my child's ears as though they were at a funeral, whatever it was they were singing. The weight of the horrors of the war was overwhelming without additional interventions. It took Great-Aunt Annie to come into a room, pensive and smiling, to put-down a certain Schicklgruber, who it turned out was the bogey man himself, Hitler, before his PR team promoted him under the name by which history remembers him as Führer. (He was Austrian to boot, not German, and his contemporary dictator, Stalin, was Georgian, not Russian.) Annie didn't trouble my eight-year-old mind with historical detail. A one-line delivery and a smile are what she gave. Typical.  It was manna to my confused childish thinking.
I had better add to this radio propaganda, 'the voice of the British Empire', herself, Dame Clara Butt, booming out 'Land of Hope and Glory', which caused the transmitter to tremble. That brought laughter to all the family. You have probably guessed that my dad was emphatically left-wing. I preferred Annie's jokes to my dad's. Annie was what much later, would be called above politics.
There are those of my parents' generation (though not my parents) who held that it was not Winston Churchill who rallied the nation, but Vera Lynn. 'We'll Meet again' or 'There'll be Bluebirds Over the White Cliffs of Dover' were the Forces' Sweetheart's signature numbers, heard more frequently and with more affection than the national anthem. Unquestionably the lady was a cultural phenomenon. Don't miss the BBC's documentary which explains this extraordinary accomplishment where Vera (now 103) is reminiscing, with some prompts from her daughter. With the arrival of television her popularity increased further. Contrast that with Churchill, who with the end of the war, voters sent to Coventry, in preference to Atlee's government which, though without any experience of government, promised voters  National Health and Education for all, with or without a healthy bank balance. More surprisingly, they delivered on that double promise.
Odd that with her popularity still rising, the Forces' Sweetheart had to wait until Harold Wilson's government for her damehood (1975). Paul McCartney, who is at least three decades younger than me, tells the BBC cameras how all four Beatles were in awe of the artistry and profound sincerity of the nation's unintentional leader of souls. Honours were duly exchanged when the 'Fab Four' met Vera.
Vera Margaret Welch was born on 20 March 1917 in East Ham, Essex. Self-taught, her first singing appearances were as a seven-year-old. She was soon star guest with the Big Bands, and at the age of 11 changed her stage name to her Irish, maternal grandmother's name of Lynn. She had no musical training. Her family had discovered her natural singing voice. All she had to do was to be herself. And more she got to know herself, the better was her voice. So, no teacher to hamper her progress! She had the perfect taste as to what was right for herself. Something very few of us have. First, I look at the lyrics she says, then if that interests me, I look at the music. If they fit well together then the arrangers get to work, maybe transposing to a higher or lower key where her voice would be most comfortable. Remember there were no microphones in those days, so your voice projection was everything. Without distorting its natural qualities. Her daughter asks if she was nervous before she went on stage. Terrified she admits, but when she felt the friendliness of London's working men's clubs, she was transformed into giving them what she felt they wanted. How is that for artist-audience rapport? Unequalled, I would guess.
Paul McCartney recalls being stunned by the clarity of her diction and her thorough grasp of how to get this voice over to her audiences. All of it au naturel.
Barry Humphries (aka Dame Edna Everage) knows a thing or two about an entertainer's requirements – and is the most intelligent performer I ever conversed with – asks us to remember how Vera made her first appearances when civilisation itself was under threat, and there was a very real feeling that we could lose the war. Without realising it he says, she rescued our civilisation with that warm, intimate mezzo voice. I like his without realising it. It means that poor, wretched, frightened children like me could become take some comfort from Vera's voice by hearing something in it they had not heard before.
It is only fair to mention Gracie Fields, another entertainer of the troops. Gracie's performance could not have been more different. A Lancashire lass from an impoverished background, she had a robust sense of fun and ridicule – both elements missing in Vera's repertory.
She was born Gracie Stansfield over her grandma's Rochdale fish and chip shop in 1898. As soon as she could work in her early teens, she was sent with her two elder sisters to work part-time in a cotton mill, but along with her brother, all four of them began making Music Hall appearances, individually and as a team. An impresario, Archie Pitt, spotted Gracie and booked her first London stage appearances, then married her, introducing her to Hollywood, where she quickly became one of its highest paid stars. She divorced Pitt to marry her Hollywood director, Monty Banks in 1940. She always disliked making films, needing the contact with an audience, but Monty made sure the pay was too lucrative to turn down. In 1956 she was the screen's first Miss Marple (some ten years ahead of Margaret Rutherford) in US TV's A Murder is Announced. 
In 1939 Gracie was diagnosed with cervical cancer, though she continued to record for EMI under Monty's guidance. He then purchased a huge estate on the island of Capri for them, sure that the climate would be good for Gracie's health. It was. Gracie always said Monty was the love of her life. Capri was already a chosen holiday place for Hollywood. (Richard Burton and Elizabeth Taylor were frequent paying guests on the estate, among others; Gracie had dotted the estate with summer houses in which she could make tea on her rounds! Watch Tony Palmer's film about her, or Russell Harty's later one about Gracie and William Walton, who lived on nearby Ischia: the only time Gracie and Walton met.) Monty died in 1950. Gracie then married her third husband, Boris Alperovici, a Romanian radio repair man. Gracie finally received her damehood in 1979 (thank you Harold Wilson!) She died in 1979, intestate, and is buried in a marble tomb near her estate.
Space does not permit me to go into the entertainment for the troops given by George Formby with his ukulele. George's dad, George Formby senior, made the first commercial 78rpm recording, and there is a photo of him in the early editions of The Oxford Companion to Music, doing just that.
The dark shadows cast on all these careers are admirably and ingeniously summed up in Fintan O'Toole's 2018 book-length essay Heroic Failure in which he shows how it is the English who have made something like a religion out of heroic failure. His first chapter is headed The Pleasures of Self-Pity. He cites Scott of the Antarctic, Wellington at Waterloo, and Nelson at Trafalgar. What is interesting, says the professor, is that this religion is not found in the Celts: the Irish, Scots, Welsh and Cornish (though the only Cornish speakers I have managed to trace are those studying for a degree in Celtic languages and maybe there are poets unknown to me in this language). Of the other Celts, the case clearly holds. For instance, you will not find much support among Irish, Scots, or Welsh political thinkers for the UK's present Prime Minister, who continues to enjoy England's overwhelming support for any failings. For these failures, proven or otherwise, the Celts are agnostic if not downright atheist. The curse of Cromwell be upon you remains today in Irish parlance, following that extreme protestant gentleman's distant massacre of the Irish.
You can follow Fintan O'Toole's thinking in the Irish Times, the New York Review of Books, and the London Review of Books as well as at Princeton, if you happen to be a student there. He doesn't of course mention any of the four entertainers I discuss in this dispatch. But you can see how those artists' struggles and dark nights are pertinent to his discourse.
While you still can, be sure not to miss Dame Vera Lynn: We'll Meet Again (29 minutes) on BBC iPlayer (click here) which will make clearer my reportage.
Jack Buckley