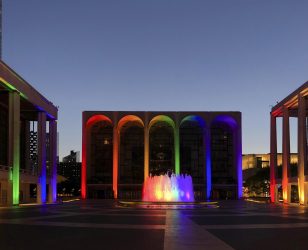 For the first time in its 60+ year history, Lincoln Center is celebrating Pride by illuminating its plaza with a rainbow design and by flying the Rainbow Flag in front of its campus. For the rest of June, the installation acknowledges the histories, struggles and contributions of LGBTQIA+ communities and celebrates the full spectrum of queer identity.
The activation in Josie Robertson Plaza includes the columns of the buildings that are home to the New York City Ballet, Metropolitan Opera and New York Philharmonic, as well as the fountain. The lights become viewable around dusk and through the night.
The Lincoln Center theaters will be dark for the rest of the year. In response to the COVID-19 pandemic, the Metropolitan Opera has cancelled the first few months of the 2020–21 season and expects to welcome audiences back to the Met on 31 December 2020 with a special gala performance. The New York Philharmonic has cancelled all concerts and events through 5 January 2021. The New York City Ballet has also announced that it is canceling its fall season, including its five-week run of George Balanchine's The Nutcracker. In addition, Lincoln Center has cancelled all fall events in the 2020-21 Great Performers series and 2020/21 David Rubenstein Atrium Season, as well as the annual White Light Festival.
Rick Perdian