United States Mazzoli, Breaking the Waves: Soloists, Chorus and Orchestra of Opera Philadelphia / Steven Osgood (conductor), Opera Philadelphia, Perelman Theater, Kimmel Center for the Performing Arts, Philadelphia. 29.9.2016 performance reviewed as part of Digital Festival O. (RP)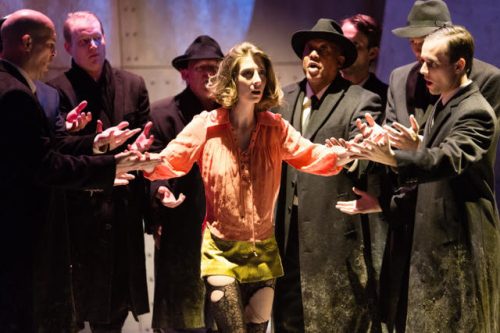 Production:
Director – James Darrah
Sets – Adam Rigg
Costumes – Chrisi Karvonides
Lighting – Pablo Santiago
Projections – Adam Larsen
Wigs & Make-up – David Zimmerman
Chorus master – Elizabeth Braden
Dramaturgs – Mike Cohen, Cori Ellison 
Cast:
Bess McNeill – Kiera Duffy
Jan Nyman – John Moore
Dodo McNeill – Eve Gigliotti
Bess's Mother – Patricia Schuman
Dr. Richardson – David Portillo
Terry – Zachary James
Minister – Marcus DeLoach
Sadistic Sailor – John David Miles
Runt – George Ross Somerville
Stone Thrower – Daniel Taylor
I am not a great fan of small-screen opera or even HD broadcasts, but Breaking the Waves kept me glued to my iPad into the wee hours of the morning. Missy Mazzoli's score, Royce Vavrek's libretto, James Darrah's production, the cast, chorus and orchestra – all received universal acclaim when the opera premiered at Opera Philadelphia in 2016 (Bernard Jacobson's review can be found here). Subsequently, Breaking the Waves was named the best opera of the year by The Music Critics Association of North America.
Mazzoli and Vavrek based their opera on Lars von Trier's 1996 film of the same name in which Bess McNeill, a young Scot, marries Jan Nyman, a Dane working on an off-shore oil rig. Bess is a simple girl who has been treated for psychological problems. She lives in a conservative community where church elders hold sway; whimsy of any sort is stifled, and even the church bells have been muffled.
Appearances are deceiving, however: behind Bess's simple demeanor lies a deeply religious and erotically charged woman. In her eyes, she and her husband are Mr. and Mrs. Jan from the Rig joined together by God. Bess finds Jan's absences difficult to bear and prays for his immediate return. After he is injured in an accident on the rig, Jan returns home paralyzed and impotent. Bess believes it is her fault, as her prayers were answered.
To help Bess cope, Jan urges her to have sex with other men and tell him the details. At first repulsed by the idea, Bess acquiesces and engages in increasingly risky sexual encounters. The townsfolk, including her mother, are scandalized by Bess's behavior, and she is ultimately excommunicated from the church and shunned by the community.
Through her talks with God, Bess decides that only her death will restore Jan's health. She dies after being brutally raped by depraved sailors living on a derelict ship, believing that her sacrifice was in vain. Jan, however, recovers as she breathes her last breath. Her doctor, moved by the experience, recants his prior diagnoses of Bess as being either neurotic or psychotic, and corrects it to say that she was simply good. The church elders, however, condemn Bess as a sinner and consign her bones to hell.
Jan has arranged for her body to be spirited away and buried at sea. In a moving soliloquy, he expresses his remorse: it was he who should have died, not her. As he vows to join her someday in the cold waters, a peal of bells resounds from the ocean.
The most crucial relationship in the opera is not between husband and wife: it is the one between Bess and her sister-in-law, Dodo. It is through Dodo that we learn of Bess's golden heart. Dodo was an outsider, shunned by all in the village when she arrived to marry Bess's brother. Only Bess was welcoming and, after her husband's death, she was the reason that Dodo stayed in this closed, unforgiving community. She can't always understand Bess's motivations, disapproves of her actions and fears for her safety, but Dodo's love is unconditional.
In many ways, Breaking the Waves is a Biblical tale with a twist. I can't think of another contemporary opera that tackles faith, love and redemption on such a complex level, and does it as successfully as Mazzoli and Vavrek. Absolutely nothing is sugarcoated in their reimagining of Lars von Trier's story line. James Darrah's concept is equally raw and focused. Society, as represented by the elders, may be black and white, but real people, such as Bess, Jan and Dodo, are portrayed in compelling, complex shades of gray. They understand and forgive each other, and we must do likewise.
The casting was ideal, and the commitment of all to this remarkable work was apparent. As Bess, Kiera Duffy was fearless as a singer and an actress, instilling the seemingly fragile, almost inconsequential, Bess with passion and determination. After spending most of the opera flat on his back, baritone John Moore's voice blazed as he expressed his love for Bess. Mezzo-soprano Eve Gigliotti was outstanding as Dodo. It was wonderful to see Patricia Schuman as Bess's mother.
For more than two hours, I was mesmerized by Mazzoli's music. Natural is the word that I keep returning to in trying to describe it. There were musical intervals, chords and even passages in the score that linked to some mid-twentieth-century American and British operas (even a tad of Wagner) that I hold dear, or at least they did in my mind's eye, which made it all the richer for me. The final moments of the opera, when luminous, transparent sounds from the orchestra yielded to the ringing of bells, were cathartic. I was overcome with joy.
Among the might-have-beens of the past few months, was a run of the Scottish Opera's production of Breaking the Waves from the 2019 Edinburgh Festival (for Simon Thompson's thoughts on it, click here) with Yannick Nézet-Séguin and the Metropolitan Opera Orchestra at the Brooklyn Academy of Music in June. In February 2021, LA Opera is slated to mount the Opera Philadelphia production. That's far enough in the future that it might actually take place, but in the meantime, Breaking the Waves is available through August as part of Opera Philadelphia's Digital Festival O. Grasp this bird in the hand while you can.
Rick Perdian
Breaking the Waves is available on demand through 31 August 2020. For more information, click here.