Armenia From Yerevan with Love: the 16th Khachaturian Competition – 6-15.6.2020. (CC)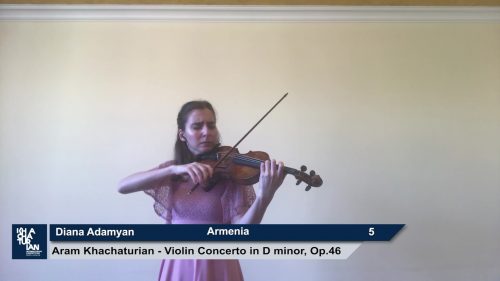 The idea of ploughing ahead with a major competition in a time of epidemic might seem counter-intuitive, but with equal parts of grit and imagination that is exactly what the Armenians have achieved. Over the course of some ten days, competitors were whittled down to a final five for performances of the Khachaturian Violin Concerto which were achieved thanks to the wonders of the internet, with soloists shown in splendid isolation. While I was due to attend the competition in Yerevan in person, it is testament to the human spirit in times of plague that I was able to not miss a note while remaining in East London.
The competition holds a high standing: it is a member of the World Federation of International Music Competitions. A Zoom press conference set out the stall nicely, and by the time of the streaming of the first contestant on 8 June, there were over 1000 people logged initially watching, a figure that inflated impressively at times (it is important to note that there were a couple of sets of figures for each session, as one could watch either via the official website or on the competition's Facebook page).  It would be wrong to claim there were no glitches during the course of the whole event – there were, including the odd late start, but that hardly detracts from the supreme achievement here.
The contestants from 13 territories for the first rounds were selected from video submissions. We saw socially distanced streams of competitors for the earlier rounds; for the finals Artificial Intelligence and modern programming (in the computer sense) allowed for a full orchestral weight. There was, obviously, a rather – pardon the pun – clinical aspect to the experience.
Given that the contestants were recorded in a variety of acoustics in the earlier rounds, that threw another new factor into the equation: resonant acoustics, such as chapels or churches, are obviously more helpful to one's sound than a dry practice room (although in fairness the compensation is more detail in the latter: but the way one experiences the violinist's tone is undeniably affected).
The jury comprised:  Eduard Tadevosyan (chairman), Vera Tsu Weiling, Gianluca Marciano, Bob Lord (of Parma recordings, who offer a release for the winner), Zohrab Tadevosyan, Dora Schwarzberg and Péter Csaba.
For the first round, contestants had to play a Bach solo movement, two Paganini Caprices, one of the two Beethoven Romances for violin and orchestra (here piano) and the Khachaturian Song-Poem, Op.19. Wherever the contestants were, their main window (in terms of how we experienced them on a monitor) was surrounded by smaller windows for the judging panel, who had the opportunity to turn off their videos if they wished. First up, Joanna Raljic from Austria who had studied at Graz, playing Bach's Adagio and Fugue from the Sonata for Solo Violin in G minor, BWV1001, Paganini Caprices Nos. 2 and 23, the Beethoven second Romance and the Khachaturian set piece (names of pianists were not given, unfortunately). Tuning problems were a feature of the Bach; Raljic was significantly more at home in the Paganini, but the tuning issues returned for the Beethoven. She was the first to introduce Khachaturian's fabulous Song-Poem, though, a terrifically atmospheric piece, songful as the title implies and full of beauty.
From Hong Kong, Matthew Chin gave a valiant but ultimately uninvolving Bach Chaconne, a playful Paganini Caprice No.5 but an again uninviting Caprice No.17 balanced by an intelligent Beethoven Romance No.1 and a more atmospheric performance of the Khachaturian. But it was all as if he was warming up during the performance, sadly. Yen Wang, from Taiwan, whose education was at Vienna's University for Music and Performance Art, performed the Grave and Fugue from the Bach Solo Violin Sonata in A minor, BWV 1003, Paganini Caprices Nos. 2 and 24, the Beethoven First Romance and the Khachaturian. Accurate (and offering a veritable hailstorm of pizzicato in Paganini), this was another rather uninvolving experience overall.
Diana Adamyan is a name you will hear again, both in this report (multiply) and in general. Armenian, she studied at the Tchaikovsky State Conservatory, the Yerevan State Conservatory after Komitas and the Munich Hochschule für Musik und Theater. She already has a couple of first prizes under her belt (Senior Division of the Menuhin Competition in Geneva, 2018 and the 'Renaissance' International Competition in Gyumri, Armenia, 2010). Her programme was the Bach Adagio and Fugue from the Solo Violin Sonata in C, BWV 1005, Paganini Caprices Nos. 1 and 5, the Beethoven Second Romance and the Khachaturian. The Bach Adagio was astonishingly expressive, the fugue rigorous but also poignant. She played in front of an organ in a church, which may have helped her, but there was no doubting her mastery, particularly in the rhythmic level. Brilliantly accurate Paganini (fabulous staccato scales), a cantabile Beethoven Second Romance and a simply gorgeous Khachaturian Song-Poem set the seal on a memorable First Round for her.
Another name that will recur is fellow Armenian Feliks Harutunyan, the last player for Monday 8 June. Educated at Graz, his programme was: Bach Adagio and Fugue from BWV 1001, Paganini Caprices Nos. 10 and 13, Beethoven Romance No.1 and the Khachaturian. While Harutunyan also had a good competition, his journey was quite different from Adamyan's: whereas Adamyan was consistently fine, Hartutnyan's was decidedly linear, starting from a rather weak first round and progressing on an upward curve. His Bach was harsh, even verging on hacking; moving to a village hall for the Beethoven Romance still left us at an emotional remove. The real success was the Khachaturian: no doubting the technical prowess here, and Harutunyan seemed by far most attuned to this composer of his programme.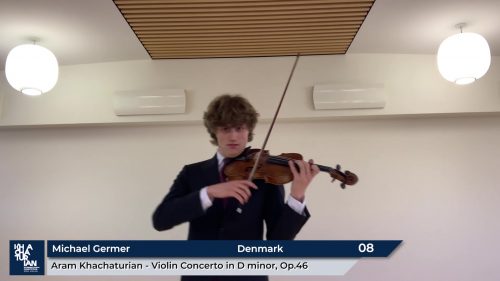 Tuesday 9 June brought another Armenian, Sona Arzumanyan, Yerevan and Weimar educated, in Bach's Adagio and Fugue from BWV 1001, Paganini Caprices Nos. 9 and 13, Beethoven Romance No.2 and the Khachaturian. Throughout, and particularly in the Bach Fugue, Arzumanyan was rather relentless, veering on the uncomfortable at times. Far better was Michael Germer from Denmark (who was taught by one of the judges, Dora Schwarzberg), offering Bach Chaconne in D minor, Paganini Caprices Nos. 11 and 14, Beethoven Romance No.2 and the Khachaturian. The Bach Chaconne was stately, often subtle, the first Paganini piece lovely and tender, the second holding marked fanfares, the Beethoven was intimate and delivered with a lovely, pleasing tone and the Khachaturian soulful – achieved with no hint of swooning or sliding around for effect. Germer is a fine player, another we will surely hear more of in time.
From the Republic of Korea, Junghyun Park (educated both in Korea and in Indiana) performed the Adagio and Fugue from Bach's BWV 1001, Paganini Caprices Nos. 1 and 24, the Beethoven Romance No.2 and the Khachaturian. Her Bach was stylish if not 100% in tune, the Paganini was eminently musical (although more could be made of musical gesture), the Beethoven too literal by some way, compensated in some measure by a gorgeously rich lower register in the Khachaturian. Also from Korea, Jiman Wee offered the same programme except for the choice of the Paganini Caprices (here Nos. 1 and 17). A recital of contrasts, this: the Bach was excellent, the fugue in particular, where linear workings were honoured. But Wee's Paganini was hacked and ferocious. He is better at lyricism, as both the Beethoven and the Khachaturian showed, but this was too uneven a recital.
Another Taiwanese, Belle Ting, offered expressive but not really Baroque Bach (the Adagio and Fugue from BWV 1001), Paganini Caprices Nos. 4 (lyric and powerful) and 17 (slightly too etude-like overall but holding some lovely playful moments), a rather dutiful Beethoven Romance No.2 (albeit with a very sweet top register) and a powerful Khachaturian Song-Poem. Finally for the Tuesday, Yanos Grisó from Luxembourg, a student of Boris Belkin, in the Bach Grave and Fugue from BWV 1003, Paganini Caprices Nos. 2 and 11, Beethoven Romance No.2 and the Khachaturian set piece. This was an encouraging, as he took risks, not all of which paid off, but it was so refreshing to hear in the Bach and Paganini; his two strongest composers by far. The Bach Fugue was just the right amount of robust; the Paganini Caprice No.2 beautifully plaintive (his Paganini was positively addictive). But the Beethoven was disappointingly banal, and some technical passages in the Khachaturian failed to come off; he missed the atmosphere here, too. A shame, as there is high talent here.
Moving to Wednesday 10 June, the Canadian Ryan Howland offered Bach Chaconne, Paganini Caprices Nos. 11 and 24, Beethoven Romance No.2 and the Khachaturian. The Bach was scratchy and approximate, the Paganini had tuning problems and, in the Second Caprice, some phrasing that simply felt false (particularly in the lengthening of the phrase ends). He was overshadowed by his pianist in the Beethoven, and while the Khachaturian was his best piece there was still bow shake and unsteady harmonics to contend with. From Russia, Kristina Sukhova offered a rigorous Bach Chaconne (beautifully full low register), Paganini Caprices 2 and 11 (both showing a fine understanding of structure and linear workings), a spacious Beethoven Romance No.1 and a magnificent, smoky Khachaturian Song-Poem; great performances throughout.
From Sweden, Lorenz Karls (a pupil of Benjamin Schmid) offered the Bach Adagio and Fugue from BWV 1001, Paganini Caprices Nos. 1 and 22, Beethoven Romance No.1 and the Khachaturian. The Bach was gripping. Astringent with little or no vibrato, this felt right while the second Paganini was excellently stately (I for one experienced a technical glitch for the first). One wonders whether the sliding in the Beethoven was deliberate? It might well have been as his sense of scale was off; and in the Khachaturian he was nearly eclipsed by his fine pianist, but still managed to give an exciting account full of perfect stoppings. The next competitor, Lucas Debraux from France, was another matter entirely: lacklustre Bach (Adagio and Fugue from BWV 1005) met characterful Paganini; fair Beethoven (was that an electronic piano though?) met impassioned Khachaturian. Very variable, almost to the extent of being contradictory. Penultimately, Alexandros Petrin (identified as Greece/Russia in the documentation and USA educated) gave Bach's Grave and Fugue from BWV 1003, Paganini Caprices Nos. 9 and 24, Beethoven Romance No.2 and the Khachaturian. The sweet sound in the Bach was very appealing, though the Paganini offered decidedly ropey octaves. The Beethoven was fine, but the Khachaturian lacked grit despite a good high register.
Finally, Younghyun Lee from Korea, with Bach (Adagio and Fugue, BWV 1001), Paganini Nos. 1 and 24, Beethoven Romance No.2 and the Khachaturian. Controlled but uninvolving, even dutiful in both Bach and Paganini, the Beethoven was harsh-sounding; only the Khachaturian offered hope.
The semis began on Friday 12 June: contestants were required to play a sonata and another Khachaturian piece (this time the Op.1 Dance for violin and piano in B flat) plus one other piece. Diana Adamyan's recital comprised the Beethoven Sonata Op.12/2, the Ravel Tzigane plus the Khachaturian. With a web audience of over 1500, Adamyan gave a great Beethoven performance, tensile and dynamic, exhibiting a fine rapport with her pianist and a wonderfully rigorous finale. The Ravel was full of atmosphere, exquisitely controlled with glassy high harmonics. The Khachaturian has a really high passage at its close, presumably one reason it was chosen; Adamyan rose perfectly to the challenge.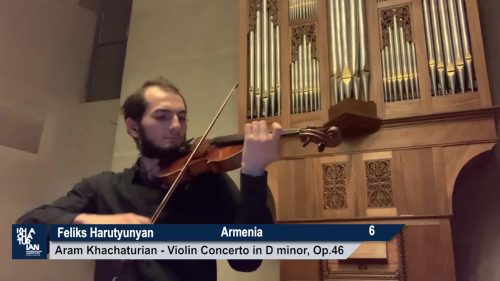 Feliks Harutunyan's Beethoven Sonata was Op.30/2, stylish but somewhat harsh-toned and not as attuned overall as Adamyan. His solo work was a revelation on one piece, though, Ysaÿe Solo Violin Sonata No.6. A pity he chose an over-reverberant acoustic, which muddied a perky Khachaturian Dance.
Fabulous to hear Richard Strauss's Violin Sonata here, in a strong performance by Michael Germer, nicely lyric when necessary too but beset with some ensemble problems in the finale. The Chausson Poème has perhaps too long a piano introduction for a violin competition but the dancing character later on was excellent; his Khachaturian seemed to find him on stylistically uncomfortable ground, however.
Jiman Wee, from the Republic of Korea, gave a restrained, autumnal Brahms Sonata No.3 (not everything in tune, though) and offered a fascinating piece: Ernst's Variations on 'The Last Rose of Summer' (the last of the Mehrstimmige Studien). Frighteningly difficult, this was consummately played; a pity the Khachaturian was low on atmosphere.
Debussy's wonderful Sonata held pride of place in Belle Ting's semi: she had both technique and intensity, despite a slightly misjudged ending. A gripping Ravel Tzigane led to a rather harsh Khachaturian Dance. Yanos Griso's Beethoven Op.12/1 held a great second movement but often I found myself liking the piano more than the violin. Ysaÿe's Caprice d'après l'Etude en forme de valse de Saint-Saëns (quite a mouthful!) is pure nostalgia, superbly played here, and the Khachaturian was fun.
Saturday 13 June brought Lorenz Karls's semi. Beethoven's C minor sonata, Op.30/2, Ernst's Grand Caprice on 'Erlkönig' and the Khachaturian Dance (the performance order  of the contestants seemed to change from what was originally advertised, as it appeared  it should have been Sukhova). Karls's Beethoven showed a marked improvement on his first round, although one unifying factor is the fact he actually looks uncomfortable while performing; he just looks stiff. And when he gets carried away, tuning can suffer. But the Ernst was a tour de force, leaving one with the feeling that the composer threw every single violin technique in that he knew, and then added a few more besides. It is an interesting arrangement of the famous Schubert song: notably, the child's voice is effected via violin harmonics. After that, the Khachaturian actually felt like a bit of a let-down.
Alexandros Petrin played second, a Beethoven Sonata Op.96 not quite projecting the relaxed G major one hopes for in this sonata. The finale's tuning and literalism did make me wonder how he got through; Ravel's Tzigane was uninvolving until the final straight; the Khachaturian dance was ballsy and brash – a cynic might call this 'competition playing'. Younghyun Lee's programme of Brahms's Sonata No.1, Sarasate's Carmen Fantasy and the Khachaturian Dance was a risky strategy, that Brahms a particularly real challenge. Lee's playing did draw one in, the first movement excellent in terms of structural awareness. A pity the second movement lost some flow and tended towards the literal. While the Carmen Fantasy was fun, there were some tuning issues and it turned into something of a hack later on. And for what it is worth, the piano in the Khachaturian actually sounded like a pub piano.
Kristina Sukhova's semi, a fabulous trio of Prokofiev (the First, F Minor, Sonata), Ysaÿe (the Sixth Solo Sonata again) and of course the Khachaturian, was superb. The fabulously expressive first movement of the Prokofiev contrasted with the gritty Scherzo; the finale was joyous and extrovert. Her first round was excellent, as was this. The Ysaÿe was masterly, only the Khachaturian a let-down, surprisingly weak initially, as if Sukhova had let her guard down.
And to the finals (Monday 15 June): the finalists were Diana Adamyan, Feliks Harutunyan, Belle Ting, Lorenz Karls and Michael Germer; the orchestra the Armenian State Symphony Orchestra under Sergey Smbatyan (see here for my report on their Barbican debut in January this year). So, five performances of the Khachaturian Violin Concerto in a row was the order of the day (six for me, because to offer full disclosure I prepared by listening to Viktor Tretiakov's 1967 recording with the Moscow Philharmonic Orchestra under Dmitri Tulin). How strange to see Adamyan on her own against a pale background valiantly taking on Khachaturian's wonderful score (I now pine for a live performance of this in London). It did look a bit like like Music Minus One. Adamyan, for all her rock-solid pyrotechnics, left the greatest impression through her lyricism and her adaptability: a passage for solo violin and clarinet in the first movement was pure magic. The slow movement seems reminiscent of Rimsky initially; Adamyan exhibited a great sound with just the right edge. She was fiery in the finale, but ensemble could be off, and there seemed to be a technical glitch, at least my end, on the final chord. Not her fault: a fabulous performance.
Harutunyan's account was eagerly awaited as in the previous rounds he had been at his finest in the Khachaturian set pieces. But he was somewhat studied and etude-like; playing in a church acoustic might have helped his sound but not the detail. One cannot blame him too much for looking awkward in rests (so would I, frankly) but the finale was less involving and had some problems of ensemble.
Taiwanese violinist Belle Ting gave her all and then some. Maximum points for effort, certainly – one could feel as well as see her determination, and her cadenza was highly imaginative. But at times it felt like she was in a practice room, practising. Her raw sound was appropriate to the repertoire and balanced by the sweet-toned slow movement.
Lorenz Karls, playing with headphones on, gave us a nicely focused sound and let the phrases breathe; he was also unafraid of pianissimi. And yet his cadenza was uninvolving and thin-toned. His finale was the finest movement, but some wayward tuning at speed detracted. Finally, Michael Germer in a reading that felt really rather insubstantial, even flimsy. He is a player of some imagination, though, and his husky tone in the slow movement was most effective. The finale's ornaments were tight, the playing ever nimble. An interpretation in progress, perhaps.
All of the above represents my own feelings over the course of the week and a bit. The judges get the final call, of course. So first, the 'Distinguished Nominations':
Best solo Bach – round 1: Diana Adamyan, Armenia
Best Paganini Caprice – round 1: Michael Germer, Denmark
Best Beethoven Romance – round 1: Lorenz Karls, Sweden
Best Khachaturian Song-Poem – round 1: Belle Ting, Taiwan
Best Khachaturian Dance – round 2: Diana Adamyan, Armenia
Audience favourite contestant ('Audience Sympathy' was the translation!); Belle Ting (who gets a concert opportunity with the Armenian Orchestra in the 2021/22 season).
And finally to the top prizes:
First Prize – Diana Adamyan, Armenia. (Adamyan received $10,000 and a recording contract with PARMA recordings.)
Second Prize – Michael Germer, Denmark
Third Prize – Lorenz Karls, Sweden, and Belle Ting, Taiwan
Laureate Diploma – Feliks Harutyunyan, Armenia
Next year, the competition will be for conductors; in 2022, cellists, and in 2023, pianists. I for one fervently hope to be there next time and in particular also in 2023 for the piano competition. But for now, one can only reflect in awe about the stamina of the organisers and judges, congratulate the organisers on their sheer gumption and reflect back on a raft of fine performances and interesting repertoire. An enriching experience: and on present evidence, following Diana Adamyan's career promises to be a joy.
Colin Clarke
For more about the Khachaturian International Competition click here.