United States Puccini, Tosca: Soloists, Chorus and Orchestra of the Metropolitan Opera, New York / James Conlon (conductor). Performance of 18.12.1978 and reviewed a Nightly Met Opera Stream on 5.6.2020. (JPr)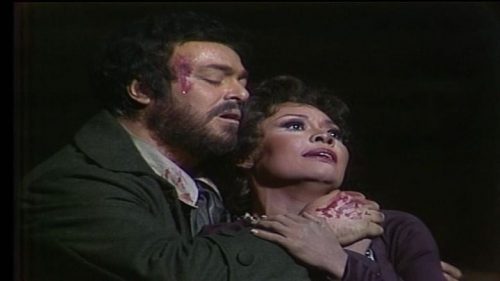 Production:
Director – Tito Gobbi
Designer – Rudolf Heinrich
Lighting designer – Gil Wechsler
TV Director – Kirk Browning
Cast:
Tosca – Shirley Verrett
Cavaradossi – Luciano Pavarotti
Scarpia – Cornell MacNeil
Sacristan – Fernando Corena
Spoletta – Andrea Velis
Angelotti – John Cheek
Sciarrone – Russell Christopher
Shepherd – Robert Sapolsky
Jailer – Philip Booth
We are going through strange times in 2020 and it is increasingly likely that most of the rest of this year can be written off and we will not return en masse to concert halls or other theatres anytime soon. As the archives of the great institutions become exhausted there are encouraging signs that there will be more and more live streaming of those performing in covid-secure settings. The #BlackLivesMatters movement is also back in the news and of course racism has no place in our society today and we should embrace equality for all. One famous singer of the late-twentieth century who endured – yet gloriously transcended – all the problems racists caused her was Shirley Verrett (1931-2010) and it is opportune that an opera house where she had so many triumphs has just replayed her Tosca role debut in 1978 as one of their Nightly Met Opera Streams. Though Verrett began as a mezzo-soprano her high notes ensured that some of her greatest successes would be as a soprano.
Thinking about A Tale of Two Cities I am reminded of the quote: 'It was the best of times, it was the worst of times, it was the age of wisdom, it was the age of foolishness'. In so many ways 2020 will be 'the worst of times' but I am using this to reflect my thoughts about singers and singing in the twenty-first century. We all have our current favourites but now two recent Met performances from the 1970s and 1980s (Lohengrin review click here) suggests those were 'the best of times' for great singers and the ones we see and hear today are often only pale imitations.
It is possible to nit-pick when commentating on this Tosca; yet if you do not know it, I suggest you catch up with it either by Met Opera on Demand or as a DVD.  Any successful production of Tosca needs little more than suggest – as described in the libretto – the inside of the church of Sant'Andrea della Valle (with a suitable chapel), Scarpia's apartment at Palazzo Farnese, and the uppermost ramparts of Castel Sant'Angelo, and all at the appropriate times of a June 1800 Rome day. This is what Tito Gobbi – a legendary Scarpia himself – gives us in his 1978 Met staging; everything almost exactly as Puccini intended, and what's wrong with that?
Some early records I have reveal how I saw Verrett as Tosca at Covent Garden in 1980 but – with all the performances I have subsequently seen – I regret I have no memory of it. Lockdown has now given me the opportunity to relive again what I must have seen and heard then, with Verrett clearly fully inhabiting the role as the jealous 'diva' Floria Tosca. It was a very commanding performance, if just a touch histrionic at times and lacking in some chemistry with her Cavaradossi, Luciano Pavarotti. An interesting directorial quirk was the unusual respect Verrett's Tosca initially showed to Scarpia. However, by the time she dispatches him with one simple thrust of a knife at the end of the second act, her voice revealed Tosca's total revulsion and contempt as Verrett spat out 'Muori dannato! Muori, muori! E morto! Or gli perdono!' and 'E avanti a lui tremava tutta Roma!'. Earlier Verrett's 'Vissi d'arte' was almost anthemic, rather than the interior musings of a woman bemusing her fate. Her singing displayed the resplendently dark rich chest register typical of a mezzo, whilst – for me – there was an occasional shrillness at the top of voice; exciting in its own way, but not what we are used to from today's Toscas.
Sadly, neither Gobbi nor any of the leading trio of singers is still alive. Cornell MacNeil was a famous Scarpia of his day and at the time all Scarpias – including the late Ingvar Wixell who I saw many times – were look-alikes. Imposingly stout, wearing a heavy frock coat with much white lace, long black leather boots, an extravagant white wig, have a roman(!) nose, and an evil mien. This was exactly MacNeil's Scarpia, yet I suspect he distinguished himself – then and now – from many of his other rivals because of his formidable baritone voice and his oleaginous portrayal of the manipulative sadist.
As for Pavarotti who was also making his role debut at the Met it is difficult to put into words how impressive he was. He was only in his early 40s and it is hard to imagine – for those who remember him in his more sedentary later days – what a physically nimble performer he was for such a big man and what a fine actor he also was. He was able to rush up and down his painter's scaffold with ease to change the eye colour on a rather odd-looking painting. Then in the last act, when Tosca suggests there will be a mock execution and free passage from Rome, Pavarotti's open face shows us he does not believe a single word of what she tells him and he realises his end is nigh. His Cavaradossi faces the massed firing squad stoically having blown Tosca a farewell kiss. Pavarotti's highlights in a wonderfully lyrical performance – with frequent incandescent heroic outbursts – were his thrilling Act II cries 'Vittoria! Vittoria!' ('Victory! Victory!') when he was – pardonably – indulged by his conductor in hanging on as long as he could, and Act III's 'E lucevan le stelle'. At that point Cavaradossi is facing execution and recalls happier times with Tosca, whom he believes he has seen for the last time, and Pavarotti turned it into a heartachingly plaintive paean.
Supporting roles were also particularly well cast with more accomplished voices than you will possibly hear in 2020: Fernando Corena's happy-go-lucky Sacristan grabs a little holy water to turn the page of his bible, John Cheek's stentorian Angelotti has makeup that gives him a 12 o'clock shadow(!), and Andrea Velis's conspiratorial Spoletta features more prominently than is sometimes the case.
James Conlon – currently music director of Los Angeles Opera – was only 28 in 1978 and this was a fleet-footed, exuberant, warm-blooded, Tosca that could have benefited from some heightened melodrama at crucial moments. If the ever-respectful Conlon's job was to guide his experienced cast and splendid musicians through a memorable Tosca without mishap, then that is what he certainly managed and I am sure over subsequent years he learnt quickly to impose himself a little more.
Jim Pritchard
For more about the Nightly Met Opera Streams click here.