United States MTT25: Audra McDonald (soprano, co-host), Susan Graham (mezzo soprano, co-host), Measha Brueggergosman (soprano), Julia Bullock (soprano), Gautier Capuçon (cello), Sasha Cooke (soprano and piano), Isabel Leonard (mezzo soprano), Christian Reif (piano), San Francisco Symphony Chorus and Orchestra / Michael Tilson Thomas (conductor). Online event, 28.6.2020. (HS)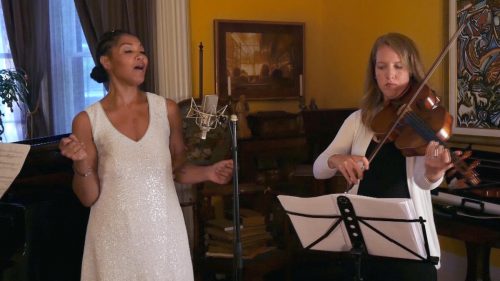 Ives — 'Berceuse' (Bullock, Reif)
Tilson Thomas — 'Not Everyone Thinks I'm Beautiful' (Cooke); 'I'm Nobody! Who are you?' from the poem by Emily Dickinson (Brueggergosman) world premiere
Satie — Gymnopedie No.1 (Capuçon)
Bernstein — 'Some Other Time' (Leonard)
With technical assurance that might be expected from the regional home of Silicon Valley, San Francisco Symphony deployed a starry lineup of singers, instrumentalists and composers long associated with the orchestra, and especially with Michael Tilson Thomas, to bid farewell to its music director of the past 25 years. The 75-minute video stream had to suffice, after the pandemic canceled a scheduled month-long series of concerts in Davies Symphony Hall intended to celebrate the conductor. The stream debuted last Sunday, on the day Tilson Thomas's tenure was scheduled to conclude with the final performance of Mahler's Symphony Eighth Symphony.
Audra McDonald and Susan Graham made congenial hosts, even if they sometimes heaped on the plaudits a bit thick.
There was plenty of Mahler among the clips from performances (and a few rehearsals) over the years, along with snippets detailing Tilson Thomas's determined championing of modern American music. These included clips of Ives's 'Holidays' Symphony, Copland's Appalachian Spring, Bernstein's West Side Story, and Lou Harrison's Suite for Violin and American Gamelan. There was footage of MTT rehearsing Antheil's Ballet mechanique and Meredith Monk's Vessel Suite, a performance of John Adams's I Still Dance (written for MTT's final season and debuted in 2019) and a delicious clip of the final few measures of Steve Reich's Clapping Music with the composer and MTT alone on stage.
There were also enthralling clips of the Bay Area-based rock band Metallica opening the Chase Center arena (home of the Golden State Warriors basketball team) in September 2019, with MTT playing keyboards and former resident conductor Edwin Outwater conducting 'Enter Sandman'. Also included, a lovely moment from last winter's Kennedy Center Honors television broadcast of pianist Yuja Wang playing You Come Here Often? a boogie-woogie showpiece Tilson Thomas wrote for her. Wang made her San Francisco Symphony debut at 17 with the orchestra with the conductor and has appeared several times a year in most seasons since.
As appealing as those tidbits were, the high quality of the live performances (plus a world premiere) set this event apart from many of the other live-streaming compilations from around the world.
Soprano Measha Brueggergosman clapped hands, snapped fingers, and had huge fun in Tilson Thomas's new song, 'I'm Nobody! Who Are You?' using an old-fashioned microphone, accompanied by Jeremy Vanslyke (piano) and Carrie Vanslyke (viola) in someone's living room. It's a lively song – a little jazzy – set to poet Emily Dickinson's thought-provoking words about personal quirks, and I can think of dozens of sopranos who could lap it up.
Mezzo soprano Sasha Cooke accompanied herself on a piano, tucked into a living room corner, automobile traffic visible through the shutters behind her, in another Tilson Thomas song, 'Not Everyone Thinks I'm Beautiful'. He wrote the words to this bittersweet musing over self-confidence, and his music fit Cooke's supple voice seamlessly.
Soprano Julia Bullock and conductor Christian Reif on piano (her husband and another former SFS resident conductor) referenced MTT's longtime championing of Charles Ives with a heartfelt 'Berceuse', showing the composer's sensitive side.
Co-host McDonald opened the live musical proceedings with a lovely 'Make Someone Happy' (the Comden and Green song) with Andy Einhorn on piano.
But mezzo soprano Isabel Leonard stole the show, with a seductive, poignant account of 'Some Other Time' from Bernstein's On The Town. Facial expressions, body language (well, head-and-shoulders language anyway), and vocal tone meshed with pitch-perfect shadings of the lyrics.
In the only live instrumental performance, cellist Gautier Capuçon shaped a lithe, unsentimental reading of Satie's Gymnopedie No.1.
For the big finales, MTT assembled the full orchestra in a Zoom tableau, bringing to life the final pages of Mahler's First Symphony that had me grabbing for the remote to raise the volume. From her closing remarks, co-host Graham segued into an a cappella start for Bronislaw Kaper's rousing 'Open Your Golden Gate', the signature tune from the MGM film San Francisco, executed by the orchestra and Symphony Chorus.
Along the way there were short appearances by luminaries such as Yo-Yo Ma, Renée Fleming, Frederica von Stade, Yefim Bronfman, Emmanuel Ax, Lars Ulrich (Metallic's drummer), and U.S. Speaker of the House Nancy Pelosi, San Francisco mayor London Breed, and California governor Gavin Newsom, all of whom heaped praise with enthusiasm.
Harvey Steiman
The event was produced by Oliver Theil, the orchestra's longtime communications chief, in his new position as head of digital innovation. The video of the gala is available on the San Francisco Symphony website click here, and on YouTube click here.