United Kingdom ENB at Home – Christopher Wheeldon's Cinderella: Dancers of English National Ballet, English National Ballet Philharmonic / Gavin Sutherland (conductor). Performance from 5.6.2019 and reviewed as a live stream for #ENBatHome on 8.7.2020. (JPr)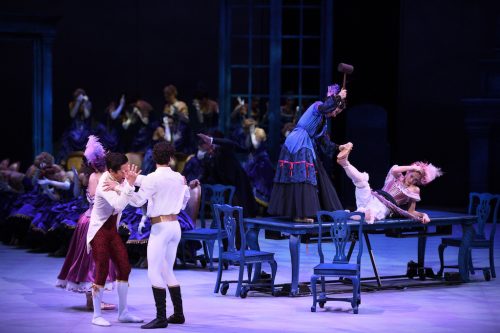 Production:
Choreography – Christopher Wheeldon
Music – Sergei Prokofiev
Libretto – Craig Lucas
Design – Julian Crouch
Lighting design – Natasha Katz
Puppetry design – Basil Twist
Projection design – Daniel Brodie
Assistant to the Choreographer – Jacquelin Barrett
Cast included:
Alina Cojocaru – Cinderella
Isaac Hernández – Prince Guillaume
Tamara Rojo – Stepmother Hortensia
Jeffrey Cirio – Benjamin
Emma Hawes – Stepsister Edwina
Katja Khaniukova – Stepsister Clementine
Fabian Reimar – Cinderella's Father
Stina Quagebeur – Cinderella's Mother
Fates – Junor Souza, James Forbat, James Streeter, and Francisco Bosch
Grange Park Opera's Found Season has been a quintessentially quirky series of online events and a bit of a hidden secret with not many viewers it would appear. Recently, married dancers from English National Ballet, Erina Takahashi and James Streeter, showed the love blossoming between Odette, the swan princess, and Prince Siegfried in the Act II pas de deux from Swan Lake (click here). It was especially sensitively filmed and there was heightened poignancy because we were watching such an exquisite performance – to recorded music – with either the backdrop of a bare stage or the empty auditorium of the Theatre in the Woods. Firstly, I must say how good it would be for James Streeter, an ENB first soloist, to be given the opportunity of more 'princely' roles. Secondly, Streeter was very impressive when he concluded his interview with: 'As soon as we can we will be back performing for you and everyone wherever you are, whether that's online through digital media, or whether it is in a theatre. And let's pray we can come to a beautiful theatre like this and watch and experience art as it's meant to be' – (though I'm not religious) I can only add 'Amen to that'!
Made available for only a short time has been an archive recording of ENB's 2019 in-the-round Cinderella choreographed by Christopher Wheeldon. I had the opportunity to see Wheeldon's Cinderella at the London Coliseum in 2015 when performed by Dutch National Ballet but not last year. Obviously, it was adapted for the huge performing space available at the centre of the barn-like Royal Albert Hall but my general impression remains much the same, so I have just adapted what follows from what I wrote then.
Graham Watts in his programme note (for Dutch National Ballet) wrote how Wheeldon's Cinderella began life when San Francisco Ballet wanted a fairy tale ballet and he continued 'Although the initial impetus for the new ballet came from San Francisco, Dutch National Ballet was soon drafted in as co-producer … The libretto (developed by Craig Lucas) stems from Wheeldon's love of the Brothers Grimm. "I always loved the darker, German interpretation with its focus on the death of Cinderella's mother and the stepmother's subsequent corruption of the father".' Actually in the original Grimm version stepsisters cut off parts of their feet to try and fit into the glass slipper but nobody need have any fears that this Cinderella is as grim as that, though in the final act there is an attempt make the shoe – not glass of course because this is ballet – fit using a mallet! Tamara Rojo is of course ENB's inspirational artistic director and it was very enjoyable to see her bibulous Stepmother Hortensia try to force Cinderella's shoe on the foot of Stepsister Edwina (Emma Hawes) by enthusiastically hammering at it with the large mallet.
That one example tells you all you need to know about this large-scale production that bends over backwards – almost literally in Wheeldon's gymnastic choreography – to be the antithesis of Frederick Ashton's deeply traditional and romantic staging (review click here) based on Charles Perrault's eponymous seventeenth-century fairy tale. That and Rudolf Nureyev's Hollywood Cinderella for Paris Opera Ballet (review click here) both make more sense of the familiar story but may not be quite so much of a crowd-pleaser.
Referencing another art form: in 1960 it was famously said about the musical Camelot – which was not a critical success – 'You walk out whistling the scenery'. Ever since then that quip has be used for any show where the success lies mainly in what you are seeing rather than anything else. The same is true for Wheeldon's Cinderella and it is Julian Crouch's sets and costumes you will remember long after you have forgotten the incoherent story and the rather prosaic steps. In my recent Woolf Works review (click here) I mentioned some of Wayne McGregor's choreographic tropes as 'semaphoring, contorted, arms that are often raised; legs extended, hooked, or inelegantly splayed at any opportunity; and particularly extravagant forward and back bends; with much spinning, some off-axis movement, as well as, lots of embracing.' Much of this can also be seen in Christopher Wheeldon's Cinderella and – although I know there is only so much a human body can do – dance vocabulary can seem rather limited at times. For the committed and well- drilled corps de ballet there is much floor-covering twirling as the ladies and gentlemen of the court, as well as, much of the repetitive movement outlined above.
To be honest, the first act must have had many in the Royal Albert Hall – who thought they knew the story – rushing to read their programme during the first interval to work out just what was going on. Regardless, this Cinderella is technically and scenically adroit right from the opening backdrop of a bright blue sky (and a similar projection on the floor beneath the dancers) with a few wisps of white cloud and some darting small birds. This splendid use of video projection continues and there is much else, such as, colourful costumes, a ginormous chandelier for Act II, and a tree that appears to grow at the back near the end. There is an intriguing prologue as Cinderella's mother (Stina Quagebeur) succumbs to tuberculosis and using elements of Japanese puppet-theatre (that throughout this Cinderella often involved Wheeldon's four Fates) she is sadly born aloft as an angel. Later, Cinderella also gets lifted on high with her long following train on a 'horse-drawn carriage' which, in reality, is just four large wheels and six figures with horse's heads. So, forget the story, forget the steps, and just wallow in the Disneyfied spectacle that rarely draws breath. The very young in the Royal Albert Hall I suspect were somewhat confused by it all, even if it wasn't a bit too long for them anyway.
Wheeldon's Cinderella does not look particularly downtrodden and has quite a nice blue dress. The stepsisters are not as grotesque nor funny as Ashton's and there is no pumpkin and no clock. There is no fairy godmother just those four Fates who are given too much to do and are forever interacting with Cinderella to encourage her on her way towards a much-anticipated happy ending. Wheeldon never misses an opportunity for a cheap laugh whether it is about Stepsister Edwina's halitosis or loose morals, others with smelly feet, or a candidate for the shoe missing the necessary leg! There are the characters I remember being previously listed as 'Big Head', 'Nut Head', and 'Bird Lady' and whilst the guests at the Act II ball might be exotic, they remain simply caricatures. There is so much fun to be had by watching Stepmother Hortensia (Tamara Rojo) enjoying her drink a little too much and giving her husband (Fabian Reimar) the slip to chase after the champagne-proffering waiters. This results in her being shown with an almighty hangover in Act III and vomiting into her breakfast bowl, though what this has this to do with the actual story I am not sure? It certainly has more in common with a British seaside pantomime than the Brothers Grimm.
Apart from the final deeply romantic pas de deux between Prince Guillaume and Cinderella the whole evening still lacks the 'genuine emotion and heart' I remarked before. For much of this Cinderella Wheeldon seems more interested in Guillaume's relationship with his friend Benjamin (Jeffrey Cirio), as well as, Benjamin's own burgeoning love for bespectacled Stepsister Clementine (Katja Khaniukova), the more sympathetic and goofier of the two. After all the backstory padding in Act I it takes an intolerable time for Cinderella and this version of Prince Charming to confirm their love in a significant duet in Act II and for all the loose ends of the meandering narrative thread to be tied up when they have that climactic – and more expressive – one I mentioned earlier. (Strangely it was not love at first sight at the ball because Cinderella had previously met Guillaume when he was disguised as a beggar in Act I and she had given him food.) Finally, they marry but then are left to emerge from a crowd of well-wishers and this Cinderella gets a strangely low-key ending.
Alina Cojocaru is a joy to watch whatever she is dancing, her character's thirst for romance and a better life was palpable and her faultless and pliable technique shone through the comparatively little Cinderella gets to do in this ballet. Isaac Hernández seemed to relish the Royal Albert Hall's wide-open spaces and bounded around with joie de vivre that was a delight to see. He is lithe and athletic, has a huge leap, soft landings and was – as ever – a reliable partner. Another standout performer was Jeffrey Cirio who is always a most exciting dancer to watch and he brought charisma, brio, and élan to everything he did. It is important to also take time to pay tribute to Jane Haworth (Queen Charlotte) who has recently retired from ENB after an incredible 37 years as senior soloist, artistic coordinator since 2002, and character artist.
Prokofiev's score has some beautiful melodies that remind the listener of his earlier more significant music for Romeo and Juliet and would allow for some more lyrical dancing than Wheeldon sometimes allows. The English National Ballet Philharmonic were out of sight amongst the choir seats to the rear of the Royal Albert Hall. Under their conductor Gavin Sutherland, the recorded sound I heard though my TV suggested they had been their usual reliable selves, with their pleasant account of the music for Cinderella never likely to overwhelm what we were watching.
Jim Pritchard
For more about English National Ballet click here.