United States Various composers: Soloists, Seattle Chamber Music Society, streaming from The Center for Chamber Music, Seattle, 24.7.2020. (ZC)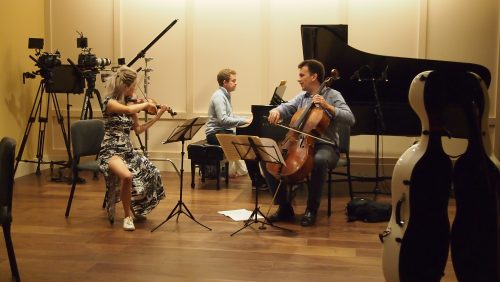 Schubert – String Trio in B-flat major D471
Haydn – String Trio in G major Op.53 No.1
Prokofiev – Sonata for Two Violins in C major Op.56
Rodgers – 'My Funny Valentine' (arr. Berwaerts)
Enescu – Légende for Trumpet and Piano
Ibert – Impromptu for Trumpet and Piano
Shostakovich – Trio for Violin, Cello and Piano in E minor Op.67
COVID-19 swiftly ended classical performance in the United States. Some hoped that in-person events would resume quickly, but that dream has largely eluded us. In Seattle, classical ensembles are experimenting with online delivery methods, which include Facebook broadcasts and replaying old performances. Most of these formats have felt to me like the ensembles are trying to 'buy time', hoping to keep fans sated with small doses of classical fare until life can return to normal next year.
With the benefit of time to prepare, the Seattle Chamber Music Society, led by Artistic Director James Ehnes, took a different approach for their always anticipated summer festival. The group scrapped its planned in-person festival and replaced it with a virtual event. Much of the festival is the same – world-class musicians have come to Seattle to play a changing assortment of chamber masterpieces – but the scale is now much more intimate. Instead of Nordstrom Recital Hall, most musicians are playing in the newly constituted Center for Chamber Music. And the medium in which musicians are delivering their product to ticket holders is quite different: concerts are recorded in advance and released for viewing on a scheduled day. Those who purchased a season or concert pass can log in and watch the performance at any time until 17 August 2020.
When SCMS announced their virtual festival, I was ecstatic. I wanted to see if SCMS could innovate their way through the strain and stress of a pandemic and economic downturn that might claim many artistic organizations. I was also curious to see if a streaming concert could substitute for the real thing. I purchased a $15 pass to the 24 July concert to find out and, to my delight, SCMS's virtual festival works surprisingly well.
Most of the program was performed and recorded locally at the Center for Chamber Music, and two segments were recorded remotely in Germany. Haydn's String Trio in G major and Schubert's String Trio in B-flat major opened the program. Cellist Ronald Thomas introduced both works for viewers, setting us up to listen carefully for Haydn's occasional humor and to wonder how Schubert could have ever doubted the genius of his one-movement work. Both of these stylish pieces sounded great through my MacBook speakers. Thomas, Tessa Lark on violin and Cynthia Phelps on viola spun Schubert's elegant Viennese melodies effortlessly. The microphone placement helped accentuate each musician's part in a way that isn't always possible in the concert hall: Phelps's middle voice was audible, and Thomas's cello was prominent in the soundstage.
One of my favorite pieces of chamber music is Shostakovich's Piano Trio No.2. I never get tired of the work even though it's a warhorse on the chamber stage. Violinist Simone Porter described it as kinetic, and I agree with her. Shostakovich's trio is a work of art you feel as much as you hear, and feeling the full emotional power requires, in my opinion, a space that focuses the music as much as possible on the listener. A large hall can wash out the terror that emanates from each note, while a smaller space allows repeated gut punches. Even watching the performance on my computer, I could feel those impacts. The work's wincing harmonics, macabre pulse and dire thrashings came through convincingly. Closely filmed and with perfect balance, the work felt almost as immediate as a live performance. No other piece could capture the trauma of the COVID-19 pandemic better than Shostakovich's trio. It was Porter, Andrew Armstrong on piano and Edward Aaron on cello who gave a remarkable and apt performance for very unusual times.
The middle of the program featured performances done remotely from Germany. Prokofiev's jagged Sonata for Two Violins was played by Karen Gomyo and Noah Bendix-Blagley, and there were three short pieces for trumpet and piano – Enescu's Légende for Trumpet and Piano and Jacques Ibert's Impromptu. But it was Jeroen Berwaerts's arrangement of 'My Funny Valentine' by Richard Rodgers and Lorenz Hart that set this series of works in motion. Berwaerts's performance showcased the trumpet's expressive and coloristic range; even via a laptop he oozed an apt, sultry appeal that was a perfect addition to the program.
A virtual festival may not be to everyone's liking. Your enjoyment of the recorded performances could depend on the speed of your internet connection as well as the quality of your speakers or whether you can stream the performance through a decent AV system. But even if you don't have the best equipment, the reasonable price tag for a ticket, along with our collective need for distraction and entertainment, makes this year's festival worth exploring.
Zach Carstensen
For more about the Seattle Chamber Music Society Virtual Summer Festival click here.