United Kingdom Frederick Ashton Triple Bill – The Dream / Symphonic Variations / Marguerite and Armand: Dancers of The Royal Ballet, London Oratory Junior Choir (directed by Charles Cole), Orchestra of the Royal Opera House / Emmanuel Plasson (conductor). Review of a 7.6.2017 performance, directed for the screen by Ross MacGibbon, and shown on Sky Arts. (JPr)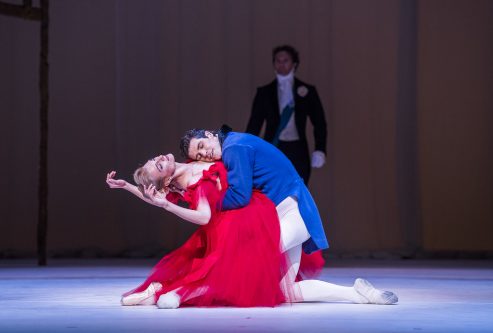 The Dream
Music – Felix Mendelssohn
Musical arrangement – John Lanchbery
Designer – David Walker
Lighting designer – John B. Read
Akane Takada – Titania
Steven McRae – Oberon
Ambrose Bartlett – Changeling Indian Boy
Valentino Zucchetti – Puck
Bennet Gartside – Bottom
Rustics – Benjamin Ella, Kevin Emerton, Solomon Golding, Erico Montes, and Calvin Richardson
Itziar Mendizabal – Helena
Tomas Mock – Demetrius
Claire Calvert – Hermia
Matthew Ball – Lysander
Gemma Pitchley-Gale – Peaseblossom
Emma Maguire – Cobweb
Elisabeth Harrod – Moth
Romany Pajdak – Mustardseed
Symphonic Variations
Music – César Franck
Designs – Sophie Fedorovitch
Lighting – John B. Read
Staging – Wendy Ellis Somes and Malin Thoors
Solo piano – Paul Stobart
Dancers – Marianela Nuñez, Vadim Muntagirov, Yasmine Naghdi, James Hay, Yuhui Choe, and Tristan Dyer
Marguerite and Armand
Music – Franz Liszt
Orchestration – Dudley Simpson
Designs – Cecil Beaton
Lighting – John B. Read
Staging – Grant Coyle
Solo piano – Robert Clark
Zenaida Yanowsky – Marguerite
Roberto Bolle – Armand
Christopher Saunders – Armand's father
Gary Avis – Duke
Mica Bradbury – Maid
Admirers of Marguerite – Matthew Ball, Reece Clarke, David Donnelly, Nicol Edmonds, Kevin Emerton, Tomas Mock, Fernando Montaño, and Erico Montes
This triple bill celebrated some of the much-vaunted heritage of The Royal Ballet and the work of Sir Frederick Ashton (1904-1988) who I have appositely seen described as the most 'English' of British choreographers. These are three of Ashton's most celebrated – and most characteristic – works. The Dream (1964) is the CliffsNotes version of Shakespeare's A Midsummer Night's Dream (obviously!) to Mendelssohn's famous overture and incidental music. Symphonic Variations (1946) is pure movement and abstract and justifiably recognised as Ashton's first masterwork. Marguerite and Armand (1963) is a distillation of the plot familiar from Verdi's La traviata and was created to celebrate Margot Fonteyn and Rudolf Nureyev's dance partnership.
It was marked as 'new' to Sky Arts but got its first(?) unheralded transmission peculiarly early one morning. (I originally thought I had not seen this in the cinema in 2017, though part the way through writing this review I realised I had, but decided to continue with this second opinion nonetheless.) My nagging thoughts watching this is for how long these (undoubtedly wonderful) ballets 50 and more years old will continue to be performed as museum pieces like this, in the same sets and – looking at The Dream – possibly the same costumes from 1964, though I hope not. Richard Wagner famously wrote to Franz Liszt (whose music we heard for Marguerite and Armand) 'Kinder! Macht Neues!' ('Children, do something new!') and since then every few years we get new productions – for good or ill – of the staple operatic repertory whilst some choreographic masterpieces go on and on unchanged for several decades; being re-produced and neither reanimated nor reinvented. It can be made worse with camera close-ups because too often – as here yet naming no names – you see dancers thinking about what is coming next for them, or where their foot or hand should now be; without moving instinctively and breathing life into their steps or a character they are portraying through dance.
The sets and costumes for The Dream now look very dated but it was nice to be reacquainted with a ballet I first saw in 1978 with Merle Park (Titania), Anthony Dowell (Oberon), and Wayne Sleep (Puck) – arguably a dream of a cast? A Midsummer Night's Dream is my favourite Shakespeare but good luck with Ashton's version if you do not know the play with its interweaving plot lines nor have read an appropriate outline about all the shenanigans involving fairies, royalty, Athenian lovers, fairies, and 'rude mechanicals' (rustics). It was all under the unforgiving gaze of Ross MacGibbon's cameras, but it retained a certain charm. From Oberon, Titania, and the fairies there was the necessary musicality, quicksilver skittering footwork, light, airy, effortless jumps, elegant arms, communicative eyes, and rapid, yet assured, changes of direction. The others mine – with the clear use of mime – what they can from the human emotions engendered by the quartet of lovers' romantic entanglements and the comedy due to the spell cast on Bottom. Steven McRae's detached air was ideal for Oberon and he seemed suitably otherworldly and Akane Takada looked equally ethereal at times, yet she never really seemed to relax into the role and imbue it with any melting lyricism. Equally underplayed was Bennet Gartside's Bottom, whilst the standout performance was Valentino Zucchetti's exuberant Puck. He soars effortlessly and with great joie de vivre as the 'can't do right for doing wrong' sprite. I was wondering what it would have been like if McRae had been Puck and Zucchetti danced Oberon, as that seemed a more 'natural fit' for those roles.
Symphonic Variations (to César Franck's music for piano and orchestra) is rightly revered because it was the Ashton's first creation for The Royal Ballet after it became resident at the Royal Opera House after WWII. Symphonic Variations is simple, classical, statuesque, elegant, eloquent, and geometrical, with the contrast between stillness and movement being incredibly expressive. It needs six dancers who are on stage from start to finish with individual steps seemingly slow, upright, and relatively straightforward, yet it is all so relentless that it demands a great deal of each of them. Though essentially plotless I understand we are supposed to appreciate that the dancers move from winter, through spring, to summer, and back – as the final tableau suggests – to winter. There are several changes of mood veering from joyful to elegiac, but it is all generally upbeat. Vadim Muntagirov is at the centre of attention as a demigod-like figure, his main partner is Marianela Nuñez, but he also gets to dance a pas de quatre with all three women at once; though the pairings mostly involve Yuhui Choe and Tristan Dyer, Nuñez/Muntagirov of course, and Yasmine Naghdi and James Hay. They all do Ashton's vision proud though it must be admitted the remarkable Muntagirov was the most graceful and fluid mover of the sextet.
The ghosts of Fonteyn and Nureyev haunts Ashton's 1963 Marguerite and Armand. It has something of a reputation of being a vehicle for all retiring prima ballerinas. Tamara Rojo did just that when she left The Royal Ballet, though she dances on with the English National Ballet she is in charge of. This performance from 2017 was Zenaida Yanowsky (Lady Keenlyside) last appearance for the company after 23 years. Another source is Alexandre Dumas's La Dame aux Camélias and we see the tuberculosis-riddled courtesan Marguerite (Yanowsky) leaving her sugar daddy Duke (Gary Avis) for an impecunious younger lover Armand (Roberto Bolle). She splits with Armand because his father (Christopher Saunders) deeply disapproves of their relationship. Marguerite returns to her Duke, but Armand insults her at a party by throwing money at her, thinking that was the reason why she left him. Armand learns the truth and returns to Marguerite but only in time for her to die in his arms. At the start of Ashton's ballet, we see the dying Marguerite recalling past events in her life as the following flashbacks. Congratulations to piano soloist Robert Clark for his wonderful sounding contribution to Dudley Simpson's orchestral arrangement of Franz Liszt's B minor piano sonata (also kudos to Paul Stobart for his lively playing during Franck's eponymous music for Symphonic Variations).
Sadly, Marguerite and Armand does now look rather dated the more I get to see it both in its designs and choreography. The Duke and Armand's father barely register – or even react much to anything that is happening – and Marguerite's admirers just stand around. Armand mostly rushes in, around and about, and Marguerite doesn't do that much either. Yanowsky did not look a typical consumptive but does as much as she can with what Ashton has given her and satisfactorily takes us on Marguerite's journey from love to despair. Yanowsky deserved her prolonged standing ovation at the end, if not for her Marguerite, more probably for her long and distinguished career in classical or contemporary ballet. The veteran Roberto Bolle was Armand, he is a tall dancer and was a perfect match for the willowy Yanowsky. They have danced together many times before, though despite this, Bolle was too stiff, too deferential, lacked intensity, and definitely was no Nureyev. I found it rather difficult to believe in Bolle as a headstrong youth or in any powerful dynamics drawing these two lovers together. I understand Marguerite and Armand was only danced by Fonteyn and Nureyev as long as they were alive, and I am beginning to side with those who believe it should have 'died' with them and been left to the memories of those who saw them 'live' (as I did in a Nureyev Festival at the London Coliseum in July 1977).
All the music was under the reliable baton of Emmanuel Plasson and sounded fine through my TV. I particularly enjoyed the enchanting Mendelsohn and throughout Plasson coaxed playing of great refinement from his musicians and alert singing from the children's choir. Because of his supportive baton there was perfect precision on stage too.
Jim Pritchard
For more about activities of the Royal Opera House as we emerge from lockdown click here.