It Ain't A-Gonna Rain No Mo'
Oh, it ain't a-gonna rain no mo', no mo',
It ain't a-gonna rain no mo'.
But how in the world can the old folks tell
It ain't a-gonna rain no mo'?
Grandma used to tell me that if there was enough blue in the sky to make a sailor a pair of trousers, it wouldn't rain, so I might then play in the garden. That's how I became interested in cloud movements. She didn't explain that it was the wind's dialogue with the clouds that was the referee. Or how fat the sailor had to be.
Women mostly didn't go to the Music Hall – one of the many ways in which their education was studiedly incomplete. But it is more than likely that grandpa heard Norah Blaney and Gwen Farrar – a misery-guts duo – trot out this song at the Halls in the twenties. They had success in their recording of it too in 1927. It is a spoof which tells more than it knows.
Interesting. Two entertainers telling a lie about a lie through another lie in Black American, pidgin English, that we would not condone now. (This almost outdoes Boris Johnson and his Tory government.) Norah and Gwen had enormous public support. And American imports were popular too. To hear why just listen to them.
Misery-guts comedians were much in vogue in the Halls. Woody Allen has more than a pinch of this humour in his films. Just as popular was cross-dressing men as women and women as men. I was eight when I saw Ella Shields (1879-1952) in her signature number 'Burlington Bertie from Bow' on Blackpool central pier. I was with grandad on the front row. As she began, the white powder on her face showered all over us. All the more remarkable because her act was reassuringly restrained. I wouldn't have understood those last two words at the time. But she had also shown me that I can thoroughly experience something I cannot understand. What a valuable lesson!  Maybe because I cannot understand it. I am still working on that.
Decades later I found that Ella was American. That number had words and music by her English husband. Surprising when you know the lyrics are a catalogue of English social distancing(!) and climbing. Mercifully both concepts were alien to me in Blackpool. This woman was a man. And having great fun being so. The rules, if they were ever conceived as such, had to get into bed with the fun. A perfect entertainment formula. And one which is frequently invoked by today's performers. There is inestimable influence for many Lennon/McCartney songs.
Alec Rowley and Henry Geehl spent many years bumming around the English countryside (Mr Rowley's term) ostensibly as examiners for the Trinity College Music Grading Exams, entertaining themselves in the evenings in the Halls and the more recent Variety theatres. 'Two Ton' Tessie O'Shea (1913-1995) was a feature of the 40s and 50s, who I caught up with myself at Blackpool. It is her energy, laced with fun, that remains with me to this day. 'Nobody loves a fairy when she's forty' was one of her hits, containing the line, Your fairy days are ending when your wand has started bending.
The Ink Spots were a hugely successful vocal quartet of African-American origin in the 30s and 40s. Bill Kenny (1936-1954) was their high-pitched tenor – almost soprano – who had a distinguished and distinguishing voice: there was no other like it. He would sing the verse (perfect diction) to be answered by the bass, whose speaking voice wash lush and velvety: always spoken and never sung. Kenny was also the author of their greatest hits.  I could listen to them all day. Tops for me is 'Whispering Grass (Don't Tell The Trees)' followed very closely by 'Someone's Rocking My Dreamboat' and 'My Echo', 'My Shadow and Me'. Not to be missed is the recording they made with Ella Fitzgerald of 'I'm Making Believe'. Following Kenny's death, the quartet continued with another high tenor. But Kenny's widow had to take them to court to get the royalties of her husband's ingenious compositions.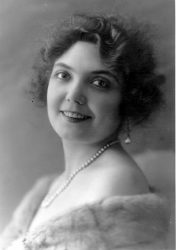 Conchita Supervia (1895-1936) had the distinction of being as much sought after in opera as well as the entertainment business. It was probably  the longtime music critic of The Sunday Times,  Desmond Shawe-Taylor, who brought the attention of Covent Garden (before it was the Royal Opera House) to the unique voice of this beautiful woman: flaming red hair and slender build at a time when opera singers could frequently not boast those attributes.
An early Spanish recording has her as a coloratura contralto. Some truth in that for both the range and timbre of her voice. Sadly, no films of her survive so far as I am aware. Her Carmen brought ecstatic reviews; no explanation needed as to why she was so irresistible to Don José. She scored similar success with Musetta in La bohème. You can hear touches of mischievous naughtiness in the waltz song. A born flirt. Her Rossini was unsurpassed at a time when most of his operas had not been resurrected.
This brings me to her remarkable contribution to the entertainment field. Her appearances at the Royal Albert Hall (along with other artists) helped to fill the hall. She had a number of lollipops for these occasions, many of them brought out at her 'serious' recitals as encores. 'Oh No, John', must be the most camp record ever made. [It sounds like her English teacher came from Burnley! All the more charming for that.] She later married Ben Rubenstein, a Jewish businessman in Golders Green. (Her son, George, had a father who was the Mayor of Naples.) Conchita converted to Judaism to her Catholic mother's dismay when she married Rubenstein. On 29 March 1936 she entered a London clinic to give birth to a daughter. The next day, the baby daughter was still born and a few hours later, Conchita died herself. Rubenstein commissioned a gravestone for mother and child from Edwin Lutyens, which fans still visit at the Liberal Jewish Cemetery in Pond Lane, Willesden, northwest London (closes at 5pm, tel: 0208 459 1635). Arnold (Lord) Goodman and various members of the Sassoon family are also buried here.
Herewith part of 'A lesson with the fan' authored by Guy d'Hardelot (1853 – 1936) a French aristocrat on her mother's side, who was also singing teacher to Queen Victoria:
If you want to learn a lesson with the fan
I'm quite prepared to teach you all I can.
So ladies everyone, pray observe how it is done
This simple little lesson with the fan [piano flourish]
 If you chance to be invited to a ball
To meet someone that you don't expect at all.
And you want him close beside you
While a dozen friends divide you,
Well of course it's most unlady like to call. [piano flourish]
When you see him coming to you, simple you,
O be very, very careful what you do.
With your fan just idly play and look down as if to say
It's a matter of indifference to you.
And you flutter and you fidget with it so,
And you hide your little nose behind it low.
Till when he begins to speak
You just lay it on your cheek
In that fascinating manner that you know.
And when he begins to speak you just lay it on your cheek
In that fascinating manner that you know.
And when he tells the old tale o'er and o'er
And vows that he will love you ever more.
Gather up your little fan
And procure him while you can.
It's a delicate suggestion.
Nothing more. [piano flourish]
I leave the improvised choreography to readers' imaginations. Both 'A Lesson With the Fan' and 'Oh No, John' are on The Conchita Supervia Song Book Pearl CD and some YouTube offerings. Serious fans would do well to order the four volumes of The Complete Conchita Supervia from the USA's Marston Records (www.marstonrecords.com) with two CDs to each volume and excellent accompanying booklets. I don't know if the volumes are available separately. But the lollipops mentioned are from Parlophone/Odeon recordings on disc 2 of volume 3, made between 1931 and 1933. Ward Marston had done a sterling job in removing surface sounds from the original 78s and letting us hear the voice better than the originals.
Before we leave the fascinating manner of Guy d'Hardelot I should mention that her biggest money-spinner was his 'Because' which became the calling card of every tenor on the planet: Enrico Caruso is terrific in it, so are Jussi Björling and Plácido Domingo. Largely from her earnings from this she was able to buy back Hardelot Castle, the family seat in Condette, France, which had been sold because of alcohol-related problems with the male line. It's a delicate suggestion. Nothing more. Margaret Rutherford would have been terrific playing her in a movie of her eventful life and work.
Jack Buckley