United Kingdom Beethoven, Fidelio: Soloists, Chorus and Orchestra of the Royal Opera House / Sir Antonio Pappano (conductor). Performance of 9.3.2020 (directed for the screen by Rhodri Huw), televised on BBC Four, and reviewed on 26.7.2020. (JPr)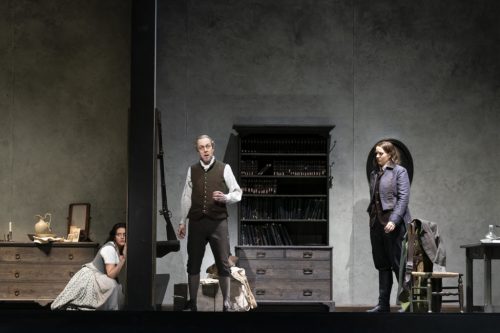 Production:
Libretto revised by Stephan von Breuning and Georg Friedrich Treitschke
Director – Tobias Kratzer
Set and Costume designer – Rainer Sellmaier
Lighting designer – Michael Bauer
Video designer – Manuel Braun
Dramaturg – Bettina Bartz
Cast:
Leonore – Lise Davidsen
Florestan – David Butt Philip
Rocco – Georg Zeppenfeld
Don Pizarro – Simon Neal
Marzelline – Amanda Forsythe
Jaquino – Robin Tritschler
Don Fernando – Egils Siliņš
First Prisoner – Filipe Manu
Second Prisoner – Timothy Dawkins
Most readers will be aware how Beethoven was never quite satisfied with his only completed opera and there are indeed four possible overtures for it. In fact, what Beethoven left us is probably more of a cantata than a fully-fledged opera. There are many clunky transitions in the piece which segment the drama into individual 'numbers'. In Act I for instance we find the Jaquino/Marzelline duet, Marzelline's aria, a quartet, Rocco's 'gold' aria, a trio, a march, Don Pizarro's 'vengeance aria', another duet, Leonore's big scena, a chorus for the prisoners ('O welche Lust'), and the finale. In Act II, there is Florestan's scena, Leonore and Rocco's grave digging duet, another trio and finally a dramatic quartet when Pizarro nearly dispatches Florestan. All this is followed by a trumpet call after which our hero and heroine are saved when Minister of State, Don Fernando, arrives to joy and relief all round. There is a love duet ('O namenlose Freude!) and the chorus sings Leonore's praises. It is Beethoven's vision of love and justice that triumphs in the end, pointing as it does – if a tad optimistically – to a much better future in a fairer world.
This Fidelio was the hot ticket of the Royal Opera House's 2019-20 season because of the pairing in the leading roles of Lise Davidsen and Jonas Kaufmann. The run was cut short by coronavirus worries and was also hindered by Kaufmann not being 100%. Indeed. he missed this performance when cameras where there preparing (presumably) for a cinema transmission later in March that never happened.
Tobias Kratzer's Tannhäuser in Bayreuth last year was intriguing (review click here) and I had been hoping to have a second look this year. The worldwide Covid-19 lockdown prevented that, as it also had stopped me seeing this Fidelio and it good to finally get the opportunity thanks to BBC Four. Within a neon frame there was 'Liberté Égalité Fraternité' projected on a drop curtain against an image of the theatre's auditorium. This revealed how Kratzer – and his dramaturg Bettina Bartz – had updated this Fidelio to the time of the French Revolution. (Of course, it must be remembered how Beethoven only set Fidelio in Spain because of a potential problem with censors.) Indeed, during the overture (from 1814) we are taken into scene that reminded me very much of something from Don't Lose Your Head (a hugely recommended Carry On film if you do not know it) and I was waiting throughout Act I for Kenneth Williams to appear as Don Pizzaro! It was all oddly traditional with imposing prison walls and a gaggle of scruffy, lank-haired, French revolutionaries. A dumb show includes some messing around with a basket of freshly guillotined heads, some grieving widows, a Leonore skulking around looking for Florestan before beings thrown out of the prison. A peddler coming on with canaries in cages and selling one to an obviously physically abused Marzelline. I immediately feared for the future of that 'bird' and this was proved right later when Don Pizzaro got his hands on it.
With lots of superfluous added dialogue what we see during the first act alternates between designer Rainer Sellmaier's gloomy prison courtyard and the more intimate domestic drama we get in the jailer Rocco's rooms. Leonore returns as 'Fidelio' and insinuates 'himself' into Rocco's confidence and reluctantly into Marzelline's affections. She prefers 'him' to Jaquino who is a boorish bully it seems. Leonore's trio with Marzelline and Rocco was undermined by her fending Marzelline off and trying to avoid having her breeches taken down. During 'Abscheulicher! … Komm Hoffnung' 'Fidelio' unbinds him/herself and is caught in the act by Marzelline who seems very conflicted and I expected her to say 'Well, nobody's perfect!' (famous from the Billy Wilder film, Some Like It Hot). The prisoners are let out and the chorus sing splendidly, but how this all fits into everything else we were seeing I was not sure, apart from allowing Leonore to check Florestan was not among them.
Kratzer was seen explaining how 'In this show we really try to accentuate the structure of [Fidelio]. For the first act it's really a period piece in a historical setting and very lavish set, and in the second act it is much more a symbolic space. We still follow the same characters but the situation they are in now is not purely realistic it's almost like a political essay.' Act II opens with the words (projected in German) 'Whoever You May Be, I Shall Save You' and that ever-present framing may find its raison d'être as we seem to be in a huge bare-walled gallery watching a 'real life' art installation. On display and possibly being judged by those in modern dress sitting around, was a chained up Florestan. Apart from being seen eating and drinking, their reactions (shame, shock, terror, pity, etc.) to all that followed were projected in black-and-white behind the action, so if Leonore demanded more water someone was shown proffering their bottle.
As if languishing on a small rocky outcrop, Florestan began with 'Gott! welch' Dunkel hier!' though everything was starkly lit, and the darkness was Florestan's foreboding over his plight. Rocco and Leonore enter through the throng, yet Florestan never really seems to recognise Leonore even when she softly sings him an interpolated lullaby 'Es stehn zwei Sternlein an dem Himmel'. The deus ex machina in all this is the Franz Grillparzer-spouting Marzelline whose trumpet call and pistol shot saves Leonore (and Florestan) from Pizarro because – though she lied to her – Marzelline still seems to love Leonore and she soon will be seen triumphant as if on the barricades in Les Misérables. By now those watching have taken action into their own hands and attacked the armed soldiers who spill onto the stage. Having draped themselves in the Tricolour Leonore and Florestan withdraw into the collective before the Minster, Don Fernando, emerges from these onlookers to pronounce his 'verdict'. Everybody advances to the proscenium singing about freedom, as the house lights go up and all's well that ends well. Yes, perhaps for the majority who desert the stage but not for Jaquino – the only one left in their original costume – who fondles the knife Pizzaro dropped and is left an outcast with no happy ending for him. Perhaps there is some reflection here on how modern society can be complicit in some of the human atrocities bedevilling the twenty-first century; but who knows if I am right in reading this into what I saw?
That is indeed what I saw and now must temper what I write about what I heard because I was watching this on TV. Lise Davidsen – as I know from hearing her 'live' – has a remarkably powerful instrument, and even if her key solo 'Abscheulicher!' was not entirely the cri de coeur it should be, it was still mightily impressive as all Davidsen's singing was in her duets and other ensembles. The role clearly tested her stamina as the opera wore on and her tone became slightly steely towards the end, though she was still colouring her voice with considerable expressivity. Davidsen is a compelling singer but for me the jury is still out on how good an actor she is. She was striving during Act I for a gawky naiveté – or so it seemed to me – and Davidsen just appeared self-conscious and not particularly committed to the 'arc' that her character goes through in this part of the story; at least as distilled through Kratzer's vision.
As Florestan, David Butt Philip (a late replacement for Jonas Kaufmann) portrayed someone who is losing (or has lost?) grip on his sanity. Not the biggest of voices his cry of 'Gott!' paled in comparison to the visceral effect of hearing Jon Vickers or Alberto Remedios sing this elongated note. To be fair to Butt Philip, the role is fiendishly demanding, and I have been present – over several decades – when it has challenged some of the greatest heroic voices. All credit to Butt Philip for getting through his insanely high-lying angelic vison of Leonore so convincingly and although there was little apparent chemistry with his Leonore, that was probably more Kratzer's fault than the tenor's.
Amanda Forsythe sang Marzelline most affectingly and has an appealing lyric soprano voice: her singing was very warm throughout and she made much of a character who has suffered a great deal. Marzelline so longs for an escape from the drudgery of her life within the prison compound that she first falls for a woman disguised as a young man and then seems willing to forgive him/her when she finds out the truth. As for the other characters, they were very one-dimensional and we never learn much about them. George Zeppenfeld's Rocco is a corruptible jobsworth and rather like a pimp pushes his daughter on 'Fidelio'. I have heard him sing better and also bring a role to life more than he did here. Though he looked good astride a black horse in Act I, Simon Neal's Don Pizzaro was underwhelming and he struggled throughout to create a sense of someone who is evil-incarnate (and who would stoop so low as to throttle a canary!); Robin Tritschler's Jaquino, though clearly a bit of a brutish reactionary, made little impression; finally, Egils Siliņš, was luxury casting as a most conciliatory Don Fernando who proves to be society's conscience.
Its difficult to pronounce on Antonio Pappano's account of Beethoven's score not having been in the opera house to hear it. However, despite some wonderful sounds from his accomplished musicians it all seemed leaden-footed and lacking in dramatic intensity. The opera's intrinsic stop-start nature can impede this anyway and especially here with all that additional dialogue.
Jim Pritchard
For more of what the Royal Opera House has to offer while there is no prospect of performances in the theatre click here.